Customer Logins
Obtain the data you need to make the most informed decisions by accessing our extensive portfolio of information, analytics, and expertise. Sign in to the product or service center of your choice.
Customer Logins
Software-defined radios point way for simpler direction finding

06 September 2018
Jane's Editorial Staff
This is an extract from an article published in Jane's Intelligence Review and available as part of Jane's Military and Security Assessments Intelligence Centre.
Advances in hardware and software are making it increasingly practical for open-source analysts to carry out radio direction finding. Writing for Jane's, Tony Roper examines the impact the new tool is having on open-source analysis.
Key Points
The development of software to automate the use of time difference of arrival (TDoA) analysis using networked software-defined radios (SDR) is making direction finding (DF) increasingly practical as a tool for open-source analysts.
DF can be used as another tool for corroboration or to identify previously unknown transmitters, although at present the level of accuracy possible can be limited and is far below the capabilities of governments and militaries.
The future effectiveness of this technique is likely to be dictated more by the number of SDRs that are available for use around the world than by software or hardware limitations.
Identifying the location of a radio transmitter is a core capability of military and government signals intelligence units. However, open-source analysts have encountered challenges in replicating this capability. The development of new software for an existing network of online software-defined radios (SDRs) incorporating global navigation satellite system (GNSS) timestamps has rapidly changed this situation in 2018. It is increasingly practical for an open-source analyst with an internet connection to conduct rudimentary DF.
TDoA measures the time-of-flight differences of a signal received at different locations. The basic principle is that the difference in the arrival time of a signal at two receivers, obtained by cross-correlating the two signals, can be used to calculate a hyperbola of possible locations for the transmitter. Conducting measurements from more than two receivers enables the calculation of multiple hyperbolae, and the point at which these intersect identifies the location of the transmitter.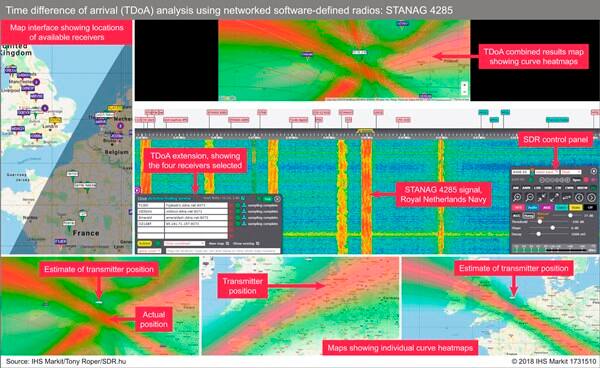 Jane's conducted two case studies to assess the effectiveness of DF using the KiwiSDR TDoA plug-in. The first used a signal from a known transmitter site used by the Royal Netherlands Navy at Goeree-Overflakkee island, southwest of Rotterdam. The signals being transmitted were encrypted STANAG 4285 messages.
The capability afforded by networked SDRs will almost certainly remain orders of magnitude less effective than the capabilities of military and government signals units. With the software and hardware highly likely to improve, the key constraint on the technique's effectiveness in the future is likely to be the number of SDR receivers available in different parts of the world. Nonetheless, it represents a new tool for open-source analysts and one that has yet to be fully exploited.
This is an extract from an article published in Jane's Intelligence Review and available as part of Jane's Military and Security Assessments Intelligence Centre.
RELATED INDUSTRIES & TOPICS