Customer Logins
Obtain the data you need to make the most informed decisions by accessing our extensive portfolio of information, analytics, and expertise. Sign in to the product or service center of your choice.
Customer Logins
Social media provides insights into Indonesian militancy
02 August 2018
Jane's Editorial Staff
This is an extract from an article published in Jane's Intelligence Review and available as part of Jane's Military and Security Assessments Intelligence Centre.
A wave of terrorist attacks in May underlined Indonesia's continued vulnerability to Islamist extremism. Mark Wilson shows how open-source intelligence tracking of the country's online militants across multiple platforms reveals their use of cyberspace to keep their radical ideology alive.
Key Points
Open-source research of militants' online activities necessarily requires the monitoring of multiple platforms, as demonstrated in a case study by Jane's of online Islamist extremists in Indonesia.
To analyse the threat environment, Jane's divided active online militants into four categories - threat makers, disseminators, inciters, and data storers.
The study concluded that a crackdown by Indonesian authorities has only been partially effective as militants move to platforms such as Mobogram, Snow, TamTam, and Telegram, or create bespoke smartphone apps.
Following seven terrorist attacks between 8 and 16 May, Indonesian authorities clamped down on the country's online extremists. Open-source research by Jane's indicates that the crackdown has been only partially effective, with Indonesian extremists still able to evade government censors and spread their violent ideology through a range of social media platforms.
Jane's research demonstrates that these networks operate on mainstream social media platforms such as Facebook, Instagram, and Google Plus. However, other platforms such as the messaging app Telegram have gradually become a primary feature of the online militant landscape in Indonesia, as evidenced in the January 2018 report Counter-Terrorist Trends and Analyses by the Singapore-based S. Rajaratnam School of International Studies. The report claimed that pro-Islamic State online networks in Indonesia had partly shifted to more closed platforms such as Telegram that permitted "secretive communication".
With end-to-end encryption, Telegram offers its users a level of secrecy not afforded by the more mainstream social media platforms. Indonesian extremists using the platform either join channels, which are used to disseminate messages to followers, or groups, in which members can interact with each other.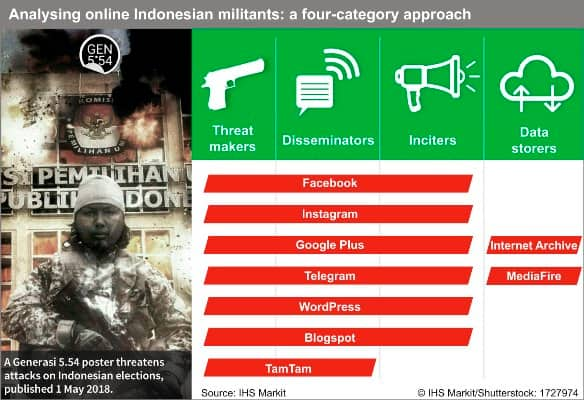 Across these social media platforms, Jane's has categorised Indonesian militants' activities under four broad rubrics. First, there are the 'threat makers', who identify specific individuals or places for attack; second are the disseminators, who repackage, translate, and spread official Islamic State media content with an Indonesian audience in mind; third are the inciters, who attempt to persuade Indonesians to mount attacks or praise militants who have carried out attacks as good examples to follow; and fourth are the data storers, who use file-hosting websites to stockpile Indonesian-language militant magazines and videos.
This is an extract from an article published in Jane's Intelligence Review and available as part of Jane's Military and Security Assessments Intelligence Centre.
Author
Mark Wilson is a Jane's Consulting Principal and former journalist specialising in Southeast Asian militancy.
RELATED INDUSTRIES & TOPICS