Customer Logins
Obtain the data you need to make the most informed decisions by accessing our extensive portfolio of information, analytics, and expertise. Sign in to the product or service center of your choice.
Customer Logins
Smartphone AMOLED display trend shifts from rigid to flexible

While active-matrix organic light-emitting diode (AMOLED) displays are increasingly adopted for high-end and midrange smartphones, a shift in the panel's substrate type and touch sensor structure is occurring, going from rigid to flexible, according to the latest Touch Panel Market Tracker Report by IHS Markit.
For instance, shipments last year of flexible on-cell AMOLED display for mobile phone applications reached 96.3 million units, up a resounding 154% from 37.5 million units in 2016. During the same period, shipments of rigid on-cell AMOLED displays fell to 213.5 million units, down 31% from 307.2 million units. The main driver of the surge last year in flexible AMOLED panel shipments was Samsung Electronics, which applied flexible on-cell AMOLED displays to all its flagship smartphone models—namely, the Galaxy S and Note series.
Overall, rigid on-cell AMOLED panels accounted for 14.0% of global panel shipments for mobile phones in 2017, a significant drop from 20.2% in 2016. Meanwhile, share of flexible on-cell AMOLED displays rose to 6.3% from 2.5% during the same period.  
In the case of Samsung's main competitor, Apple did not adopt the mainstream on-cell touch sensor structure for the 5.85-inch flexible AMOLED panel in its iPhone X. Instead, Apple has continued to use GF2, the same touch sensor structure it deploys in the iPad series. GF2 has a film substrate with a patterned double-sided indium tin oxide (ITO) sensor, located right below the cover glass. In contrast, Samsung Display and LG Display both put the film substrate beneath the display's polarizer. Because of Apple, GF2 immediately took 3.6% of total panel shipments for mobile phones, causing shipments in 2017 of all flexible AMOLED displays, including on-cell touch and GF2 type, to account for 9.9% of the global total, up from 2.5%in 2016.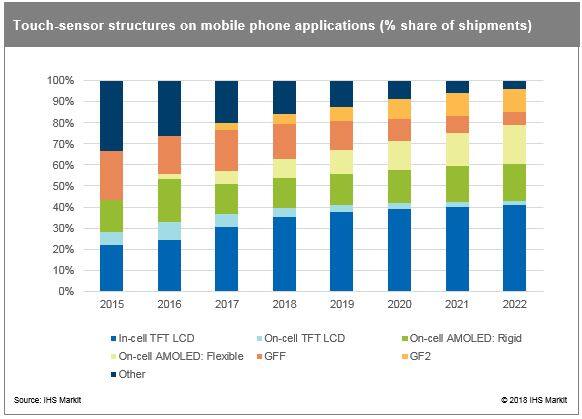 For Samsung Display, a leader in AMOLED display production, what it should do is to speed up the transition to flexible AMOLED display so that it can compete with Chinese panel makers that are expanding capacity fast. Flexible AMOLED technology has become a critical differentiation for Samsung Display as well as mobile phone brands' high-end models. Despite the two different touch sensor structures, applied to the flexible AMOLED panel, both are expected to keep growing.
Following Samsung's example, LG Display also started producing flexible on-cell AMOLED displays in 2017. And although LG shipped less than 3 million units in 2017, shipment growth in the future is highly expected. 
For more details, see the Touch Panel Market Tracker Report by IHS Markit, which provides a variety of in-depth analyses on the touch panel market, including touch user interface technology, market dynamic and emerging trends.
Calvin Hsieh, Director of Touch and User Interface Research within the IHS Technology Group at IHS Markit
Posted 6 April 2018
RELATED INDUSTRIES & TOPICS