Customer Logins
Obtain the data you need to make the most informed decisions by accessing our extensive portfolio of information, analytics, and expertise. Sign in to the product or service center of your choice.
Customer Logins
Smart speakers and smart meters make their way forward

27 June 2018
IHS Markit Technology Expert
As smart functionality makes its way progressively into homes and businesses, two devices are working to gain a foothold into broader ecosystems to maximize growth and revenue opportunities.
In two newly published e-books, IHS Markit provides a comprehensive overview of the smart speaker and the smart meter, two devices on the rise forecast to enjoy massive growth in the years ahead, even as each field faces growing commoditization and narrowing margins.
Smart speakers: interaction gateways
For smart speakers, the use of artificial intelligence (AI) and voice-activated digital assistants has made the devices enormously popular with consumers. Through normal, ordinary human speech, consumers can offload tasks to the smart speaker, ranging from media playback ("Play songs from my playlist"), to smart home control ("Turn off the lights"), to informational queries ("What's the news today?").
In this sense, smart speakers function as interaction gateways, with offloading then helping to expand AI field capabilities in assisting and learning, as shown in the diagram below.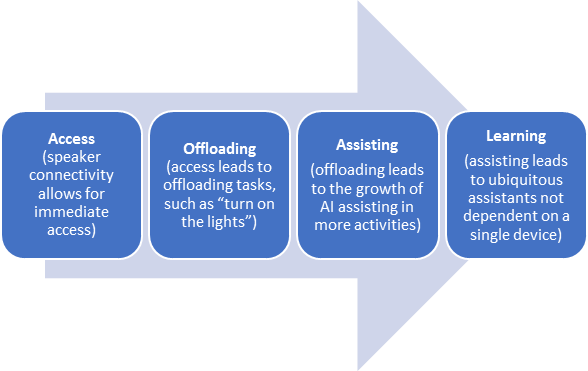 Amazon's Echo and its Alexa digital assistant currently leads the smart speaker field with first-to-market advantage, although Google's Home device and its accompanying Assistant is making huge inroads.
Smart speakers can take advantage of their current popularity and become even more powerful by leveraging established ecosystems and by extending app development to support more consumer devices and platforms, according to the e-book.
Smart meters: revolutionizing interaction
Like smart speakers, smart meters act as a bridge for interaction. In this case, however, smart meters help to more closely link utilities and their customers.
While basic meters can only address the question of power usage and not do much else, smart meters dramatically expand the capabilities of the meter by providing better quality data, usage analysis, time-of-use rates, and more, according to the eBook. And because smart meters are capable of two-way communication, they create a powerful impetus for customer interaction, rather than being just a conduit for customers to air complaints when there is a problem.
Smart meters will be increasingly critical, being the ideal entry point into utility ecosystems aiming to create more intelligent, efficient, and cleaner electricity networks. Moreover, smart meters form the backbone of the data collection system for utilities. Meter data, once collected, can pave the way for entirely new categories of value-added revenue for vendors.
Two comprehensive e-books
The IHS Markit e-books on the smart speaker and the smart meter show the extensive breadth and depth of our research on IoT devices and components across the complete technology ecosystem.
In smart speakers, for instance, a section on materials and components breaks down each piece of technology being used, including MEMS microphones and the built-in touch display. In smart meters, the section on end-markets tracks how the devices affect specific parts of the supply chain, including hardware and cellular IoT technologies.
Access the IHS Markit web page now to download the free smart speaker and smart meter e-books.
IHS Markit Technology Expert
Posted 27 June 2018
RELATED INDUSTRIES & TOPICS