Customer Logins
Obtain the data you need to make the most informed decisions by accessing our extensive portfolio of information, analytics, and expertise. Sign in to the product or service center of your choice.
Customer Logins
Smart home technology claims the insurance industry

For smart home technology to reach the projected global household penetration rate of 7.5% in 2022, all use cases must be called upon, which includes insurance companies. In 2017, only about 1% of households worldwide had a smart home device.
As consumer education expands and privacy concerns recede, insurance companies are in a unique position to offer value-added services to consumers. Like multiple-service operators (MSOs) such as Comcast and Deutsche Telekom, insurance companies and utilities have an existing customer base far bigger than that of traditional security providers, such as ADT or Verisure. Because of this, the insurance sector could play a pivotal role in deepening the penetration of smart home devices in households within the next five years.
What can insurance companies hope to gain by promoting smart home devices? For one, smart home technology can bring insurance firms closer to the consumer and potentially reduce their exposure to loss claims. And yet, consumers may balk at adopting smart home devices, inhibited by variables such as the cost of devices, discomfort or unease with a new technology, or disagreement over post-sale, contractual service fees.
Take water damage—a primary area of coverage and compensation for nearly all insurance companies. Fire damage may incur higher pay-outs, but the frequency of claims from water damage is much greater, with theft a distant third.
Because water damage is so pervasive and widespread as an insurance liability, most insurance providers resort to a dual-pronged approach—one that relies on the placement of water-leak sensors under appliances, near toilets, and under sinks, combined with the use of a water shut-off valve. In most cases, the water shut-off valve plays a crucial role in minimizing water damage and thus potentially staving off a water damage claim.
However, deploying the valve is also an expensive proposition, with installation often requiring a professional plumber. As a result, households end up deciding not to adopt this smart home solution that could help prevent water damage, leaving both the consumer and insurance provider vulnerable and exposed in the face of a flood or related disaster.
Extended pilots and other reasons bedeviling insurance
For many insurance companies, collecting data on consumers is standard business practice. But despite the treasure trove of data they possess, insurance companies thus far have struggled to obtain the kind of useful information enabling them to make effective discount and rebate offers for customers. despite a treasure trove of data in their hands. And while smart home technology can unleash yet another floodgate of information on consumer behavior, without a viable strategy or a clear understanding, many insurance companies could still be testing smart home technology in pilots for the next 1-2 years.
Meanwhile, the pilots initially conceived by insurance to run briefly as a test case of sorts end up going on to an unwelcome extended phase, leaving insurance providers to continue shouldering test costs with little visibility of the much-hoped-for payoff.
Why do insurance-implemented pilot runs become unmanageable, or worse, fail when it comes to smart home devices and solutions?
First, insurance in the United States is simultaneously highly regulated and also pliable, the latter depending on the discretion of each state. Some states, for instance, allow providers to give away devices for free, while others forbid the practice to prevent any semblance of business impropriety stemming from a giveaway. In a third scenario, regulators may allow giving devices for free if the consumer has access to the data.
A second reason accounting for extended pilots is that consumers have not been eager to use technology provided by insurance companies, likely out of wariness or distrust. In some cases, water-leak sensors were given away for free but were never installed.
A third reason for extended pilots is because insurance providers themselves are unclear on how to use the data they have collected. While some industry observers have insinuated that the insurance companies will use smart home data to deny claims, this is a false allegation and unproven as we know it—at least for now and dating back to the first few years since the practice of data collection began.
In contrast to what naysayers believe, data that is collected by insurance is not used to increase a consumer's premium. This means the deployment of sensors is primarily to reduce claims as well as engage the consumer in value-added insurance concierge services.
One example of how data could be useful to insurance is to monitor a connected smoke detector. A customer who has a smoke detector alarm go off more than four times a month could conceivably receive an alert or warning from the insurance provider on rates being increased. Alternatively, a customer with no record of smoke alarms being triggered could be eligible for discounted rates—just as a driver with a spotless driving record is likely to enjoy lower auto insurance rates.
Even in the face of potential benefits—like lower insurance rates-that could come about because of data collection, many consumers remain reluctant to subscribe to a service in which their data is provided to insurance agencies. To this end, insurance providers often must go the extra mile to assure customers of respecting their privacy, and to avoid being perceived as interlopers perpetually monitoring their customers' lives.
The challenge to deploy smart home solutions
Despite ample opportunities to offer smart home solutions in their portfolio, insurance companies have been unable to rally behind a single smart-home business model. For example, many top US insurance firms rely mostly on an Amazon Alexa Skill; or on partnerships with either professional security providers like ADT, or with do-it-yourself (DIY) systems like Canary or Frontpoint. In Europe, insurance providers have been more creative, partnering with consumer-electronics companies like Panasonic, DIY device makers such as Fibaro, or telecom operators like Deutsche Telekom.
Still, it is in the Americas where market activity will be strongest. Here, the number of home insurance policies with a smart home device attached to the contract is expected to exceed 1 million in 2018; in Europe, the 1-million mark won't be reached until 2021. Also in the Americas, home policies with a smart home device will reach a household penetration rate of 6.8% in 2022. In comparison, that rate in Europe will stand at just 1.0%.
All told, insurance companies can gain a great deal by deploying smart home technology, but they need to find a way to reach a skeptical, disengaged consumer base that remains wary of how their data will be used. The insurance companies that will find the most success will be those able to use smart home technology to bring other value-added services to the consumer. Water-leak or water-flow sensors should be a great starting point for many insurance providers—the concept is simple, and the product is possibly the most cost-effective smart solution for both the insurer and consumer.
Ultimately, the insurance sector can employ smart home technology to cultivate goodwill. Since insurance is often considered a grudge purchase, its purveyors can utilize the "smarts" in smart home technology to engage customers in a positive manner—not just when a loss is being reported.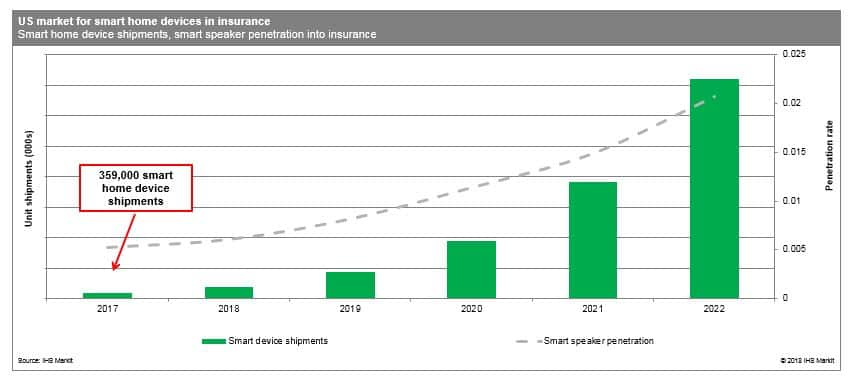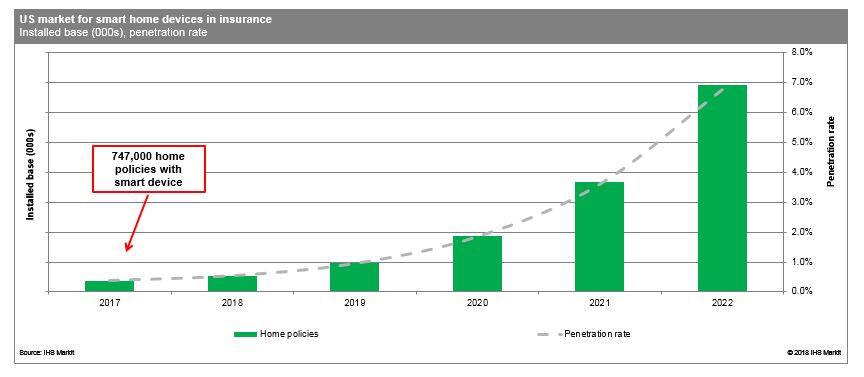 Blake Kozak is Principal Analyst, Security Technology, at the IHS Technology Group within IHS Markit
Posted 9 May 2018
RELATED INDUSTRIES & TOPICS