Customer Logins
Obtain the data you need to make the most informed decisions by accessing our extensive portfolio of information, analytics, and expertise. Sign in to the product or service center of your choice.
Customer Logins
Slovak cabinet line-up

Large-scale cabinet reshuffle will lower the risk of early election in Slovakia in 2018; longer-term government stability will depend on the frequency and intensity of anti-government protests and the progress of the investigation into the murder of a Slovak investigative journalist.
Cabinet reshuffle, including of the prime, interior, and justice ministers, will lower the probability of an early election in Slovakia during 2018.
Government policy direction is unlikely to change, but delays are likely in judicial and law enforcement sectors.
Ongoing government stability will depend on the progress of the investigation into the murder of an investigative journalist, particularly confirmation of links to members of the senior ruling party, as well as the intensity and frequency of anti-government protests.

Cabinet reshuffle
Slovak president Andrej Kiska has today (22 March) appointed a new cabinet. The coalition composition remains the same, comprising the senior ruling Direction-Social Democracy (Smer-Sociálna Demokracia: Smer-SD), nationalist Slovak National Party (Slovenská Národná Strana: SNS), and ethnic Most-Híd (Bridge). However, there are changes at key ministerial positions, including those of the prime minister, and interior and justice ministers. Former prime minister Robert Fico will remain Smer-SD party leader and a member of parliament (MP).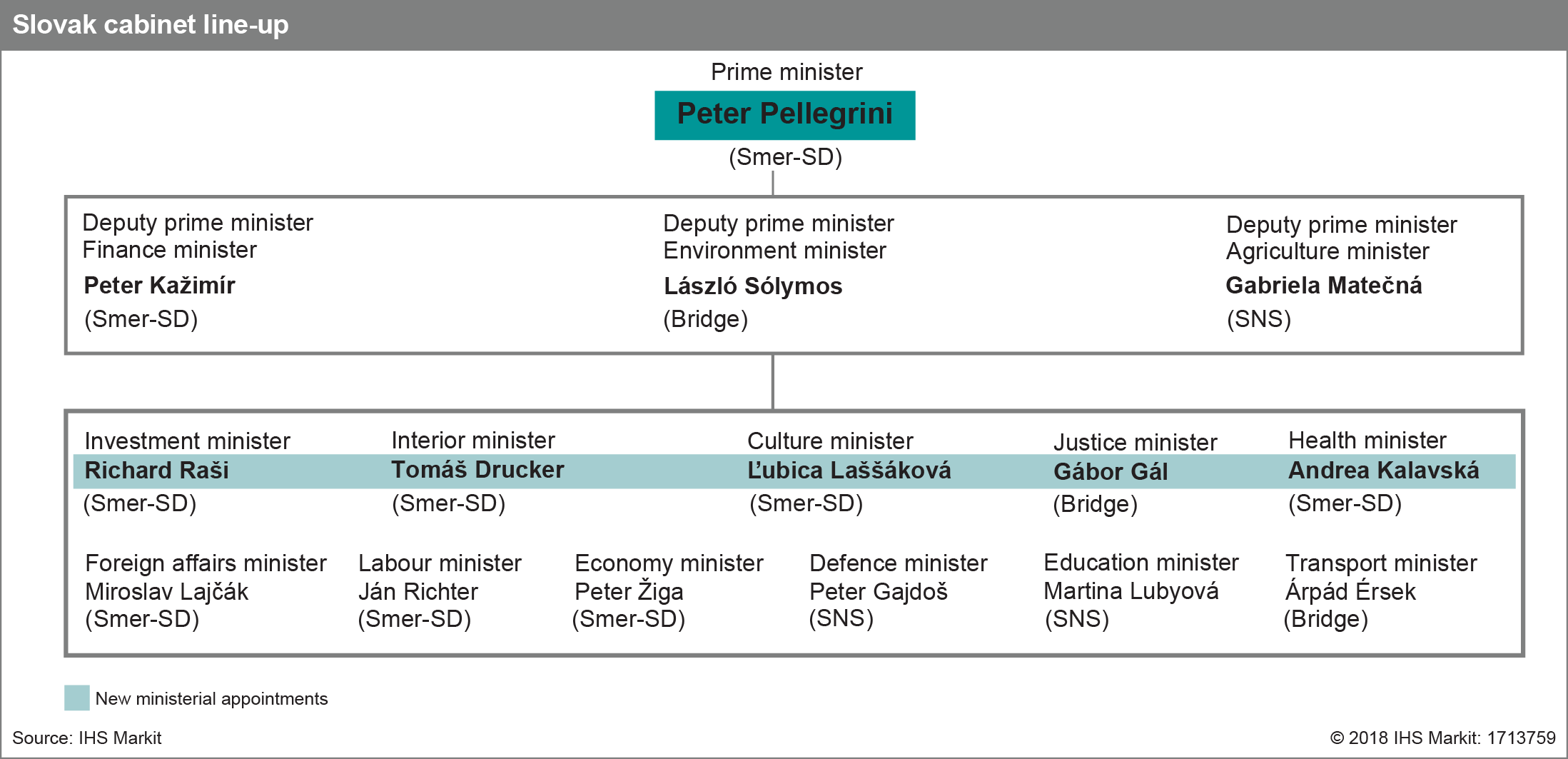 The reshuffle comes in the wake of the murder of investigative journalist Ján Kuciak and his partner in February, which was the first confirmed murder of a journalist in Slovakia's quarter-century-long, post-communist history. The police are still investigating the motive for Kuciak's murder. Slovak chief of police Tibor Gašpar said that it was "most likely" because of his professional activities. Kuciak had been investigating some Slovak businesspersons and their alleged links to Smer-SD, and a suspected case of misuse of EU funds by organised crime groups with potential links to Italian mafia and some Smer-SD members. These revelations, although not yet confirmed as the motive for Kuciak's murder, have nonetheless triggered the largest public demonstrations since the fall of the communist regime in Slovakia in 1989. Protesters have been calling on Smer-SD to guarantee an independent investigation into Kuciak's murder. In this respect, they initially requested the resignations of Fico, Gašpar, and interior minister Robert Kaliňák, later calling for an early election.
Outlook and implications
The cabinet reshuffle will most likely appease the requirements of Smer-SD's coalition partners, particularly Bridge, which had previously threatened to abandon the coalition government. This will lower the probability of an early election in 2018, which would very likely result in weaker support for Smer-SD, SNS, and Bridge, and consequent political uncertainty due to protracted post-election government formation.
However, it is still uncertain whether the government will see out its full term until 2020. If the investigation confirms that Kuciak's murder was due to his investigative work and was politically motivated, SNS and Bridge - which both very strongly campaigned on fighting corruption ahead of the 2016 parliamentary election - would probably distance themselves from Smer-SD and leave the coalition. Smer-SD could still govern in minority formation, but it would very likely lose crucial parliamentary votes, leading to an early election. More immediately, the size and frequency of anti-government protests would also damage government stability. Although peaceful, recent rallies have achieved the highest attendance levels in Slovak recent history. If these protests fail to subside following the reshuffle and/or there are incidents of violence against members of SNS or Bridge, these two parties would also be likely to resign. Bridge leader Béla Bugár has already requested police protection after allegedly being threatened. Earlier in March, an unknown perpetrator set fire to Smer-SD premises in the northern town of Žilina, causing material damage but no injuries. Political violence, including vandalism, has been rare since Slovakia joined the European Union in 2004.
While this government lasts, and despite the reshuffle, major policy deviations are unlikely, although some delays to judicial and law enforcement reforms are probable. Despite resigning from his prime ministerial post, Fico is almost certain to remain very active and influential in Slovak politics until the next election is held. In his capacity as the Smer-SD head, he will very strongly influence and oversee Smer-SD, new prime minister Peter Pellegrini, and therefore the government's policy direction. With the Ministry of Interior remaining under Smer-SD's purview, the long-awaited and large-scale reform of the police force, which some critics claims have been hampered under Kaliňák, is unlikely to materialise. Second, with the departure of justice minister Lucia Žitňanská, IHS Markit anticipates probable delays in planned judicial reforms that were intended to improve judicial transparency, curb corruption, and improve efficiency and trust in the Slovak justice system. Although her successor Gábor Gál is a trained lawyer and has served in several parliamentary committees, including the one dealing with constitutional matters, he has not yet affirmed commitments to continue with Žitňanská's reforms.
RELATED INDUSTRIES & TOPICS