Customer Logins
Obtain the data you need to make the most informed decisions by accessing our extensive portfolio of information, analytics, and expertise. Sign in to the product or service center of your choice.
Customer Logins
'Significant obstacles' in way of voluntary carbon markets: UN task force

Voluntary carbon markets (VCM) need to overcome "significant obstacles" to mature into advanced markets like those that exist for corn, metals, and power, according to the Taskforce on Scaling VCM, which UN Special Envoy for Climate Action Mark Carney launched in 2020.
A draft blueprint was released 10 November, based on in-depth interviews with 65 subject-matter experts, ranging from buyers of credits to creators of offsets to organizations that provide verification of offsets.
"This presents an enormous green investment opportunity, which can help generate large flows of private capital from advanced to developing economies, and help fund projects from nature-based solutions to technological solutions like carbon capture and storage," Carney said.
The quality of carbon credits/offsets remains an issue for buyers, said the task force, despite the emergence of numerous standards that have been developed: Verra, the Gold Standard, American Carbon Registry and the Climate Action Reserve. More than 90% of credits are verified by one of those standards, according to the task force, but buyers told the task force they are concerned about a lack of a "resilient, secure, scalable trade and post-trade infrastructure."
The draft Consultation Document offers 17 recommendations for VCM, which include:
establishing core principles for what constitutes carbon reduction, and adhering to those principles;
introducing spot and futures contracts, as well as a stronger secondary market;
basing those markets on trading and post-trading infrastructure; and
getting buy-in and support from across the global financial system.
"The over-the-counter-market [for VCM] would greatly benefit from increased transparency, one way to achieve this could be the entry of price reporting agencies," the task force's report said.
The task force estimated demand for carbon removal and sequestration, including VCM, for both 2030 and 2050 under eight scenarios that would achieve either a maximum increase in global temperatures of 1.5oC or 2oC. It found that sequestration and removal will be less important than carbon reduction and avoidance through 2030, but that the importance of removal and sequestration will increase over time, in order for global goals to be met. In 2030, about 1.5 gigatons/year of sequestration and removal could keep the world on-target, but this could reach 7-13 gigatons/year by 2050.
However, "delivering up to 7 to 13 Gt CO2 per year of removal/sequestration in 2050 would pose a very significant challenge," it warned. "Biophysical limits and technical challenges could make meeting this demand either difficult and costly or implausible."
Reaching such levels would require moving beyond the current forms of "nature-based" ways to generate removal credits of avoided nature loss, reforestation and planting cover crops, to also incorporating "technology-based" methods for direct carbon capture.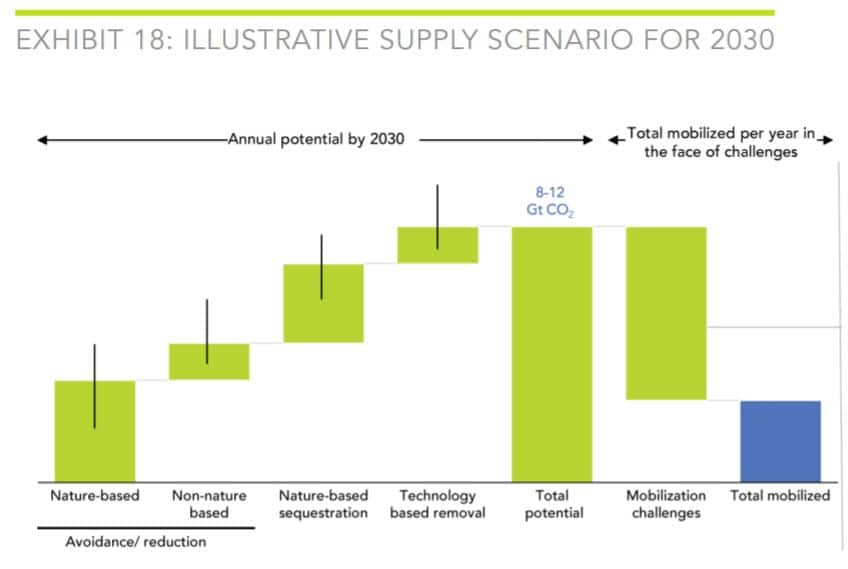 Source: UN Envoy for Climate Action report
At those higher levels, VCM trading would be a market of "tens of billions of dollars per annum," Carney said, compared with an estimated $300 million per year currently.
The task force comprises more than 40 leaders from six continents; it includes Kathy Benini, managing director and global head of environmental solutions, IHS Markit.
Article includes original reporting by Nandita Lal, for OPIS, 10 November 2020.
RELATED INDUSTRIES & TOPICS