Customer Logins
Obtain the data you need to make the most informed decisions by accessing our extensive portfolio of information, analytics, and expertise. Sign in to the product or service center of your choice.
Customer Logins
SID Display Week 2017 – Holographic HUDs, display mirrors and moving beyond the flat rectangle

Last week, the Society for Information Display held their annual Display Week symposium and exhibition in Los Angeles California, and once again the growth in automotive content was difficult to miss.
For the first time in 2017, Display Week offered an Automotive Market Conference to take advantage of this clear trend in automotive emphasis. IHS Markit analysts from the Automotive and Technology practices were on hand to track news and announcements from the show. Here are our automotive takeaways: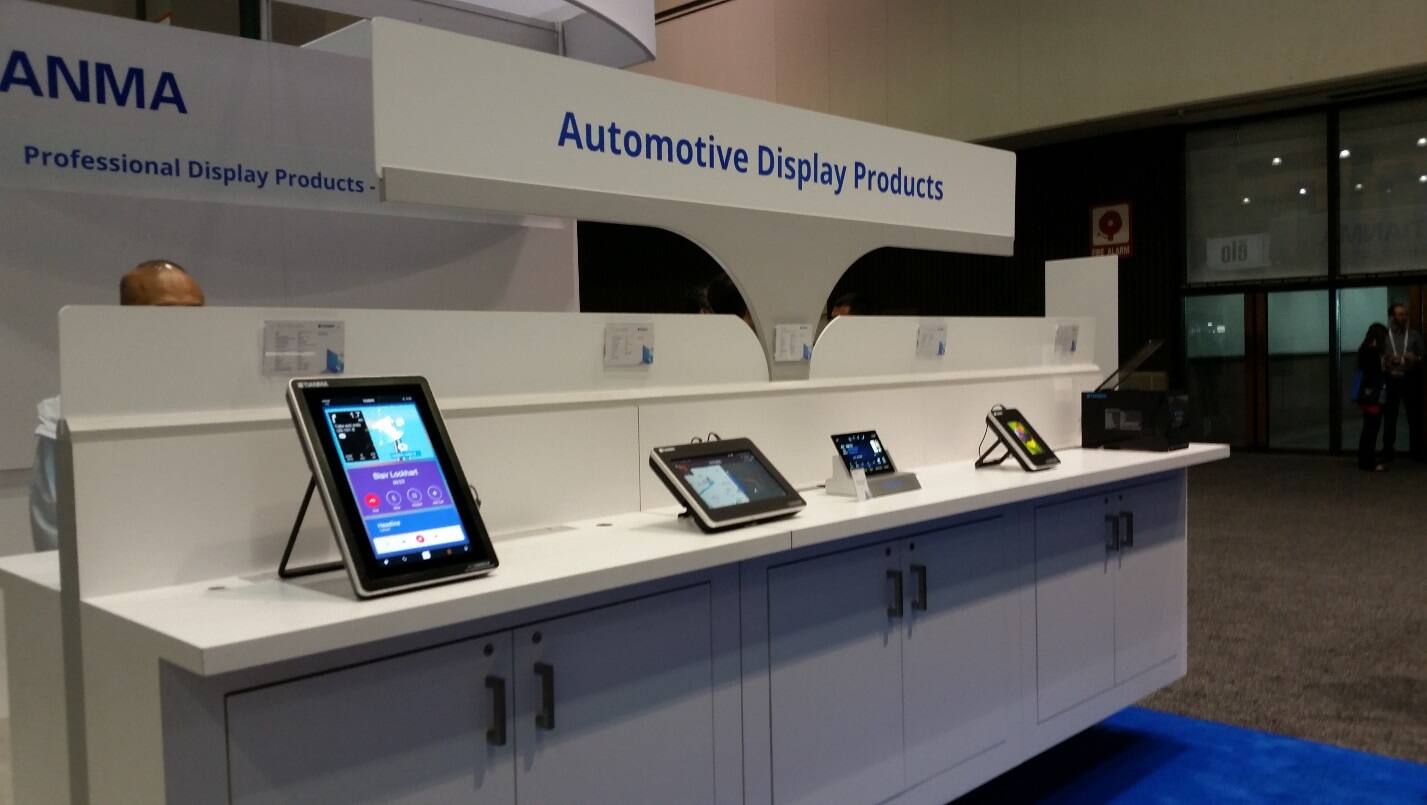 Holographic HUDs – can they solve the dashboard size constraint issues?
Along with cost, the main factor inhibiting advancement in head-up display development has been and remains to be module volume. This issue going forward will only be highlighted further as new dashboard designs leave even less available space behind the cluster module. Even still, demand from OEMs for larger images and longer virtual image distances in ever-smaller HUD packages is soaring. This was a key theme at Display Week 2017 and we expect it to remain a hot topic going forward.
One proposed solution is holography. There has been an incredible amount of research and development done in holographic HUDs recently, and there is still much more research to be completed. Many experts believe that shedding the traditional HUD optics may be necessary to decrease the overall HUD module size while achieving the increases to virtual image distance and field of view. Tier One supplier, Continental, outlined a holographic HUD utilizing compact waveguide technology, which could achieve a virtual image distance of greater than 7.5m and an image size of 20 degrees horizontal by 5 degrees vertical. With these specs, it could certainly provide the real estate necessary on the windscreen to deliver true augmented reality graphics. Another supplier, DAQRI, is pushing forward with a laser holographic imaging system along these same lines to generate a true holographic image, rather than blocking light with holographic materials. Meanwhile, Texas Instruments made a point to mention that their DLP system, which made its automotive production debut recently in the Lincoln Continental's windscreen HUD, can also work with waveguides and holographic optical elements. A follow-up insight will dive into the technical side of holographic HUDs in much greater detail soon for IHS Markit Automotive UI/UX subscribers.
The key takeaway here is this – at the end of the day, many believe that as consumers start to experience augmented reality (AR)-HUDs behind the wheel, they will demand them more. IHS Markit already has evidence pointing to higher brand retention when a customer has a HUD in their previous vehicle; advancements in HUD technology simply compound this fact. Another factor to add in to this mix the ongoing evolution towards autonomous driving in which wide field of vision AR-HUDs will be vital for takeover situations. What we're left with is size constraints and capability demands that are forcing a major transformation in HUD technology in order to capture this potentially very lucrative emerging market – and holography may very well be the answer.
Display Mirrors – GM was first but they won't be alone for long
From an exhibition point of view, if the theme of Display Week 2016 was AMOLED, 2017 might be the year of the display mirror. Exhibits with a rearview display mirror included AGC, AUO, Kyocera, LG Display, Global Lighting Technologies (GLT), and Tianma. Each of these displays took a different look at a similar application, ranging from GLT and Kyocera highlighting their incorporation with the production Gentex display mirror shipped to GM, to LG Display offering transparent OLED as a potential future for the rearview. AUO, for one, sees a very bright future for both the rearview and side view display mirror once regional regulation allows for full adoption. They showed off a freeform LCD as a rearview mirror application.
It's worth mentioning that as is the case with many display technologies, it's very easy to show a conceptual display mirror. Automotive grading, camera integration, human factors, and incorporating standard mirror functionality make this a much more difficult problem to solve in production. That being said, we are aware of multiple new OEMs who will be putting these displays in production soon. Cadillac proved that while this technology isn't perfect, it's a value-add that certainly sets one model or brand apart from the rest. The side view mirror is potentially even more fruitful due to the drag efficiencies of eliminating the exterior mirrors, but regulation and technological challenges have made this particular component much more challenging to deliver. This will be a very interesting market to track going forward, given the steep potential for growth and widespread adoption.
Advancing beyond today's flat, single-view LCD technology
Many suppliers highlighted how their advanced display knowledge in the Consumer Electronics' world can offer renewed value within the automotive realm. Curved displays are nothing new when it comes to Display Week, but AGC's announcement of a curved instrument cluster slated for near-term series production was certainly headline-worthy. LG Display emphasized three different technologies that are currently unavailable to the automotive market: transparent OLED, large pOLED, and multi-layered displays. BOE-VX offered a dual-view center stack, allowing different content to be viewed by the driver and front passenger. While production reviews have been mixed, this remains an interesting technology as the automotive industry continues work to balance entertainment with driver distraction.
And while the likes of Tianma still showed AMOLED concepts, many others offered solutions to circumventing this technology that was viewed last year as a near production game-changer. While Harman didn't show it, they presented on leveraging QLED from Samsung's TV expertise to pave the way for a dramatically increased color gamut even with very low resolution. FlexEnable made their case for OLCD – a conformable, lightweight, and bright display technology that allows for use not only over large surfaces, but also in unique applications such as an A-pillar. With AMOLED's inevitably high price point and a limited supply in the near term, a new solution for higher quality, flexible displays will surely attract OEM attention.
IHS Markit projects the primary automotive display systems market to total more than $20.8 billion in annual revenue by 2022, an increase from $11.6 billion in 2017. However, these numbers do not include other display applications such as display mirrors or technologies such as AMOLED, holography, and freeform displays that have not yet hit automotive production. This underscores the incredible value proposition that displays add to the automotive cockpit, just how dynamic this display market has become, and the importance they will play in the car going forward. For more on these and other automotive HMI features that IHS Markit is tracking, check out the UI/UX service on SupplierInsight.
SID returns to Livonia, Michigan from September 26th-27th to host the 24th annual Vehicle Displays Detroit Symposium and Expo, focusing solely on automotive display applications and technologies. IHS Markit will once again be speaking on the current and future state of the vehicle display market. We hope to see you there!
RELATED INDUSTRIES & TOPICS