Customer Logins
Obtain the data you need to make the most informed decisions by accessing our extensive portfolio of information, analytics, and expertise. Sign in to the product or service center of your choice.
Customer Logins
Shorter life cycles for integrated circuits: It pays to select ICs carefully to ensure supply chain longevity

Over the past two decades the average life cycles for integrated circuit (IC) components have decreased by about 30% on average. But that doesn't mean that there won't be opportunities to select ICs that will be available from Original Component Manufacturers (OCMs) well into the future. It does connote, however, that design and component engineers need to ensure they select parts that have the very best chance of still being obtainable for the foreseeable future. In turn this will help companies safeguard that successful product offerings can be produced without expensive redesign cycles throughout the life of their products.
When reviewing trends of IC components introduced every year since 1998, some interesting trends emerge. For example, 50% of components introduced in 2002 are still being actively produced by OCMs; of the parts discontinued, the average life cycle before discontinuance was just short of six years. When compared to a decade later, in 2012, 50% of components introduced that year have already been discontinued today. Yet OCMs waited just over two years on average to discontinue the ICs that were not well adopted by the market and did not meet OCM sales performance requirements, indicating that the market had become less tolerant of ICs that didn't deliver viable sales.
Another interesting trend is the sharp decrease in life cycles for components introduced in 2008. Only 21% of parts introduced in 2008 by OCMs remain available in the market. Undoubtedly the global economic crash toward the end of 2008 is a contributor to the reduced life cycles for ICs introduced in 2008 as OCMs scaled back product offerings in reaction to the downturn.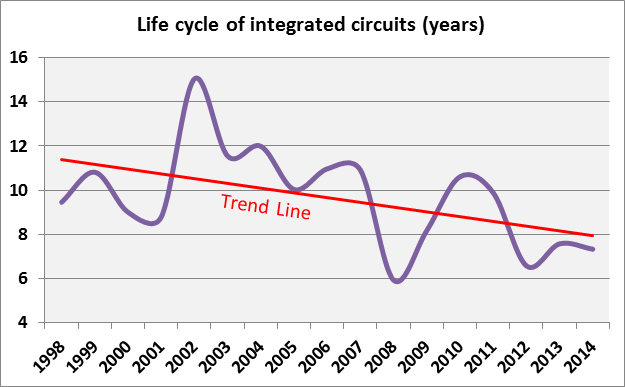 So how can companies that produce longer-life-cycle products protect themselves from supply chain disruption? For firms that do not have the luxury of working directly with OCMs to design custom ICs, parts selection on the open market is difficult but critical to reducing redesign costs or manufacturing delays down the road. A few recommendations include:
Select ICs that have been well adopted by the market, available for several years from many authorized distributors.
Ensure that the OCM has a favorable product-longevity policy.
Select parts that have drop-in cross references as to form, fit and function (FFF) from several different OCMs. This will confirm that other opportunities exist if supply chain constraints emerge.
Utilize an end-of-life notification service to allow proactive last-time buys and avoid costly unexpected supply chain constraints and production line-down delays.
Understand commodity and OCM forecasts in the years ahead so that part buys from expected OCM commodity leaders can be facilitated.
Finally, make sure that your organization has access to the best obsolescence management and component forecasting tools in the industry. Visit:
https://ihsmarkit.com/products/board-level-electronic-component-management.html
https://technology.ihs.com/Categories/450489/semiconductor-components
Greg Wood is a Director in the Electronic Parts business at IHS
Special Thanks to Praveen Hiraskar for his contribution
Posted on 20 April 2016
RELATED INDUSTRIES & TOPICS