Customer Logins
Obtain the data you need to make the most informed decisions by accessing our extensive portfolio of information, analytics, and expertise. Sign in to the product or service center of your choice.
Customer Logins
Short-cycle targets present opportunities for oil & gas operators to increase production & cash flow outside onshore US

IHS Markit expects global E&P sector exploration budgets to remain flat in 2018 as operators continue to focus on efficiencies and improved recovery in generating supply growth.
The reality of today is that most operators will prioritize short-cycle development opportunities over greenfield exploration prospects to generate both financial returns and reserves growth.
What exactly do we mean by shorter cycle?
We're all familiar with short cycle projects in the sense of unconventional development in onshore North America. However, this discussion addresses medium term (1-3 years from discovery to Final Investment Decision- FID) projects which can be brought online quickly. These are typically shallow water and onshore projects- shown in the figure below by yellow circles in the middle of the graph. This category can also include sub-sea tiebacks to existing platforms in the deepwater also.
These shorter cycle projects play an important role in meeting future supply as North American tight oil cannot alone meet IHS Markit projected oil demand scenarios.
Figure 1: Shorter cycle investment options
As part of its "Back to the Basin" research initiative, IHS Markit has identified 5 international geographies with high potential for shorter cycle development prospects that can provide operators capital flexibility in exploration portfolios and sources of free cash flow. These opportunities are best identified via "whole basin strategies" that exploit the benefits of large, mature oil & gas provinces with two or more working petroleum systems, stacked reservoirs, existing infrastructure, service sector capacity and technical knowledge. Such whole basin strategies consider geopolitics, existing infrastructure, service sector capacity and technical knowledge. And, where possible, these strategies exploit the benefits of large, mature oil & gas provinces with two or more working petroleum systems and stacked reservoirs. The concept also includes less explored areas of producing basins often accessed via upstream sector openings.
Initial analysis flags more than 5,000 mmboe of short-cycle resource in Mexico, Nigeria, Egypt, Brazil and the North Sea that break even under US$30/bbl. All of these opportunities are located in shallow water or mature onshore areas, and have been previously ignored due to reservoir under-performance or above-ground factors or risks.
Stagnant oil prices continue to limit large-scale investments in global exploration worldwide, including deepwater plays. And, while many wells in the US are quickly cash-flow positive, full onshore projects require continuous drilling that can strain cash flows for several years. Investors are increasingly requesting that companies demonstrate greater capital discipline as they deliver production growth.
Cognizant of this "new normal" E&P environment, IHS Markit's 'Back to the Basin' research initiative studies producing basins outside the U.S. and Canadian onshore to identify those with less capital intensive and shorter cycle projects. Such basins enable operators to reduce risk by leveraging both existing basin infrastructure and to exploit production techniques which have succeeded onshore in the U.S. and Canada.
IHS Markit has developed case studies in Oman and offshore Western Desert - Egypt that identify basins previously inaccessible due to war, geopolitical strife, or those previously overlooked because of single operator (typically state-owned) access, stringent regulatory terms or bureaucratic barriers, but now offer favorable terms and are open to foreign investment. Additional examples under consideration include basins in Mexico, parts of Africa, the North Sea, Brazil, and even the U.S. North Slope-Alaska.
From a corporate perspective, Eni provides an example of a short-cycle, frontier & near field exploration strategy evolved in response to these pressures and opportunities. There is a new ventures element: entry into shallow water opportunities in Mexico's upstream opening led to the Area 1 discovery (1.4 B boe) in the Sureste Basin with first oil targeted for 2019, just two years from discovery. And for another demonstration of a Whole Basin Strategy, inclusive of the reworking of heavily explored areas with new ideas and technologies that leverage adjacent infrastructure and shorten the time to first cash flow: Eni brought onstream its Nooros gas field project in the shallow water Nile Delta just three months after its discovery in mid-2015. Nooros reached full output one and a half years after discovery.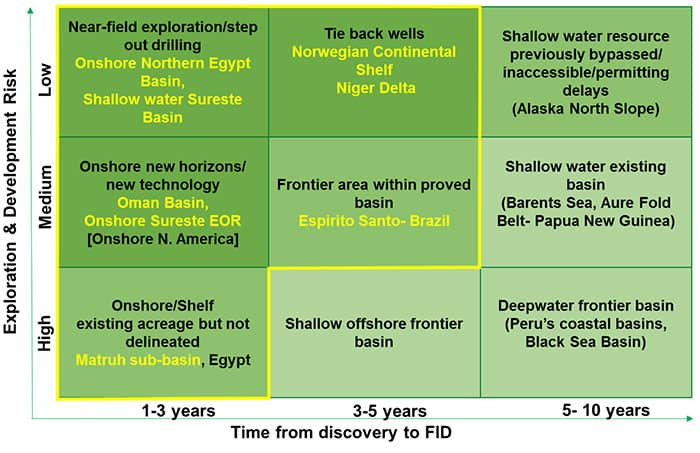 Figure 2: Yellow box outlines shorter cycle asset positioning in an operator portfolio
Learn more about our plays and basins insight solutions.
Want to learn more about super basins? Join IHS Markit and AAPG at the upcoming Global Super Basins Leadership Conference in March.
Kareemah Mohamed is an Associate Director on the plays and basins team at IHS Markit.
Posted 5 January 2018
---
Follow IHS Markit Energy
RELATED INDUSTRIES & TOPICS