Customer Logins
Obtain the data you need to make the most informed decisions by accessing our extensive portfolio of information, analytics, and expertise. Sign in to the product or service center of your choice.
Customer Logins
Secondary Shock: A dramatic hit on the Canadian condensate market

These are strange times for oil markets; global demand has fallen by more than 30% overnight and WTI crude futures made headlines this week when contracts for May delivery hit negative $37/b. Meanwhile, spot prices for WTI and other benchmark grades such as Brent have now fallen below $20/b. However, spot prices for most crudes in Canada, which is geographically distant from end markets, have been under $20/b since mid-March, including dipping into the single digits in recent weeks.
Understandably, these absurdly low prices are having an impact on Canadian oil production. IHS Markit forecasts that Western Canadian crude output could fall by a million b/d or more in the coming months. This is notable on its own, but the sharp curtailment in production will also have a knock-on effect for the North American condensate market.
Condensate is something of a catch-all term for many kinds of ultra-light hydrocarbons. Condensate can come directly from the wellhead like a crude, or it can be extracted from the natural gas stream at a specialized processing facility. Whatever its source, condensate is a critical part of western Canadian output because it can be blended with oil sands crude oil that would otherwise be too heavy to be transported via pipeline. Oil sands crude can also be blended with lighter crudes to meet pipeline specifications, but condensate is preferred as a diluent because it is far lighter and thus less of it is required. As such, condensate typically accounts for around 85% of the Canadian oil sector's diluent demand. This is no small volume, equivalent to around 660,000 b/d of condensate last quarter. The majority of this supply is provided by domestic Canadian production, but a significant volume (~275,000 b/d in 1Q20) was imported from the US.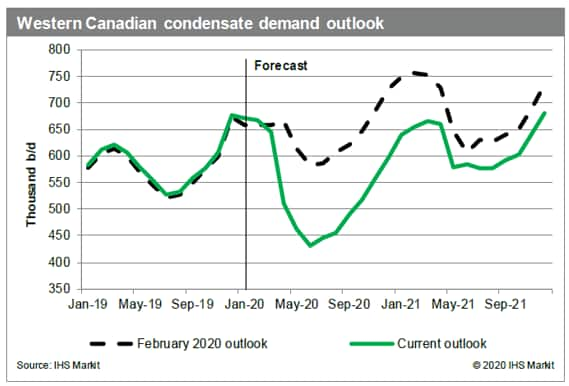 Figure 1: Western Canadian condensate demand outlook
However, with the looming decrease in heavy Canadian crude production, there will be less need for condensate and other diluents. Specifically, IHS Markit expects Canadian condensate demand will fall by 200,000 b/d this quarter - a nearly 30% reduction. Intuitively, one might expect imports of US crude to bear the brunt of the decline, but the story is complicated by other factors.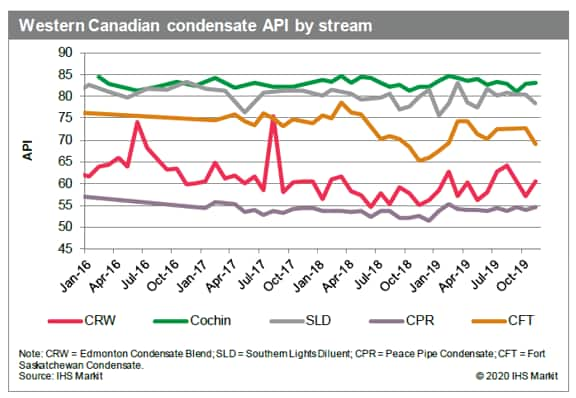 Figure 2: Western Canadian condensate API by stream
First, condensate imported from the US is significantly lighter than most domestically produced Canadian supply, meaning less is required to do the same job. Second, most condensate importers have what amounts to a "take or pay" contract for their pipeline volumes. That is, they pay the pipeline company to ship an agreed-upon volume regardless of whether they actually ship that amount - which obviously gives them an added incentive to keep importing. Third, the only other major market for US condensate producers is to blend it with the light naphtha stream and export to Asia for use in petrochemical cracking. This will undoubtedly result in lower netbacks for US producers. Finally, condensate in both the US and Canada is linked to crude and natural gas output; as production of the latter declines, so too will the former.
One thing is for certain: the condensate market, like the rest of the oil sector, is vastly oversupplied right now. The benchmark condensate price in Edmonton, which averaged $54/b during 2019, is expected to average well under $10/b during April and May. Not quite negative $37/b, but still dire times for producers.
IHS Markit proprietary supply, demand and price forecasts for NGLs (ethane, propane, normal/isobutane and natural gasoline) help our clients tackle some of the most difficult times and make better investment and purchase decisions. Learn more about our Natural Gas Liquids Markets, and download our brochure for more insights.
Bill Rawlusyk is an Executive Director for the North American NGL Markets team at IHS Markit.
Celina Hwang is a Senior Research Analyst for the North American Crude Oils Markets team at IHS Markit.
Jordan Woloschuk is a Senior Research Analyst in the Midstream Oil & NGL team at IHS Markit.
Kevin Birn is a Vice President for the North American Crude Oil Markets team at IHS Markit.
Posted 23 April 2020
---
Follow IHS Markit Energy
RELATED INDUSTRIES & TOPICS