Customer Logins
Obtain the data you need to make the most informed decisions by accessing our extensive portfolio of information, analytics, and expertise. Sign in to the product or service center of your choice.
Customer Logins
Second Italian green hydrogen cluster wins funds

Italy is set to build a "hydrogen valley" incubator for gas network and mobility end uses in Rome, according to a statement by Italy's state-sponsored technology development agency (ENEA).
The project won €14 million (US$16 million) in funding from a coalition of states and the EU that offers funding to spur public-private cleantech investment. The coalition, Mission Innovation, was launched by Bill Gates in parallel with his cleantech investment vehicle Breakthrough Energy at COP21 in 2015.
Hydrogen valleys can cut the cost of hydrogen production by reaching economies of scale, the coalition said. By allowing businesses to form supply chains for hydrogen production and consumption, they can help tackle, for example, the sticky problem areas of storage, transportation, as well as overall costs, in incubators ranging in size from an entire industrial estate to a city.
Hydrogen valleys are spread across Europe, a total of 19 in all, with at least 32 announced so far worldwide according to an online networking platform for hydrogen valleys developed by Mission Innovation and an EU public private partnership, FCH JU. Another hydrogen valley focused in South Tyrol, Italy was developed by Institute for Innovative Technologies Kons, the German research nonprofit, and funded by the EU's European Regional Development Fund.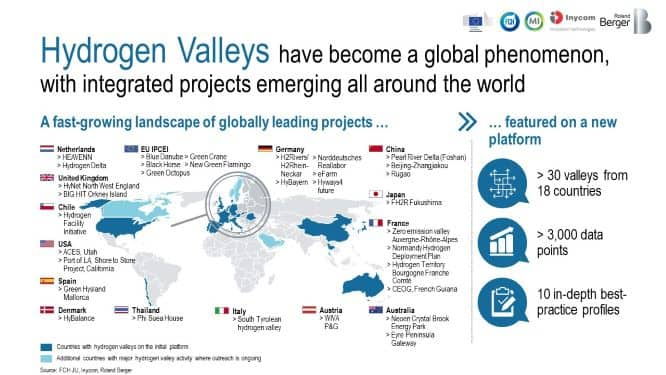 Power-to-gas and mobility
ENEA plans to build an "all Italian" hydrogen valley at its Casaccia Research Center, incorporating the supply chain across its network of 200 buildings, laboratories, roads, an autonomous gas network, and an electricity network, it said on 18 March.
The project will produce green hydrogen using a commercial alkaline or polymer electrolyzer, as well as researching highly efficient advanced electrolyzers. Apart from using an electrolyzer of around 200 kW to produce green hydrogen from solar photovoltaic facilities, the project may experiment with producing green hydrogen from residual biomass and renewable heat from concentrated solar power plants.
Aiming to decarbonize the mobility sector, ENEA is planning a hydrogen refueling station to fuel trucks, buses, and cars in use at the research center. In another application, Italian power company Enel's renewable generation subsidiary and Italian public railway company FNM will build hydrogen-powered trains that would replace existing diesel trains. Enel will also produce the green hydrogen, having previously established green hydrogen partnerships and projects in Chile, the US, and Italy.
The project's green hydrogen also may be converted into methane or fed into the internal natural gas grid in a power-to-gas application, serving as energy storage "in anticipation of a strong growth of renewables."
The positive outcome of creating a hydrogen market foreseen by ENEA is strengthening Italy's solar PV markets and PV module production capability, which is currently dominated by China, according to IHS Markit data on solar module production. Hydrogen uptake could also spur the market for locally manufactured electrolyzers and hydrogen-powered fuel cells for vehicles.
EU hydrogen projects
ENEA is set to expand Italy's global role in hydrogen through a different project. In February, it announced it's working on behalf of Italy's Ministry of Economic Development (MiSE) to gain EU backing for a hydrogen initiative set to be one of the EU's Important Projects of Common European Interest (IPCEI). The EU sanctions the public-private projects for funding and incubation by allowing increased state subsidies to flow to the projects.
In neighboring Germany, another hydrogen IPCEI being put together by the national energy ministry has received around 200 hydrogen project proposals from companies, the German ministry said in February.
In 2018, the European Commission identified hydrogen as one of six strategic value chains that would increase the EU's economic and technological competitiveness while securing bloc-wide energy supplies.
Both renewable and low-carbon hydrogen have a role to play in meeting the EU's 2050 climate neutrality goal, the EC said in its Hydrogen Strategy published in July 2020. The EC expects that renewable hydrogen will gradually become cost-competitive with low-carbon hydrogen from 2025 to 2030.
In this phase of the strategy, the EC explained hydrogen valleys would be developed off-grid, with decentralized renewable energy and hydrogen production meeting local demand for renewable energy storage, industrial fuel and residential heat. The valleys also would demonstrate hydrogen transport over short distances. It said it would enact demand policies to stimulate hydrogen uptake by operators of rail, trucks, certain ships, and steel production plants.
RELATED INDUSTRIES & TOPICS