Customer Logins
Obtain the data you need to make the most informed decisions by accessing our extensive portfolio of information, analytics, and expertise. Sign in to the product or service center of your choice.
Customer Logins
Scenario analysis of US mid-term elections
On 6 November 2018, the United States will hold national mid-term elections to select members of the 116th Congress and 36 governors. Our analysts have run potential election outcome scenarios and assessed the policy and procedural implications arising from them.
Key findings
IHS Markit assesses that given current polling, Presidential approval ratings, and Democratic performance in recent special elections, Democrats will most likely retake the House, while Republicans will retain their majority in the Senate.
Under the scenarios of either a split chamber or Democratic majority in both chambers, the likelihood of policy gridlock would increase, although opportunities for bipartisanship include infrastructure and immigration reform.
Regardless of the outcome of November's mid-term elections, executive actions are likely to continue to be used to pursue renegotiations of additional trade agreements under a fast-track Trade Promotion Authority; further tariff increases; additional sanctions on individuals, firms, and countries; and deregulation efforts.
Should Republicans retain their majority in both chambers, the current administration would look to advance items on its domestic policy agenda requiring congressional approval including making the 2017 individual tax cuts permanent, or eliminating the Affordable Care Act, while on foreign policy the administration would likely pursue additional trade tactics including reconsidering auto tariffs and greatly expanding the current tariff regime against China.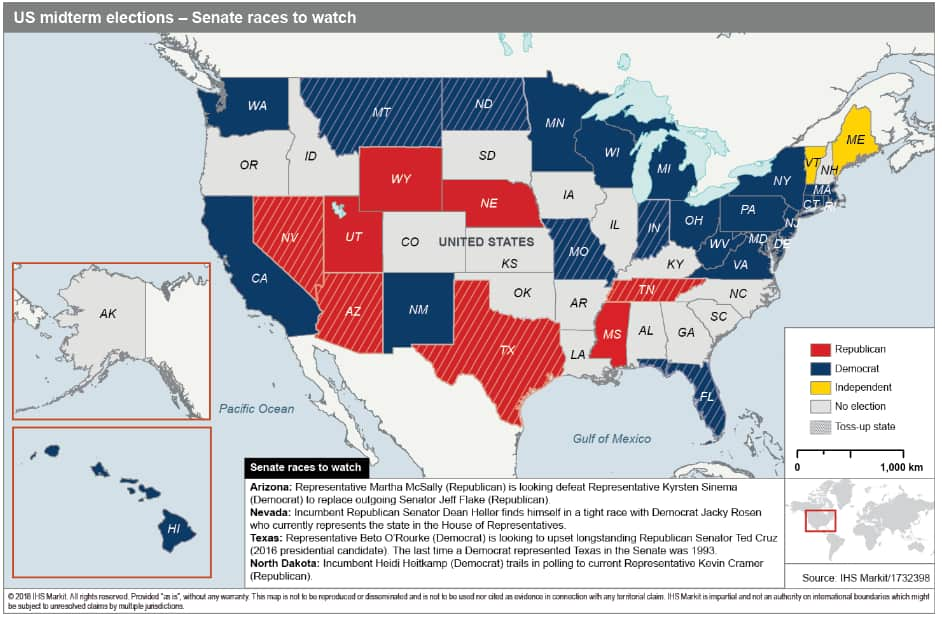 Scenario 1: Democrats win a majority in the House of Representative, but Republicans maintain their control of the Senate
Outlook
Should Democrats take the House of Representatives and Republicans maintain a majority in the Senate, the likelihood of policy gridlock would almost certainly increase, with Republican efforts to make the 2017 individual tax cuts permanent, eliminate Obamacare, or undertake substantial changes to social entitlements likely off the table until following the 2020 presidential and congressional elections (all House seats and one-third of Senate seats) at the earliest, when they will have an opportunity to regain their congressional majorities.
Policy implications
Despite the likely legislative impasse under this scenario, certain policy areas lend themselves to bipartisanship, and are thus comparatively more likely to advance.
One would be efforts to improve US infrastructure. Although a House Democratic majority would resist efforts to deprioritize environmental protections and push for greater federal funding than Trump's plan contemplates, legislative compromise would likely include investment in public transportation, ports, and water systems, as well as veterans' facilities.
Immigration reform represents another potential opportunity for bills to pass with bipartisan support, even under a split Congress.
Scenario 2: Democrats win a majority in both the House of Representatives and the Senate
Outlook
In the less-likely scenario in which Democrats gain majorities in both congressional chambers, prospects for passage of the current administration's legislative goals would essentially cease. Accordingly, presidential policy initiatives would almost exclusively be limited to executive orders and the normal regulatory process. A complete Democratic takeover of Congress would also raise the prospects of presidential veto authority beings used over approved congressional legislation.
Policy implications
In May 2018, Democrats released 'A Better Deal': a policy handbook outlining their policy goals including provisions on health policy, infrastructure development, political transparency, and labor rights. For infrastructure, they have promised to pass a USD1-trillion infrastructure bill to build new schools, community housing, bridges, rail tracks, airports, public housing, and sewer systems.
As an anti-corruption measure, Democrats would look to pass new guidelines restricting lobbying by former government officials.
Finally, they have proposed increasing the number of registered apprenticeships and work-based learning programs, while also providing a new tax credit for businesses to train and hire new workers. It should be noted that very few of these legislative priorities, aside from infrastructure, will likely become law without significant Republican support, as Republicans will retain their capacity to filibuster legislation in the Senate.
If Republicans lose both chambers, the likelihood of government shutdowns around budgetary matters increases given that Democrats would have a unified congressional front in going head-to-head with the president.
Scenario 3: Republicans hold on to majorities in both the House of Representatives and the Senate
Outlook
In the low-probability, high-impact scenario in which Republicans maintain their majorities in both the House and Senate, they would likely view the election as a referendum on the current administration's America First agenda, including the priorities that have produced significant economic growth over 2018.
Policy implications
Under this scenario, we can expect Trump to resume pushing the items on his domestic policy agenda that require congressional approval.
Although Republicans would likely face a 60-vote threshold for overcoming filibusters in the Senate, they can attempt to utilize the process of budgetary reconciliation, which requires only a majority. Likely priorities that would remain on the policy agenda would be another effort to overturn or undermine the Affordable Care Act, which fell short by one vote in 2017.
Republicans would likely also attempt further tax reform, such as making the individual tax cuts passed in 2017 permanent. Some Republicans would likely support further cuts to federal social and entitlement programs like food stamps, Social Security, Medicare, and Medicaid, although the president's appetite for this is unclear.
On foreign policy, a Republican mid-term victory would represent a referendum on the current administration's trade agenda. With an expanded Republican congressional backing, it would likely embolden the administration to pursue some of the more aggressive trade strategies on its policy wish list including imposing auto tariffs on Europe as part of the recently reinitiated US-European Union Trade negotiations. It would also likely renew Trump's calls for re-evaluating the US participation in the World Trade Organization.
RELATED INDUSTRIES & TOPICS