Customer Logins
Obtain the data you need to make the most informed decisions by accessing our extensive portfolio of information, analytics, and expertise. Sign in to the product or service center of your choice.
Customer Logins
IHS Harmony's New Hybrid Model - high science interpretation with the speed of analytical modeling

03 February 2016
IHS Markit Energy Expert
IHS Harmony™ has a history of introducing cutting-edge analysis techniques, models, and repeatable workflows while retaining its practicality and ease of use. The software not only assists reservoir and production engineers in estimating reserves, optimizing well performance, characterizing reservoirs, and driving valuefrom production data, it does so while enabling rigorous analysis that are scalable to work for the demanding well counts managed by today's engineering professionals. The IHS Harmony legacy of research and development continues with the exciting release of a model that couples the speed advantage of analytical modeling with the ability to analyze more complex fluid behavior, often associated with numerical simulation
A downside of numerical simulation is that it can take a very long time to generate and run models, making it a challenge to scale when evaluating large numbers of wells. Analytical models are excellent for conventional wells, but may struggle for unconventional wells when complex reservoir and fluid behavior is encountered. IHS Harmony's new gas hybrid model offers the speed of analytical modeling with the accuracy and reliability of numerical modeling.
Currently the model focuses on the analysis of unconventional single-phase gas wells and resolves a long standing pseudo-time challenge that affects some analytical models. The pseudo-time issue most often manifests itself when evaluating unconventional gas wells with low permeability, geomechanical reservoir effects, or being operated at high drawdown conditions. Results exhibiting these pseudo-time challenges may have resulted in inaccurate predictions of drainage and recovery.
This new hybrid model resolves the pseudo-time issue and does so in a timeframe that is comparable with analytical modeling. Furthermore, the setup of these models in IHS Harmony is far less cumbersome compared with traditional numerical simulator suites that require an in-depth understanding of gridding prior to starting modeling.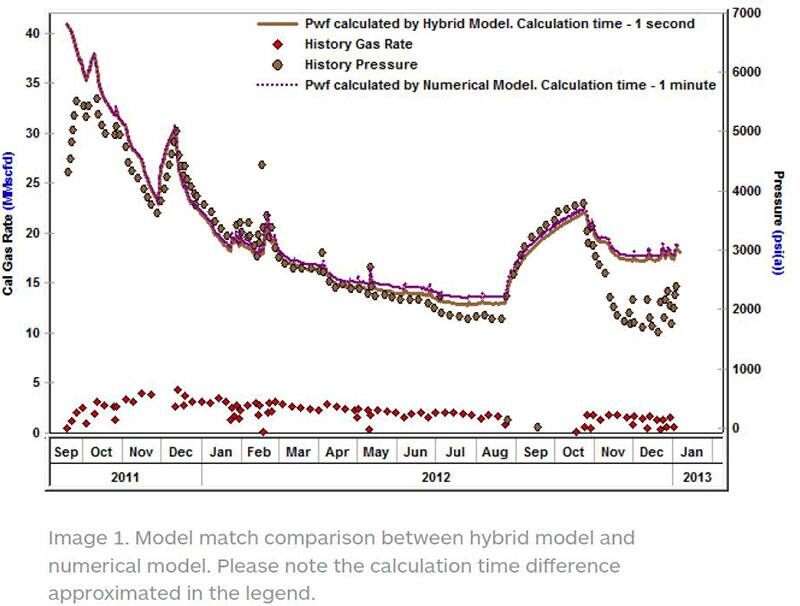 This new and exciting technology is a tremendous step forward for the analysis of unconventional gas wells. More importantly, this advancement shows the potential for IHS Harmony to combine the advantages of numerical modeling with the practicality and speed required to assist in performing meaningful analysis to the large portfolios managed by today's engineering professionals.
Lucas Ford, Fekete Associates Inc.
Posted 4 February 2016
---
Follow IHS Markit Energy
RELATED INDUSTRIES & TOPICS