Customer Logins
Obtain the data you need to make the most informed decisions by accessing our extensive portfolio of information, analytics, and expertise. Sign in to the product or service center of your choice.
Customer Logins
China's retail power tariff: Upward and downward pressure coexist

06 November 2018
Shan Xue
Retail power tariffs are strictly regulated in mainland China, with large variations across end-user categories, voltage levels, and regions. Despite the price differences, most sectoral retail power tariffs share the same structure with four key components: power generation cost, transmission and distribution (T&D) tariffs, government fees, and renewable surcharge. How the tariff evolves in the future depends on the trajectory of each contributing component, with significant impact on power consumers and power generators alike. The current differences across various categories listed above will remain in the long term, requiring continuous market and policy analysis to identify their development pathways.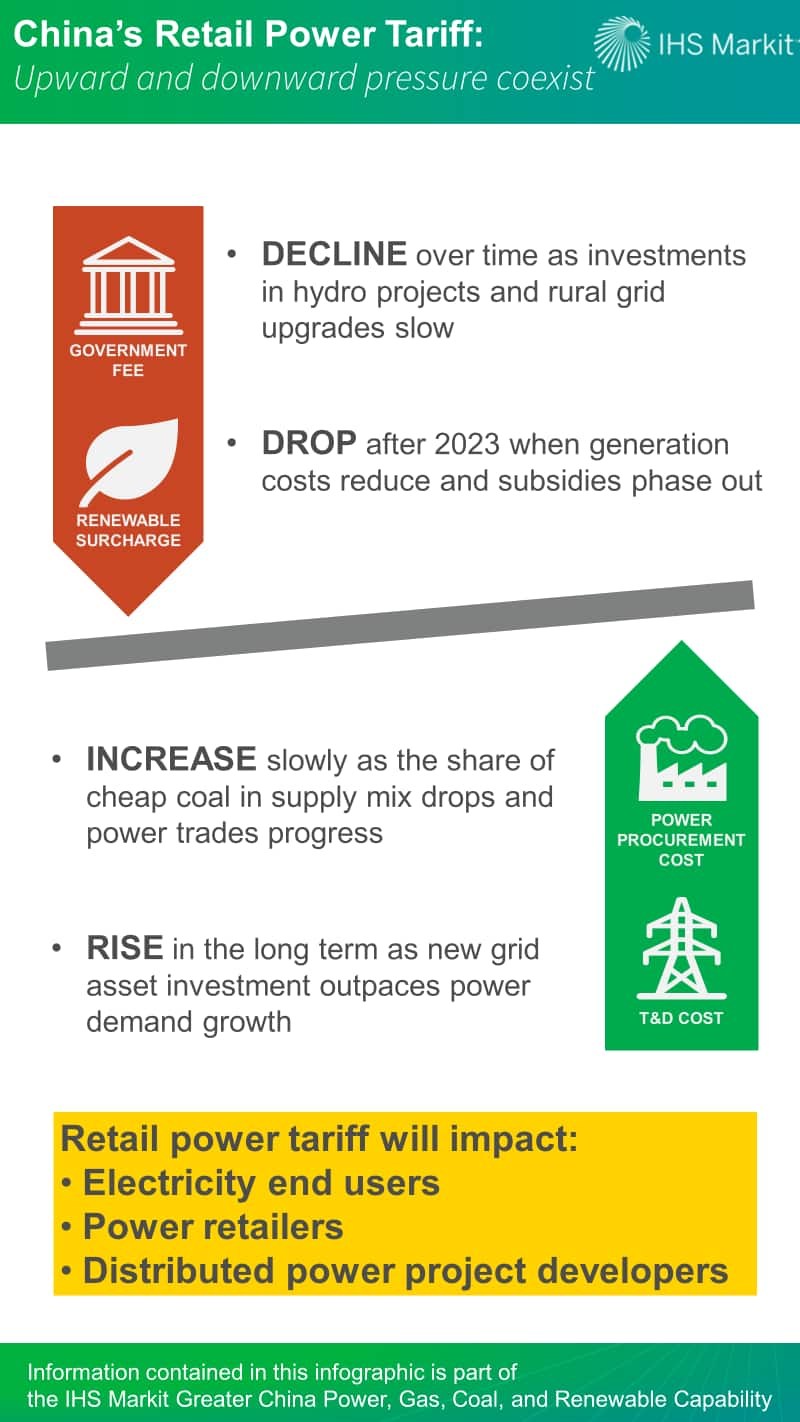 Figure 1: China's retail power tariff
Power generation cost. In the current regulated market, power generation costs reflect the average cost of power generation, taking into consideration power generation cost by technology and the power generation mix. As the share of coal in the power sector declines and renewable system cost falls, the average power generation cost will rise but only gradually. In a competitive power market, power procurement costs will likely follow the marginal power generation cost-mostly gas units in the case of China today-which would increase over time owing to higher fuel prices and operational cost.
T&D tariffs. Under China's power reform plans, power T&D tariffs are regulated based on a cost-plus basis with increasing cost scrutiny by regulators. Therefore, T&D cost and tariff will decline in the short to medium term. In the long term, new grid investment will likely outpace power demand growth, leading to rising T&D tariffs.
Government fees. Public collections related to water conservancy projects and rural grid development are the key elements of government fee. As hydropower development decelerates, given challenges from complex geological conditions, fragile ecological system, and political issues, funds required for water conservancy projects will decrease or even get canceled in the future. Rural grid investment will remain relatively high through 2020 to meet government targets, then gradually decline. As a result, rural grid repayment fund will most likely remain at the current level through 2025 and slowly drop to zero around 2030.
Renewable surcharge. A portion of retail power tariff, the renewable surcharge rose sharply from the initially 0.001 yuan per kWh in 2006 to 0.019 yuan per kWh in October 2018 following the rapid renewable capacity additions and the associated feed-in tariffs. In our power demand and renewable generation and cost outlooks, to avoid the renewable fund shortage, the renewable surcharge is expected to continue rising until 2023, and then begin to fall along with rapid reduction in wind and solar photovoltaic generation costs.
Learn more about our coverage of the China energy market through our regional power, gas, coal, and renewables service.
Shan Xue is a Senior Research Analyst covering the power market analysis on China.
Posted 6 November 2018
---
Follow IHS Markit Energy
RELATED INDUSTRIES & TOPICS