Customer Logins
Obtain the data you need to make the most informed decisions by accessing our extensive portfolio of information, analytics, and expertise. Sign in to the product or service center of your choice.
Customer Logins
Renewable power generation investments to accelerate in 2021-2025: IHS Markit

Solar PV installations are expected to post 27% year-on-year growth in 2021 amid strong demand despite increased module prices, long lead times, and rising freight costs, IHS Markit said on 29 March.
Looking a few years down the line, annual installations of renewable power generation globally will accelerate from about 200 gigawatts (GW) in 2020 to about 300 GW in 2024, according to a white paper IHS Markit released earlier this month.
Falling costs for solar photovoltaic (PV) and wind power, combined with companies and countries making net-zero commitments, are the driving factors, IHS Markit's Global Power Team concluded in "Five anticipated trends in 2021 for global power and renewable markets."
"A 54% decline in global average solar photovoltaic system costs during 2015-21 makes solar a preferred resource almost everywhere (module costs rose in 2020, but new manufacturing capacity expected in 2021 should drop costs again). Germany, Italy, Spain, South Korea, and others recently increased or plan to increase their solar targets," IHS Markit said.
This year's expected growth comes when the solar supply chain is moving into a new phase with increased emphasis on three critical factors of profitability, technology leadership, and consolidation. "Leading module manufacturers are sold out for the first half of the year," said Josefin Berg, research manager, clean energy technology, at IHS Markit. "There is no indication of price weakness for July shipments yet, manufacturing capacity remains sufficient and no major material bottlenecks have arisen to change our forecast for 181 GW in global solar PV installations."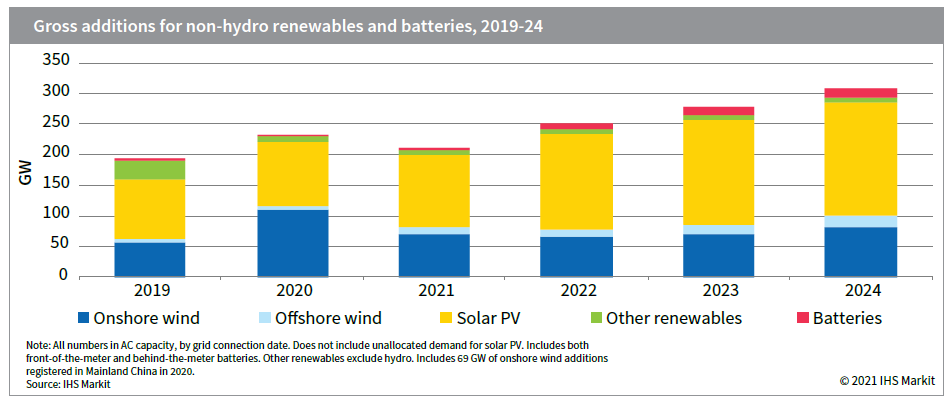 Wind installations
Onshore wind additions hit a record in 2020 of nearly 120 GW of newbuild, and activity should be equally strong in the US and mainland China in 2021 as developers complete projects in order to earn subsidies that expire at the end of the year.
Europe's wind growth will be slower, as IHS Markit noted a surge in "not in my backyard" pushback for wind in some areas, as well as the growing competitiveness of solar PV. "Yet, the cost efficiency of state-of-the-art turbines, with capacities above 5 MW and loads reaching 40%, make them economic options," the paper said.
Offshore wind is starting to hit its stride, with an anticipated 11 GW of new deployment in 2021, which is double the figure of 2020. IHS Markit noted the geographic spread of this fast-growing option. "China will experience a boom in installations," it said, adding that Japan, Poland, and the UK have raised their offshore wind targets for future years, along with greater support for offshore wind in the US under the new presidential administration.
With wind and solar "becoming competitive on an energy basis without financial support [from governments]," IHS Markit said the way that renewable power is being sold is evolving. It sees greater use of auctions and greater participation by corporate buyers. The paper cites the example of a recent Spanish auction that awarded 3 GW of renewables, and news from India that it may tender for about 40 GW in 2021 to meet its renewable targets. "New markets like Ecuador and Myanmar held their first renewables auctions in 2020, and newcomers like Vietnam (which will have its first solar tender), the Philippines, and Slovakia will likely join them in 2021," IHS Markit said.
Expectations for the growth of renewable power have led large oil and gas companies, especially those based in Europe such as BP, Shell, and Total, to ramp up their investments in the sector. According to IHS Markit data, oil and gas companies made 18 acquisitions in the solar and wind generation sector in 2019 and 17 in 2020, compared with nine in 2018.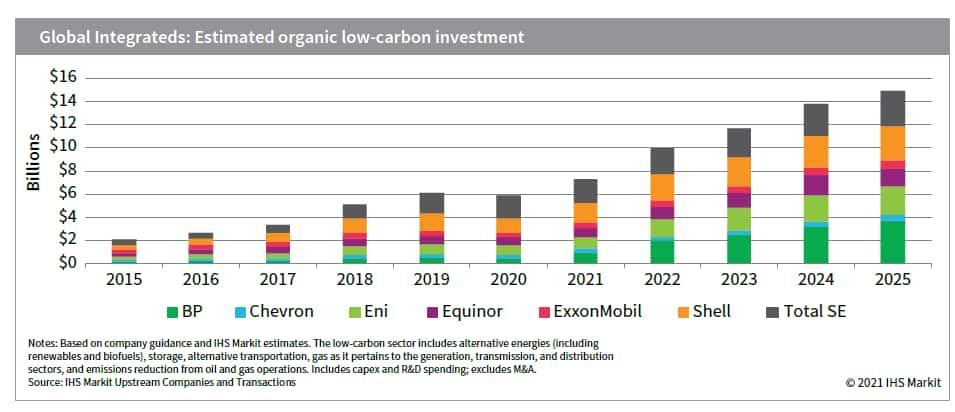 On the demand side, corporate power purchase agreements are rising as well, as companies seek to promote their environmental bona fides. "Corporate renewable energy deals in the United States nearly matched those of all other renewables contracting in 2020," IHS Markit said.
IHS Markit's numbers track in line rapid growth in renewable generation forecast by the International Energy Agency (IEA) last year. "In 2025, renewables are set to become the largest source of electricity generation worldwide, ending coal's five decades as the top power provider," IEA Executive Director Fatih Birol said 10 November. "By that time, renewables are expected to supply one-third of the world's electricity — and their total capacity will be twice the size of the entire power capacity of China today."
"Renewables will account for almost 90% of the increase in total power capacity worldwide in 2020 and will accelerate in 2021 to their fastest growth in the last six years," Birol said.
What's more, renewables between 2020 and 2050 are expected to meet 99% of the global electricity demand increase. In China and India, IEA forecasts renewables will cover 65% of demand growth, while in developing countries renewables will replace coal generation as aging fleets retire.
Battery storage and hydrogen
For emerging technologies such as battery storage and hydrogen, 2021 will be a year of more progress, though reliance on regulations and subsidies will continue while they seek to establish a firm commercial footing.
Energy storage systems are going strong in California, where IHS Markit noted, "every new solar project comes with a battery attached." IHS Markit also identified India and Chile as countries in which battery storage projects could see a boost in 2021.
On hydrogen, IHS Markit said that both the demand and production sides will continue to move forward. "Nearly all Chinese provinces have now published hydrogen plans. India will launch a Hydrogen Energy Mission in 2021-22," it said. "Australia, Chile, and Colombia have passed policies to become green hydrogen export hubs."
However, the cost of green hydrogen -- made through electrolysis of water, using renewable power -- is still expensive and untested on a commercial scale. "The economics of green hydrogen must still radically improve (natural gas is 10-20 times cheaper), but its physics make it a game changer for the renewables industry," IHS Markit said.