Customer Logins
Obtain the data you need to make the most informed decisions by accessing our extensive portfolio of information, analytics, and expertise. Sign in to the product or service center of your choice.
Customer Logins
Renewable natural gas taking off in US as decarbonization pathway

An announcement by Chevron USA on 17 February that it has expanded its agreement with Brightmark to purchase dairy-based biomethane renewable natural gas (RNG) illustrates how the biogas industry in the US is continuing to attract attention from fossil fuel majors.
This follows Total and BP signing deals in December with Clean Energy Fuels, the largest RNG provider in the US, to invest $50 million each to help the company fund new projects for more domestic RNG production from dairies and municipal waste facilities.
Chevron and Brightmark launched Brightmark RNG Holdings in October 2020, and they said the newly announced deal will support five new dairy biomethane projects in Michigan and Arizona.
"Working with Brightmark to add new projects underpins our commitment to supplying the world with affordable, reliable, and ever-cleaner energy," Chevron's Americas Fuels & Lubricants president Andy Walz said. Brightmark operates more than a dozen RNG and bioplastics facilities in the US using its patented technology, and in February signed its first non-US contract to work with SK Global Chemical to jointly develop, finance, construct, and operate a 100,000 metric tons/year plastics renewal facility in South Korea.
RNG and decarbonization of gas
Whether made from waste at dairies and hog farms, landfills, municipal waste, or other biomass, RNG offers a double dose of decarbonization benefits. Not only does producing it remove carbon-heavy streams from the environment, but the end product is a carbon-free natural gas that can displace conventional natural gas. RNG can be used to fuel natural gas vehicles or delivered for home and residential heating by being blended with fossil fuel natural gas.
IHS Markit said that nearly 31 million Btu of gas-equivalent RNG was consumed for transportation in the US in 2019.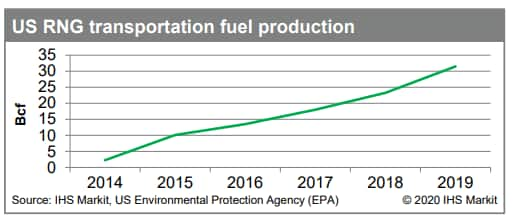 To put that volume into context, RNG used for transport and other purposes accounted for less than 1% of US natural gas production in 2019. But IHS Markit Director Alex Klaessig observed in a webinar in July 2020 that sufficient biomass exists in the US for as much as 51 billion cubic feet per day (Bcf/d) of production, compared with the approximately 0.085 Bcf/d produced at the time.
Despite the miniscule impact on natural gas deliveries today, it's clear that gas utilities are interested. The American Gas Association's Activity Tracker, updated in December 2020, shows utilities in at least 28 US states have proposed programs to blend RNG into their fossil fuel streams.
Trade group NGV America sent an open letter to new Secretary of Transportation Pete Buttigieg on 16 February arguing RNG should have a major role in transportation, given transport is the largest single source of carbon emissions in the US. The Biden administration must "get more clean replacement vehicles on the road right away with cost-effective natural gas vehicles fueled by renewable natural gas…. Heavy-duty trucks and buses are responsible for 32% of US on-road transportation greenhouse gas (GHG) emissions," the group said.
However, questions have been raised about how much RNG can be produced in the US from biomass, and at what cost.
The Sierra Club and Earthjustice issued a report in 2020 that found RNG and other synthetic forms of natural gas could replace 6-13% of projected natural gas demand by 2040, but at a cost of 4-17 times more than that of fossil fuel natural gas. Those groups said they prefer rapid electrification as a decarbonization strategy, rather than RNG.
The Natural Resources Defense Council came to an even less appealing conclusion in a 2020 study. It found that if gas only from waste streams, such as landfills and dairies, is considered, then the available biomass would be the equivalent of no more than 1% of US gas demand. To produce more RNG, resources such as forests or farmland crops would be needed.
California
While debate continues on the ideal amount of RNG production (for economic and climate purposes), it's clear that the ceiling hasn't been hit yet. California is leading the way, as the state's Low Carbon Fuel Standard (LCFS) incentivizes production and use of this fuel source by crediting it with an extremely high reduction of carbon, compared with other motor fuels.
The California Air Resources Board gives RNG made through dairy waste digesters a carbon intensity (CI) score, based on grams of CO2-e per megajoule of energy, of about -270 to -290. RNG produced through other methods still has a negative CI, but a less advantageous one. For context, RNG's CI score is far superior to a CI of 97 for fossil fuel-based diesel or 46 for electric battery power, for example. Because a negative CI generates credits, RNG is extremely valuable in California today. The state's maximum for an LCFS credit is $200/metric ton, and OPIS reported that the spot price of a credit on 19 February was $191/metric ton.
Using $200/metric ton, IHS Markit's Klaessig said that an RNG credit in California would generate anywhere from $16/MMBtu to $81/MMBtu, depending on the production pathway.
Utilities will purchase RNG and pay the additional cost because it enables them to maintain a business-as-usual model of delivering natural gas. A study conducted in 2018 for Southern California Gas (SoCalGas), a major gas supplier in the state, found that 5% RNG blends across its service area would reduce emissions from the residential/commercial heating sector by 30%. SoCalGas said that 16% blends would be the equivalent, on a GHG emissions basis, to converting 100% of buildings to electric-only power. The state has mandated a 15% reduction in GHG emissions from its 1990 baseline by 2020 and net zero by 2045.
California has looked favorably upon RNG, not only through the LCFS, but also through a law that went into effect in 2020 that expands the permitted feedstocks to include dead trees, agricultural waste, and vegetation removed for wildfire mitigation.
On 17 December, the California Public Utilities Commission took yet another step, as it approved the state's first RNG tariff, proposed by SoCalGas and San Diego Gas & Electric. With the tariff, which is being implemented on a pilot basis, consumers will be able to choose to purchase RNG for residential and commercial use, paying a supplemental fee to cover the more costly fuel and administration of the program (yet to be determined).
Clean Energy Fuels
Announcements by Clean Energy Fuels—the largest supplier of RNG both in California and the US—in the last three months reflect the pace of activity. On 8 February, it signed an agreement with the Los Angeles County Metropolitan Transportation Authority (LA Metro) for 47.5 million gallons of RNG to fuel the largest transit bus fleet in the US, soon after announcements in December of contract renewals with four California fleet operators for 42 million gallons/year, as well as two new deals for another 7 million gallons/year. On top of those contracts, Clean Energy Fuels finalized a deal in December to obtain 58 million gallons of RNG annually that will sell at California service stations under the brand name Redeem.
"LA Metro is committed to ensuring a seamless path towards a carbon-neutral future," Chief Sustainability Officer Cris Liban stated. "Our use of RNG alongside our ultra-low [nitrogen oxide] engines on our existing [compressed natural gas] fleet provides the most cost-effective, equitable, and clean air strategy as we continue to transition to a 100% zero-emissions bus fleet by 2030 and a net zero-emissions agency by 2050."
Since 2017, LA Metro has used nearly 22 million gallons of RNG, according to the agency.
Clean Energy Fuels has been busy outside of California, as it signed a 21 December memorandum of understanding with Total, which has made a net-zero pledge for its worldwide operations by 2050. Total has pledged a direct investment of $50 million, as well as a credit option for another $65 million; and Clean Energy Fuels has pledged $30 million to expand RNG production in the US and Canada.
"Both our companies have recognized the enormous opportunity that a carbon-negative fuel can play in our ambitious efforts to combat climate change. This new agreement will allow Clean Energy [Fuels] to increase the flow of low-CI RNG as the demand expands, as well as the capital to build new fueling stations for additional contracted fleets," said CEO Andrew Littlefair.
The partners already were members of the Zero Now Initiative in California, which allows trucking fleets to pay the same price for RNG as for diesel fuel.
Also in December, Clean Energy Fuels said BP Products North America committed to a loan of $50 million to develop RNG production at US dairies.
Other activity
Other recent corporate commitments to RNG include:
Williams Cos., which operates the fourth-largest natural gas pipeline network in the US, said on 19 January that RNG will account for about one-quarter of its goal of a 56% reduction in carbon emissions from 2005 levels by 2030 and net-zero emissions by 2050.
Puget Sound Energy, the largest gas utility in Washington State, said on 21 January that RNG is one of its keys to reaching its "aspirational goal" of net-zero emissions for natural gas sales to residential and commercial users by 2045, and a 30% reduction by 2030.
Ameresco announced on 12 January it has mechanically completed its new RNG facility in Houston. The plant, at a landfill owned by Republic Services, will be able to produce more than 1.1 million Btu per year (MMBtu/y) of gas-equivalent RNG.
Dominion Energy and Smithfield Foods said on 9 December that Utah's first RNG project is operational, processing waste from 26 hog farms. The 100,000 metric tons/year of avoided methane will help Smithfield move towards its goal of a 25% reduction in emissions by 2025 (from 2005 levels) and reaching "carbon negative" status by 2030.
Oregon-based local gas distribution company NW Natural and BioCarbN announced 7 January they are partnering with Tyson Foods to convert methane into RNG at as many as four Tyson facilities. NW Natural CEO David Anderson said the four facilities were expected to generate more than 1.2 MMBtu/year of gas-equivalent RNG, and he credited Oregon SB 98, which went into effect in July 2020, as incentivizing the investment. SB 98 allows up to 5% of a utility's revenue to be used to cover the incremental costs of RNG.
Private investment firm Fortistar said on 11 December it will build a landfill waste methane conversion facility in Raiford, Florida, with New River Solid Waste Association, the first of its type in the state. Fortistar said it will announce as many as 12 RNG projects this year in the US Southeast and Midwest, committing up to $500 million. "When completed, these new projects will help produce 120 million gas-gallon-equivalents of RNG each year," Fortistar said.
RELATED INDUSTRIES & TOPICS