Customer Logins
Obtain the data you need to make the most informed decisions by accessing our extensive portfolio of information, analytics, and expertise. Sign in to the product or service center of your choice.
Customer Logins
Remote software update: Future growth business

13 January 2015
Egil Juliussen, Ph.D.
Software is an increasing portion of the car's functionality, resulting in a growing number of programs, lines of codes, and, unfortunately, software errors. A growing percentage of auto recalls are due to software issues. There is little data on software-based recalls, but there are indications that they are approaching 50% of all recalls in the United States. Since the cost of updating software at a dealer is up to USD100 per event, software updates are becoming a significant expense for every auto OEM. Hence, all OEMs are interested in updating software remotely via communication links. Remote software updates, or Firmware/Software Over the Air (FOTA/SOTA), are common in the PC, smartphone, and tablet industries. This experience and knowledge can be leveraged in the auto industry.
What is FOTA/SOTA?
Remote software upgrades are simple in principle, as shown in the figure below. The hard part is ensuring that the update is reliable, secure, and error free, no matter what happens with the communication link during the update. Remote software updates use the classical client-server model architecture.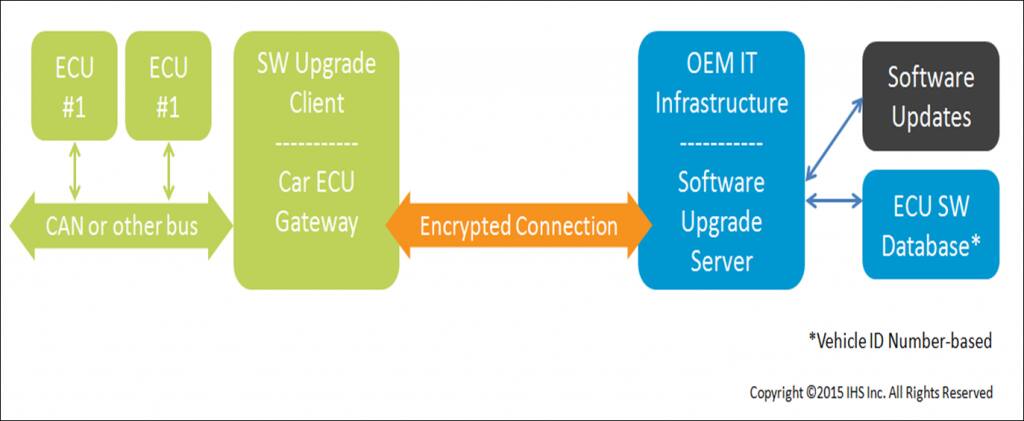 The software upgrade server will reside in the auto OEM's IT infrastructure, but it will operate based on software provided by a company specializing in remote software upgrades. The software updates will depend on an electronic control module (ECU) software database that contains detailed information about the software components currently installed in every vehicle on the road. This ECU software status database will be based on the vehicle identification number and must be updated every time there are software changes.
The software upgrade server sends encrypted data across a secure communication link to the car ECU gateway, which checks for content authenticity and decrypts the software update content. The software upgrade client then updates the programs in the specified ECUs, verifies that a correct software update has been made, and reports back to the software update server. The software upgrade client will usually work with an existing program that can manage re-flashing the memory in ECUs; otherwise, the software upgrade client will need to have such functionality.
Economic advantages
Remote software upgrades have significant economic advantages owing to the large cost savings compared with existing manual approaches. However, modifying and updating ECU functionality will take considerable time and investment. The OEM also has to invest in IT infrastructure to manage the remote software servers and databases. Investments in secure transmission and cyber-security at the ECU gateway and at individual ECUs will also be needed, which will change the ECU network and system architecture.
Cost savings from OEM investments in remote software upgrade technology will not happen immediately but will come after a few years. It is difficult to estimate the cost saving per car per software upgrade, but it is likely in the USD50 range and could increase over time. For the lifetime of the car, the cost savings from remote software upgrade could be in the USD400-500 range. With millions of cars being recalled every year with software as a leading cause, the cost savings in the United States alone will be counted in billions of dollars per year.
Deployment perspectives
Automotive remote software updates are in an early stage of deployment, and only a few auto OEMs are using remote software upgrades. There are multiple categories of remote software upgrades:
Navigation map updates: The Japanese OEMs have been pioneers in map updates in Japan via their phone-based telematics systems. BMW, Audi, and Tesla recently announced FOTA procedures for updating navigation maps. Hyundai and Ford/Lincoln both have proof-of-concept systems for FOTA map updates and will likely deploy such systems in the near term.
Infotainment app updates: This FOTA is exclusively done via telematics systems. Toyota is a leader in this segment using Nuance Dragon Drive, which Nuance acquired from UIEvolution. Chrysler, Jeep, Dodge, Ram, Nissan, and Infiniti all have some sort of FOTA platform for app updates.
Infotainment software updates: These are also done via telematics systems. GM OnStar is starting to update its latest telematics systems in this manner. Verizon Telematics-based systems also have FOTA capabilities since FOTA was a core feature in Hughes Telematics system architecture, which Verizon acquired in mid-2012. IHS Automotive believes Mercedes-Benz has started using FOTA in its latest telematics systems. Other OEMs using Verizon Telematics systems are likely to deploy FOTA in the near future. The companies using embedded app updates are also expected to move to infotainment software updates. Infotainment systems have the largest amount of software to be updated.
Core ECU software updates: FOTA deployment is rare in this segment; only Tesla has publicly said that it updates core auto ECUs. Tesla has designed its system and ECU architecture with experienced people from the PC and consumer electronics industries, and FOTA features are included in the basic design. Tesla's lack of legacy systems allowed it to create the system architecture with a clean slate. Other OEMs will follow Tesla's lead, but this segment will probably take a decade to be fully FOTA capable. However, these ECUs have much smaller software codes and will take less time to upgrade than a head unit. The core auto ECUs are mostly safety-critical systems that require much more controlled and demanding reliability features.
IHS Automotive believes that remote software upgrades will see a significant start in 2015 and experience steep growth over the next five years-at least in the United States, Europe, and Japan. However, it will take a decade until the vast majority of cars sold will have remote software upgrade capability.
By Egil Juliussen, Director Research, Infotainment & ADAS
Posted January 14, 2015
RELATED INDUSTRIES & TOPICS