Customer Logins
Obtain the data you need to make the most informed decisions by accessing our extensive portfolio of information, analytics, and expertise. Sign in to the product or service center of your choice.
Customer Logins
Relative Effectiveness Assessments (REA) of Pharmaceuticals - The Latest Key to Market Access and Price Premiums

23 April 2012
Gaelle Marinoni
With the introduction of AMNOG early last year, Germany jumped on the relative effectiveness assessment (REA) bandwagon by linking pharmaceutical prices to added therapeutic benefit scores.

Later in the year, France passed legislation that allows the national regulator to request comparative clinical data when evaluating a medicine for marketing authorisation. The country intends to take this measure quite a step further as it lobbies for its implementation at the European level. If this happens, it could be a game changer for the pharmaceutical industry - and further complicated by the fact that comparative data fit for regulatory purposes may not be fit for P&R purposes, for example comparator selection and transferability of the clinical data to national healthcare settings could be a barrier.

Comparative Clinical Data Set to Take Centre Stage
Since my blog post in January about the challenges that REA brings to pharmaceutical manufacturers, I've been looking further into the concept of REA. Over the last few months, we interviewed key payers and REA assessors in 8 developed and emerging markets to determine their minimum REA requirements for successful market access.* From these interviews, it is clear that in the future, securing optimal market access without comparative clinical data will become next to impossible.

But Comparative Clinical Data is No Guarantee
What's more, our research also demonstrated that comparative clinical data do not always guarantee optimal market access. Indeed, based on the evaluation of the same comparative clinical data, markets can come to divergent P&R decisions, notably reflecting societal and methodological differences in the interpretation of the available clinical evidence.

A great example of this is Sanofi's prostate cancer treatment Jetvana (cabazitaxel), which on the basis of the TROPIC clinical trial, convinced the German and French payers that the medicine was an improvement on existing therapies, but failed to convince the Australian and Canadian payers that it was worth funding.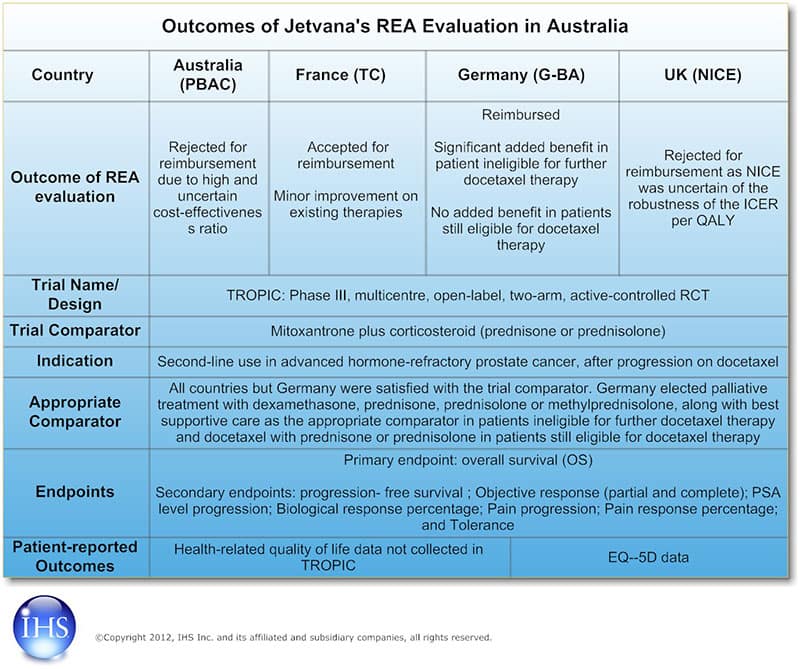 > Manufacturers Need True Clarity on Payers' REA Information Needs
It's important for manufacturers to thoroughly understand national - and sometimes regional - payers' information needs in relation to REA, in order to adequately present the available clinical data and secure optimal market access. Indeed, manufacturers must factor in payers' REA information needs in their late-phase clinical trials or market access strategies will be compromised, whether in terms of coverage or price. This is all the more pertinent in the current climate of debt crises and cost-containment, as REA is clearly here to stay.

The good news is that our research demonstrates that it is possible to package the available clinical data and/or design global clinical trials that meet payers' information needs in relation to REAs across markets. Indeed, there are fundamentals that can be applied across markets when it comes to clinical trial design, endpoint and active comparator selection as well as options to plug the information gap when the data don't quite live up to payers' expectations.



Posted 23 April 2012
RELATED INDUSTRIES & TOPICS