Customer Logins
Obtain the data you need to make the most informed decisions by accessing our extensive portfolio of information, analytics, and expertise. Sign in to the product or service center of your choice.
Customer Logins
Cutting Out the Kero: Refiners braced for extended period of very low jet fuel demand

The SARS-CoV-2 pandemic has negatively affected all forms of global mobility, but none more so than air travel. Not only is commercial air travel inherently incompatible with the tenets of "social distancing", but it is also more "discretionary" than other forms of mobility. As a result, global jet fuel demand has collapsed since the pandemic began, with April consumption down more than 70% from the year before.

And for the same reasons mentioned above, jet fuel demand will not return as fast as that for other products. IHS Markit expects that global jet fuel demand will still be down some 22% during 4Q20, whereas gasoline and diesel will have recovered to within around 5% of the previous year's level.

The asymmetry of the recovery in demand for different products poses a problem for the world's refiners. Reducing throughput to align with the lower jet fuel demand would leave the world short on gasoline and diesel, while ramping up throughput to keep pace with gasoline and diesel demand (absent any other operational adjustments) would result is a large jet fuel surplus. Clearly, supply and demand need not align completely since some excess jet fuel volumes can go into storage. However, the scope and length of the demand imbalance leave no other solution: the world's refineries must collectively and dramatically reduce their jet fuel yield fraction.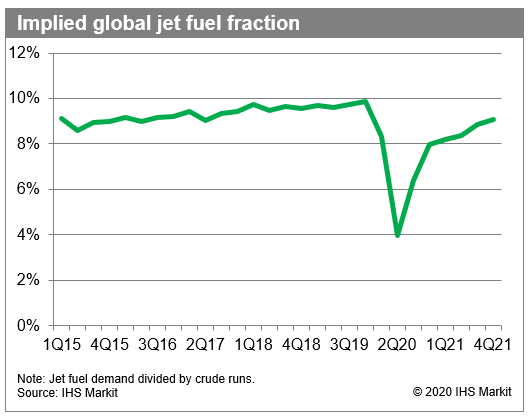 Figure 1: Implied global jet fuel fraction
The most readily available method for refineries is to split their jet fuel (or "kerosene") stream into its lighter and heavier ends. The light-end kerosene has properties similar to naphtha (a principal gasoline building block) while kerosene's heavy cut is more akin to diesel. There are several ways a refinery can split its kerosene stream, though the degree to which it can achieve this target depends heavily on its internal configuration.
The ease with which a refinery can dispose of its light- and heavy-end kerosene also varies. Light-end kerosene, in particular, is not an ideal fit for the gasoline pool due to its low octane level and high boiling point. Blending light-end kerosene into the naphtha stream used as feedstock for a steam cracker is a better option - though that, of course, requires the refinery have access to a steam cracker. Meanwhile, heavy-end kerosene aligns more closely with diesel, but the proportion at which it can be blended will depend on the local fuel specifications and the type of crude used to create it.
At the end of the day, though, the jet fuel demand imbalance is not an insurmountable problem for the refining industry. More complex refineries, those with petrochemical integration, and/or those that run the right types of crude have a relatively good ability to adjust down their jet fuel fraction via blending with the naphtha and diesel pools. In the US, for example, the refining industry has managed to bring its jet fuel fraction down from 11% at the beginning of the year to just 3.6% during the month of May. The diesel fraction, meanwhile, has risen from 30% to closer to 40%, confirming that much of the excess kerosene was indeed blended into the diesel pool.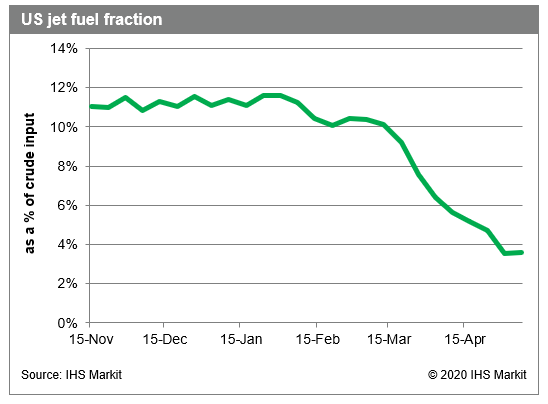 Figure 2: US jet fuel fraction
However, the solution of trading jet fuel for diesel has only created another problem: too much diesel. And sure enough, diesel cracks have declined sharply, falling from $13.5/b in April for Houston ULSD to $3.9/b this month. Of course, even with refineries leaning away from jet fuel, cracks for that product also fell dramatically this month, dipping below zero in most major markets. This underscores the challenge faced by refiners during the current crisis: given the depth and breadth of the demand destruction, there is simply no avoiding a low margin.
Understand changing dynamics in the oil refining and marketing value chain around the world with IHS Markit energy refining and marketing outlooks, data and analysis: Learn more.
IHS Markit experts are available for consultation on the industries and subjects they specialize in. Meetings are virtual and can be tailored to focus on your areas of inquiry. Book in a consultation with Rob Smith.
Rob Smith is a Director in IHS Markit's Refining and Marketing group.
Posted 01 June 2020
---
Follow IHS Markit Energy
RELATED INDUSTRIES & TOPICS