Customer Logins
Obtain the data you need to make the most informed decisions by accessing our extensive portfolio of information, analytics, and expertise. Sign in to the product or service center of your choice.
Customer Logins
Recovery for the paraxylene industry or temporary reprieve?

During the first months of 2021 we have seen a significant improvement in paraxylene to naphtha spreads - a proxy for paraxylene margin measurement - compared to spreads in 2020. In this article, we will explore whether the global paraxylene market has reached a turning point where profitability returns to the industry or whether the current improvement is just a temporary reprieve. We will assess how the paraxylene market reacted to COVID-19 lockdown restrictions and consider expectations for 2021 and beyond.
2020 Paraxylene Market Performance
To describe last year as highly unusual is an understatement. According to IHS Markit, global GDP contracted by 3.6% because of the lockdown measures imposed by governments around the world to try and contain the spread of COVID-19. The first country to identify large numbers of COVID-19 cases, mainland China, effectively contained the virus and was able to re-open its economy relatively quickly, sustaining uniquely positive GDP growth of 2.3%. As mainland China represents the largest global market for polyester production, this was positive for paraxylene demand growth last year. The rest of Asia was impacted negatively by the pandemic and, consequently, other Asian countries experienced negative GDP growth, similar to western states. India, as the world's second largest polyester producer, faced tremendous challenges containing COVID-19 and its economy contracted by 8.2% in 2020.
During the pandemic, we experienced stay at home orders, restrictions on domestic and international travel, the closure of restaurants, bars, hotels and retail outlets as well as the temporary shutdown of automobile plants. Many people were either furloughed from their jobs at reduced pay or laid off completely. Consequently, we saw significant changes in consumer behaviour around the world. Initially, there was widespread stocking up of food and drinks from the grocery stores, leading to outages of basic products. As inventory was replenished and the lockdowns continued, we saw good growth for large bottled drinks such as water or carbonated soft drinks from supermarkets, as well as more demand for pre-packaged food including fruits, meats etc. due to heightened sanitation concerns. However, this was offset by reduced small pack carbonated soft drinks sales as travel through airport, train stations and gasoline stations was curtailed. However, the polyester industry benefitted from the installation of protective screens at stores, increased use of face shields and an explosion in demand for bottled hand sanitizer, all made from PET resin. Consequently, there was strong performance in the PET resin sector of the polyester industry throughout the year. The polyester fiber industry was more greatly challenged by the closure of retail outlets, which led to reduced clothes and home furnishings purchasing, the loss of which was not compensated by online buying. Automobile plant closures and reduced housing construction starts also weakened fibers demand. Later in the year, however, the polyester fiber industry recovered as people started home renovation projects and passenger car demand improved.
As a result, IHS Markit estimates that the global PET resin market grew by around 1% in 2020, whereas the polyester fibers business contracted by 1.2%. An additional boost to the polyester industry came from reduced use of recycled material in 2020 following the collapse of crude oil prices in March. Virgin polyester resin was more competitive compared to recycle flakes and boosted polyester melt production from PTA, creating overall polyester market growth of 3.3%. Although 2020 polyester growth was down versus the 2019 level of 5.8%, it was surprisingly positive when you consider the 2019 growth level came against global GDP growth of positive 2.6%, whilst 2020 saw global GDP contract by 3.6%. With global economic growth of 5.1% predicted by IHS Markit for 2021 and 4.2% GDP growth anticipated in 2022, the polyester market should demonstrate positive momentum in the next two years.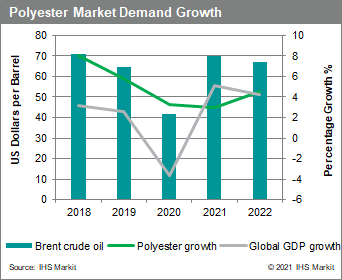 Paraxylene margins have been mostly negative in 2020
Although polyester and paraxylene market demand has been positive in 2020, margins have generally struggled and remained in negative territory, a situation which began in March 2019 when a large PTA producer, Hengli Petrochemical started up its first paraxylene line in Dalian, China. This was the first of a swathe of new paraxylene capacity additions which occurred in mainland China over the last two years comprising Zhejiang Petrochemical, Sinopec Hainan and Sinochem Hongrun. In total, almost 12 million metric tons of paraxylene capacity was added in mainland China during 2019 and 2020 at these four sites, dramatically lifting the country's self-sufficiency in paraxylene from 47% to 77%, using nameplate capacity. The global average paraxylene plant operating rate dropped from 88% in 2018 to just 76% in 2020. There was a slow decline of the paraxylene to naphtha spread in Asia from $530 per mt in March 2019 to $260 per mt by December 2019 as each new site came online in China. Margins swung heavily negative and this trend continued throughout 2020, putting huge pressure on paraxylene producers, that was only briefly lifted when energy prices collapsed in March as the COVID-19 pandemic took hold globally.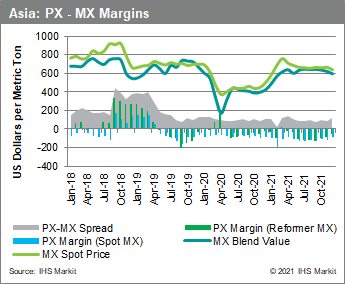 By June of 2020, the paraxylene to naphtha spread in Asia had sunk to a new low of $160 per mt and it hovered at this level until February 2021. This was a unique situation for the paraxylene industry as previous periods of global overcapacity had led to paraxylene to naphtha spreads falling to $250 per mt for just a few months, followed by the closure of inefficient plants and a recovery of paraxylene to naphtha spreads above $350 per mt shortly thereafter. This did not occur during this current downcycle and sustained low spreads of $150-160 per mt prolonged negative margins for the industry in 2019 and 2020 and, although some operators turned plant rates down, producers largely chose to keep making paraxylene despite the losses. Several factors may have influenced producers to keep running. The capacity additions in mainland China were of such a scale that too many smaller plants around the world would need to close to balance the market again. Additionally, most producers had contractual commitments to meet. Finally, the alternative gasoline market for reformate became unattractive in the first half of 2020 because of the pandemic, as gasoline demand plummeted, and reformer economics were also negative.
Paraxylene to naphtha spreads climbed dramatically again in March 2021, rising as high as $295 per mt on a spot basis in Asia but they have now subsided to around $235 per mt. Various unplanned outages in mainland China, Vietnam, Japan and reduced rates in Brunei have created unexpected tightness in the prompt paraxylene market in Asia. Additionally, the unusual winter storm which hit the US Gulf coast took most paraxylene plants down in Texas and Louisiana and these are only slowly recovering, creating a pull on paraxylene imports from India, the Middle East and Europe. Does this tightness indicate a turning point towards profitability again for the global paraxylene market?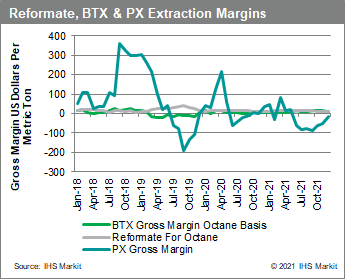 Mainland China maintains high paraxylene imports
Despite the commissioning of major new paraxylene capacity in mainland China over the last two years and an increase in the country's paraxylene self-sufficiency, imports remained robust in 2020 at an estimated 14 million mt. This is just 2 million mt lower than the peak of paraxylene imports seen in 2018. The reasons for this slow reduction in purchases from the merchant market include technical difficulties during start-up of some of the new Chinese plants, a continued expansion of massive PTA capacity in mainland China and low production rates for some existing Chinese paraxylene units due to negative margins. This gives some hope to paraxylene exporters, particularly in NE Asia and the Middle East, who rely heavily on the mainland Chinese paraxylene market. The attached chart shows the main paraxylene exporters to mainland China over the last six years. South Korean companies are most exposed to growing paraxylene capacity in China, followed by Japan and a number of Middle Eastern suppliers, as well as India.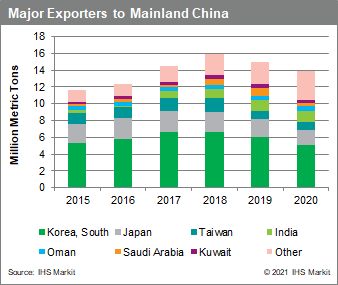 Path to recovery ahead?
The main determinants to the paraxylene market recovery looking forward remain supply and demand. As the COVID-19 vaccination program rolls out across various countries, there is an expectation that stay at home orders will be lifted and retail outlets will open once again. Although social distancing will probably prevail, the polyester market should strengthen as people go back to clothes shopping. Demand for gasoline should also improve, giving paraxylene producers a more attractive outlet for reformate if they choose to shut production of aromatics. The inventory build experienced in the paraxylene market will take some of the anticipated growth out of 2021's demand as stocks need to be worked down, yet IHS Markit still expects polyester growth of 3.0 % this year followed by 4.5% growth in 2022.
However, excess paraxylene supply will continue to dominate the landscape over the next two years. In mainland China, Zhejiang Phase II will be commissioned this year, possibly as early as the summer, possibly adding up to 5 million mt of paraxylene capacity. Additionally, we expect CNPC Jieyang to deliver a 2.6 million mt facility mid-2022 and Shenghong Petrochemical may be able to bring online their new 2.8 million mt facility by the end of 2022. Outside of mainland China, Saudi Aramco is expected to start an 800 kt paraxylene unit in Jizan, Saudi Arabia in the second half of 2021. Consequently, with an expected 9 million mt of additional paraxylene capacity operational in the next two years, IHS Markit foresees a further softening of the nameplate capacity global operating rate to just 72% by 2022. This will have significant consequences for paraxylene margins.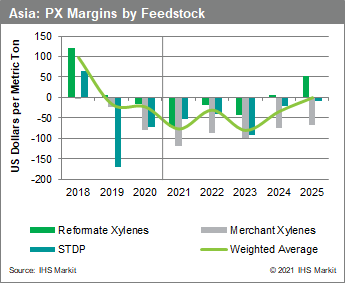 IHS Markit forecasts that margins will remain negative for paraxylene producers for the next several years and the amount of existing capacity needed to close to compensate for new investments in China indicates significant market restructuring. Although spreads have recently improved to $235 per mt again, it is likely that spreads will collapse to $150 per mt once Zhejiang phase II offers large commercial quantities of paraxylene to the market. This will create further industry pressure and may lead to different decision about whether to continue producing in 2022 for many companies.
IHS Markit Market Advisory services assists clients with the complex tasks of tracking, evaluating and forecasting change in the quickly shifting aromatics industry. We offers clients a comprehensive view of the global markets for aromatics and derivatives, as well as in-depth analysis of economic concerns, trade and operational issues impacting the industry. Through continual, personal contact with key industry sources, Chemical consultants gather and study industry-specific data, then analyze and translate it into valuable insights and forecasting advice.
RELATED INDUSTRIES & TOPICS
{"items" : [ {"name":"share","enabled":true,"desc":"<strong>Share</strong>","mobdesc":"Share","options":[ {"name":"facebook","url":"https://www.facebook.com/sharer.php?u=http%3a%2f%2fihsmarkit.com%2fresearch-analysis%2frecovery-for-the-paraxylene-industry-or-temporary-reprieve.html","enabled":true},{"name":"twitter","url":"https://twitter.com/intent/tweet?url=http%3a%2f%2fihsmarkit.com%2fresearch-analysis%2frecovery-for-the-paraxylene-industry-or-temporary-reprieve.html&text=Recovery+for+the+paraxylene+industry+or+temporary+reprieve%3f+%7c+IHS+Markit+","enabled":true},{"name":"linkedin","url":"https://www.linkedin.com/sharing/share-offsite/?url=http%3a%2f%2fihsmarkit.com%2fresearch-analysis%2frecovery-for-the-paraxylene-industry-or-temporary-reprieve.html","enabled":true},{"name":"email","url":"?subject=Recovery for the paraxylene industry or temporary reprieve? | IHS Markit &body=http%3a%2f%2fihsmarkit.com%2fresearch-analysis%2frecovery-for-the-paraxylene-industry-or-temporary-reprieve.html","enabled":true},{"name":"whatsapp","url":"https://api.whatsapp.com/send?text=Recovery+for+the+paraxylene+industry+or+temporary+reprieve%3f+%7c+IHS+Markit+ http%3a%2f%2fihsmarkit.com%2fresearch-analysis%2frecovery-for-the-paraxylene-industry-or-temporary-reprieve.html","enabled":true}]}, {"name":"rtt","enabled":true,"mobdesc":"Top"} ]}