Customer Logins
Obtain the data you need to make the most informed decisions by accessing our extensive portfolio of information, analytics, and expertise. Sign in to the product or service center of your choice.
Customer Logins
Re-developing abandoned fields in Continental Europe

Continental Europe's hydrocarbon industry is characterised by its mature onshore fields (with 92% of fields onshore). With oil and gas production dating back to the 1800's (the first actual recorded discovery was from 1627 - Pechelbronn field in France) the region is steeped in aging assets. The number of discoveries across the region steadily increased over the 1950's, 60's and 70's with a peak in the number of discoveries made in 1985 when 147 fields were discovered in one year across Continental Europe. Since then there has been a relatively steady decline in the number of discoveries with a total of 14 discoveries made in 2016. Over the years rises and falls in the oil price have posed differing challenges for operators in the region. With over 3,500 fields and discoveries present across Continental Europe, opportunities in a low oil price environment have presented themselves in the form of field redevelopment. Since the fall in the oil price in 2014 the race to optimise revenue led a number of companies to focus on field redevelopment instead of exploration. This has been made possible by enhancements in technology and recovery techniques during recent years coupled with a reduction in costs. As a result projects that were previously marginal or not economic have become viable. Field redevelopment has also been prioritised over exploration due to unstable administrative and fiscal terms, environmental constraints and public concerns across the region. Finally, the risks involved in redeveloping areas where hydrocarbons have been proven and produced are far less than exploring new prospects.
Figure 1: Continental Europe Fields vs Discovery Date
Technological Enhancements
There is no doubt that the improvements in technology over the last decade has contributed to field redevelopment in the region. The enhancements of modern computers, the development of seismic capabilities and sub-surface imaging have all made significant impacts. In addition to this the improvements in directional drilling have allowed onshore operators the ability to tap into further reserves which may have been previously inaccessible especially in more 'built up' onshore areas. And lastly Improved and Enhanced Oil recovery (IOR/EOR) techniques have also contributed significantly to squeezing further barrels out of assets.
Seismic surveying has developed significantly over the years. Shooting 2D surveys with dynamite and geophones became common practice in the 1950's and 60's but it wasn't until the 1970's that we saw the first use of 3D seismic. The role of 3D seismic in field redevelopment (opposed to exploration) has greatly increased in the region. The ability of 3D to better image the reservoir and in-turn aid the placement of development wells has led to a better understanding of where further potential remains. Seismic surveying continues to develop and more recently we have seen the use of 4D seismic which introduces the element of time into operations. This has more commonly been applied offshore. It has been successfully implemented by Maersk in Denmark on the Dan field for example, where it has provided field wide reservoir surveillance and allows the tracking of water flood and identification of unswept zones which can then be targeted with infill drilling.
Improvements in directional drilling have also had a huge impact on field redevelopment. Prior to the late-1990s', most directional drilling had taken place offshore with onshore operators opting to drill vertical wells to save time and costs. They are now almost systematically horizontal and directional onshore as well. This allows optimised drainage through the reservoir compared to vertical wells.
The use of seismic and deviated drilling can often be used in combination with "Improved Oil Recovery and Enhanced Oil Recovery" (IOR and EOR) techniques that are applied on certain difficult reservoirs. They have arguably played the most significant role in increasing reserve volumes and prolonging the production life of the fields. Examples of this include method testing, like polymer injection to increase the water viscosity or steam injection as the method of particular use in the production of heavy oils, an example of this is on the Emlichheim field in Germany which has sustained production through this process.
Reserves improvement
The implementation of new technologies has enhanced the recoverable reserves greatly in some of these redevelopments. The Italian Sant'Alberto field from 2006 – 2007 and Nilde field from 2016 to 2017 are two examples.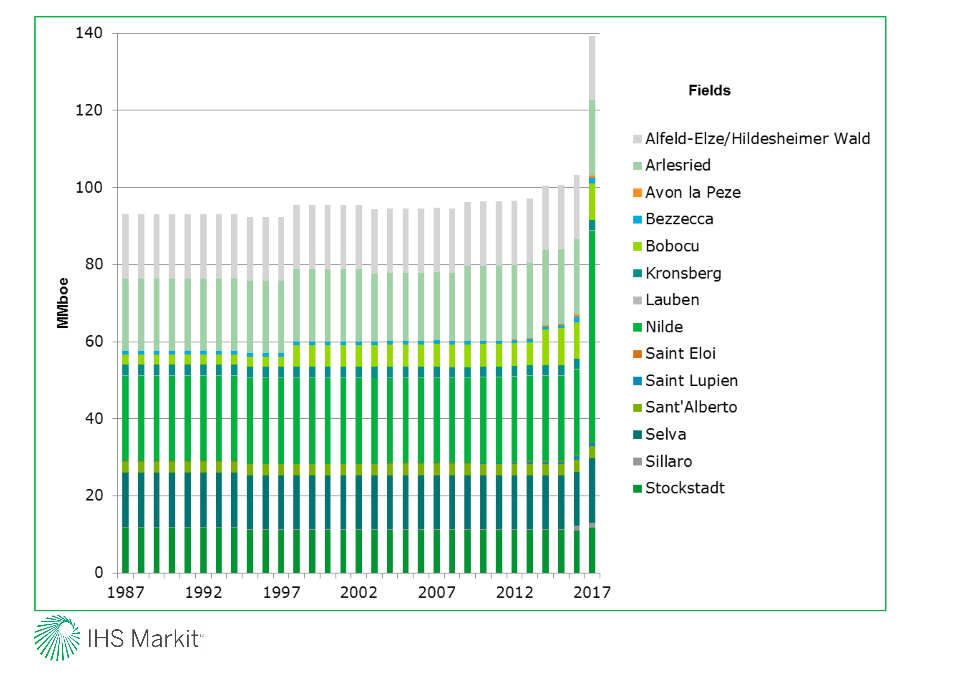 Figure 2: Total Recoverable Reserves improvement related to redevelopment (in MMboe)
Watch our blog for part 2 of our research on field redevelopment in Continental Europe.
Learn more about similar coverage of upstream activity across the globe through our Global Exploration & Production Service.
Danilo Doninelli is a senior technical researcher at IHS Markit.
James Fressineau is a senior technical researcher at IHS Markit.
February 2018
---
Follow IHS Markit Energy
RELATED INDUSTRIES & TOPICS