Customer Logins
Obtain the data you need to make the most informed decisions by accessing our extensive portfolio of information, analytics, and expertise. Sign in to the product or service center of your choice.
Customer Logins
QLED: Quantum Dot OLED or Quantum Dot LCD with LED backlight, or both?

Recently interest in quantum-dot light-emitting diode (QLED) TVs has been increasing, particularly in the quantum dot (QD) market. The QLED TV is not a new concept. For years, there has been controversy over whether the ultimate type of TV would be QLED or organic light-emitting diode (OLED). QLED TVs require QD materials, but unlike QD TVs possess a self-emitting display and a similar structure to that of OLED TVs. Still, there are still many technical problems to creating self-emitting QLED displays.
Meanwhile, OLED TVs have established themselves as premium TVs in the television market with features such as wide color gamut, wide viewing angle and deep blacks. The dominant view is that OLED TVs will achieve mainstream status, replacing liquid-crystal display (LCD) TVs. However, no major players except for LG Display are currently manufacturing OLED televisions.
Two technology development steps are needed to produce QLED TVs.
The first step is to incorporate QD materials into the LCD panel. QD TVs, such as Samsung's SUHD TV, include QD film on the backlight unit (BLU), but makers will remove the film and replace the existing color filter with a QD color filter to increase the color gamut. Even so, this process will not create a self-emitting structure.
In the second step, makers will replace organic light-emitting materials with QD materials in the existing OLED structure to create a self-emitting display.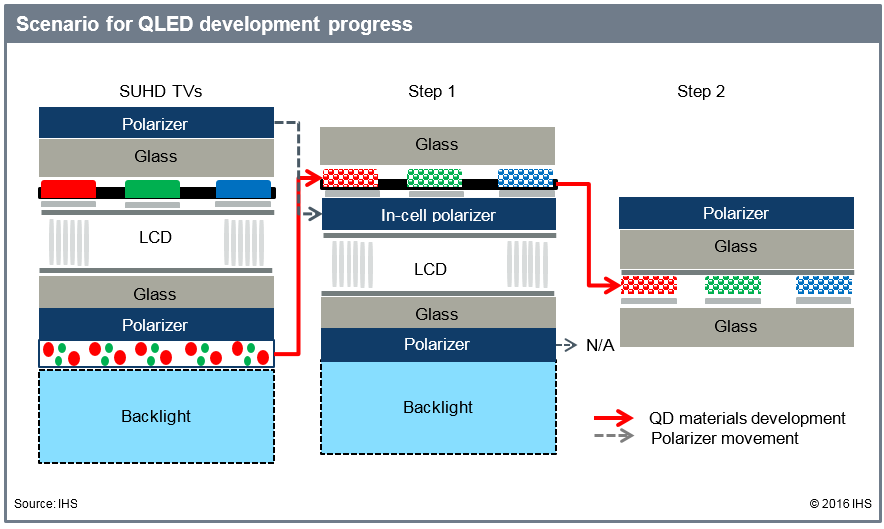 As for existing QD TVs, QD film produces light with high color purity by using light from the BLU. However, QD materials can emit light on their own if they receive electrical signals, just like OLED materials, which means they can be used for self-emitting displays.
What are the advantages of QD materials over OLED materials?
First, QD materials are inorganic, so they can withstand moisture better, and thus have a longer life span.
Second, QD materials do not require an expensive vacuum evaporation process because of their higher resistance to moisture.
Third, they are more suitable for a printing method, an alternative to vacuum evaporation.
These features have caught the attention of TV makers. Samsung Electronics has repeatedly declared that it will focus on QLED instead of OLED. The South Korean electronics giant has developed proprietary technology regarding QD materials and solutions for its SUHD TVs and has established the supply chain for production. The company is making strenuous efforts to promote its QD products. Recently at IFA 2016 in Berlin, for example, Samsung presented its own QD solutions as well as cooperative projects with California-based Nanosys.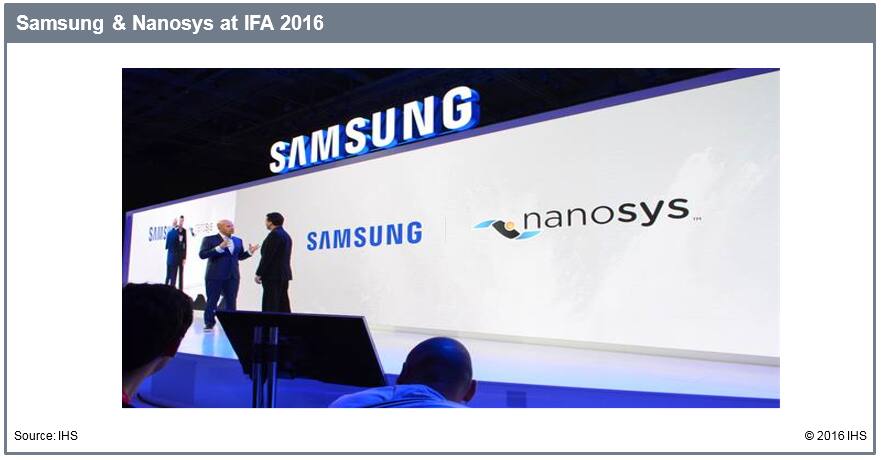 In addition, China-based China Star Optoelectric Technology, a subsidiary of the TCL Group, announced plans to build Gen 11 fabs for LCD production at a press conference during IFA 2016 and emphasized that the company would concentrate on developing QD OLED printing technology on top of LCD technologies.
Many companies are showing interest in QLED, mainly because of the low return on investment (ROI) on OLED. OLED production lines require massive investment, yet production capacity is relatively small compared to that obtained from thin-film transistor (TFT) LCD. Moreover, the instability of OLED materials causes difficulty in ensuring consistent product quality and high yield.
Owing to these challenges, makers will shift their focus to QD materials, which are more stable. Furthermore, QD materials are more suited for printing technology that enables the production of large-area displays at low cost. This is why QLED is drawing increasing attention not only from existing OLED producers but also from companies that are about to enter the OLED market.
However, the QLED era is not about to begin for the foreseeable future, as developing QD materials for QLED will take considerable time. This is why makers are considering a QD color filter as a stepping stone first, instead of going straight to QLED. QLED has a great potential although even if many technological issues remain unsolved, so this promising technology deserves continuing attention in the display market.
David Hsieh is Director of Analysis & Research within the IHS Markit Technology Group at IHS Markit
Posted 25 October 2016
RELATED INDUSTRIES & TOPICS