Customer Logins
Obtain the data you need to make the most informed decisions by accessing our extensive portfolio of information, analytics, and expertise. Sign in to the product or service center of your choice.
Customer Logins
Flexible displays: throwing a technology curve

30 April 2015
Charles Annis
Flexible displays: throwing a technology curve
In the latest round of technological innovations for displays, the newest form factor is exciting, curvaceous and anything but boring. Enter flexible displays, present now in some of the newer smartphones as well as in a growing number of wearable devices like fitness bands and smartwatches.
A broad category that not only includes panels that can be bent, folded or rolled, flexible displays can also be manufactured to conform to curved surfaces, such as the dashboard of a car. Furthermore, displays may be fabricated on a thin and light flexible substrate and used in a flat application, such as the forthcoming and highly anticipated Apple Watch, which adopts an active-matrix organic light-emitting diode (AMOLED) panel built on a plastic substrate.
Although still in its infancy, the flexible display market is primed for rapid growth. From a global revenue of just $40 million in 2013, the market is forecast to balloon to $2.4 billion in 2015. From there, the market is predicted to grow nearly nine times larger by 2021, reaching $20.9 billion worldwide. And while a wide variety of upside, downside and timing risks related to both manufacturing development and cost challenges exist with any new technology forecast, flexible displays are expected to follow a healthy, long-term growth trend from almost any perspective.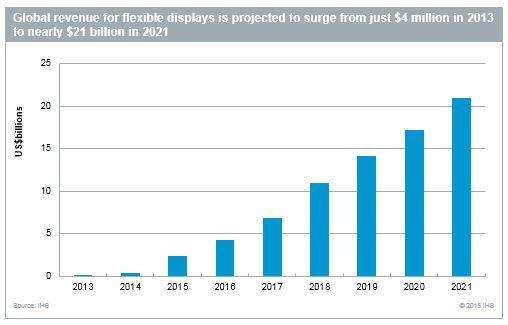 Flexible displays offer several advantages that will drive this projected rapid growth. Compared to the glass substrates traditionally used for displays, the plastic substrates used for flexibles are thinner, lighter and unbreakable-important attributes when designing wearable and mobile devices such as smartwatches and smartphones.
The unique attributes of flexibles could expand display applications to those previously not possible with current display technologies-inventive uses such as electronic wallpaper to show images in 360 degrees; TVs with thin, curved screens that could be rolled up and taken anywhere; and even disposable displays.
Probing under the surface: technology behind flexibles
Many technologies have been developed to fabricate flexible displays. Electrophoretic displays (EPDs) and OLEDs and are considered the most advantageous. EPDs were first used as electronic paper displays for eBooks, with the display medium itself made of flexible material laminated to a rigid thin-film transistor (TFT) active matrix. And while liquid-crystal displays (LCD) can theoretically be used in flexible form factors, the trend in flexibles increasingly favors the employment of OLED, which is self-luminous and does not require backlights, reducing thickness. OLEDs also have faster response times, while offering improved color and contrast.
In creating flexible displays, the substrate material is the base of the display system and plays a critical role in determining flexibility, device manufacturing, ruggedness and performance. Plastic, metal and glass substrates have been developed for flexible display applications, but the most recent focus has been on plastic because of the material's superior flexibility and tendency to resist breakage.
Regardless of the display medium, all displays require a passive or active electronic matrix to control the array of pixels used to create images. Most flexible displays are expected to adopt active-matrix backplanes because they enable higher resolution, larger sizes and lower power consumption, even though passive-matrix backplanes may well find a niche in the low-end flexible display market. Backplane electronics include bus lines, thin-film transistors, capacitors and other elements used to control display properties.
The frontplane contains the display media, which includes emissive and common materials; electrodes; and in some cases, a color refiner. AMOLED and EPD frontplane technologies for flexibles are essentially the same as those used in conventional rigid displays.
An important part of the process in creating flexibles is encapsulation, which protects the chemically sensitive materials used, particularly in the case of AMOLEDs, against oxidation and degradation. A wide variety of encapsulation technologies are in development, but there is still much interest in simplifying, improving the performance and reducing the cost of the encapsulation barrier.
After encapsulation, many steps are performed before the flexible display module is complete and ready for shipment. For flat or curved fixed plastic displays, for instance, conventional touch and cover solutions can be adopted. However, for highly flexible displays, flexible touch panels and cover lenses are required. Some trade-offs are also inevitable: harder plastics tend to be less flexible, and flexible cover lenses cannot be hardened to anywhere near the levels of ion-exchanged strengthened glass or sapphire. These are areas where future improvements are required.
Applications for flexible displays
The most important applications driving the flexible display market at this point are smartwatches and smartphones.
Smartwatches are already being made from a variety of different display technologies, but as the Apple Watch exemplifies, flexible AMOLEDs offer an attractive solution for value-added watches as they are thin, light, unbreakable and provide the best all-around image quality.
Smartphones with flexible displays can be more ergonomic for users, since the natural arc of the human finger corresponds more closely with the curvature of a flexible display than for a rigid surface. Games are easier to play. And curved edges allow viewing more easily of the phone's content when the device is tucked away in a bag than a flat device can.
At the recent Mobile World Congress in Barcelona in February, Samsung wowed attendees with its Galaxy S6 Edge featuring a convex curve along both sides of the phone, so that a strip of the display is visible along the long edge of the device. Before the event, LG had unveiled its own offering via the G Flex 2 with a curved 5.5-inch display.
In the next several years, flexible displays may enable an all-new type of hybrid smart device that can be used as a tablet and then folded or rolled up into a smartphone for ease of mobility. Samsung, the leading developer of flexible displays, plans to finish development of a foldable this year and may commercialize as early as next year. Foldable devices are a "killer app" for flexible displays that enable a variety of new uses, and will push the technology up the value chain to wider consumer adoption.
The ability to conform to fixed curved surfaces will also be a boon to engineers designing automotive dashboard displays. These applications have severe constraints in terms of operating temperature range, reliability and useful life. Unlike a smartphone display that may only be on for a small portion of the day, a car's dashboard display is functioning the whole time that a car is in use, and so must have a longer duty cycle than most mobile handheld or wearable devices. Even though the design and qualification cycle for automotive displays is long compared to consumer electronics, and flexible display adoption in cars may still take some time, leading car makers are already showing great interest in evaluating the technology.
Fabricating flexible displays with current conventional sheet-to-sheet processes means that costs are higher than rigid displays. As yield rates for flexible displays approach those of conventional rigid displays, the value-add of being thin, light, unbreakable and flexible tends to exceed the additional costs. This is forecast to drive the substitution of rigid displays and new applications, even if it only adds moderate value to the total display market.
Ultimately, it is the hope that hybrid and roll-to-roll production will reduce costs below those of conventional rigid displays. The combination of low costs and flexibility is what will make the long-term opportunity for flexible displays so interesting, and could push the size of display industry to new heights. High-volume, low-cost fabrication of displays could transform how we think about displays, from individual units, to buying display area by the square meter. The range of applications spans from dynamic pricing labels in retail product shelving to enormous conformable billboards, and everything in between.
As the main interface between humans and the digital world, information displays continue to grow in importance. And as the Internet extends into every aspect of our lives and the Internet of Things (IoT) starts to connect machines of all type, flexible displays will enable more applications and greater interactivity. Following this trend, flexible displays may become ubiquitous in our personal and professional lives, utilized in anywhere from devices to desktops, kitchen counters, walls, appliances, to virtually any surface.
Thinner, lighter and unbreakable, flexible displays can displace all current rigid applications for flat-panel displays. Flexibles can also create new applications, such as wearable, foldable and wall displays. Their long-term potential opportunity is huge, with many applications yet to be discovered likely in store for the future.
Charles Annisissenior director, manufacturing research, IHS Technology
RELATED INDUSTRIES & TOPICS
{"items" : [ {"name":"share","enabled":true,"desc":"<strong>Share</strong>","mobdesc":"Share","options":[ {"name":"facebook","url":"https://www.facebook.com/sharer.php?u=http%3a%2f%2fihsmarkit.com%2fresearch-analysis%2fq22-flexible-displays-throwing-a-technology-curve.html","enabled":true},{"name":"twitter","url":"https://twitter.com/intent/tweet?url=http%3a%2f%2fihsmarkit.com%2fresearch-analysis%2fq22-flexible-displays-throwing-a-technology-curve.html&text=Flexible+displays%3a+throwing+a+technology+curve","enabled":true},{"name":"linkedin","url":"https://www.linkedin.com/sharing/share-offsite/?url=http%3a%2f%2fihsmarkit.com%2fresearch-analysis%2fq22-flexible-displays-throwing-a-technology-curve.html","enabled":true},{"name":"email","url":"?subject=Flexible displays: throwing a technology curve&body=http%3a%2f%2fihsmarkit.com%2fresearch-analysis%2fq22-flexible-displays-throwing-a-technology-curve.html","enabled":true},{"name":"whatsapp","url":"https://api.whatsapp.com/send?text=Flexible+displays%3a+throwing+a+technology+curve http%3a%2f%2fihsmarkit.com%2fresearch-analysis%2fq22-flexible-displays-throwing-a-technology-curve.html","enabled":true}]}, {"name":"rtt","enabled":true,"mobdesc":"Top"} ]}