Customer Logins
Obtain the data you need to make the most informed decisions by accessing our extensive portfolio of information, analytics, and expertise. Sign in to the product or service center of your choice.
Customer Logins
Video: A change in season for the fiber industry

Interview of Ashish Pujari on a change in season for the fiber industry.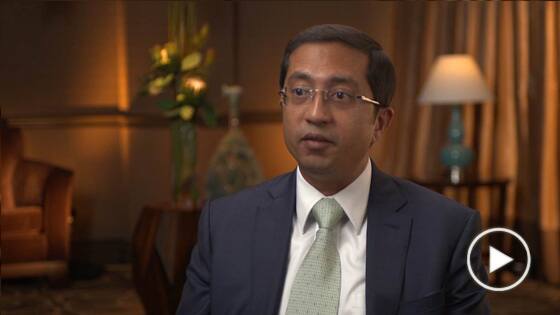 Interview Transcript
What is the status of the fiber industry today?
When we think of fibers, the first thing that comes to anybody's minds are natural fibers, like wool, silk, cotton, more specifically cotton. And cotton determines the price of almost all fibers, including synthetic fibers.
Over the last three to four months, cotton prices have dropped significantly. And that has had a deep impact on the pricing power of all fibers. Cotton inventory is at an all-time high today. And that is affecting the pricing of cotton. And at IHS, our core concept that cotton prices will remain low over the next two to three years.
Turning our attention to synthetic fibers, we see that in the last three to four years, this industry has not made any money at all. There has been tremendous overcapacity that has been built up in this industry. And at the time when demand growth for all fibers has been low because the economic growth has been low, the demand-supply gap has continued to increase for the synthetic fiber industry. We are today sitting at a situation where the operating rates for the industry are in the 65% to 70%-mark range only, and that is not allowing them to make any money at all.
At today's juncture, on the question on the synthetic fibers industries, would we be able to have pricing power going into the next couple of seasons, given that there is overcapacity and given that cotton prices are at all-time low?
Firstly, you must understand why this overcapacity and where this overcapacity. Over the last two decades, the capacity build has shifted from the West to East. The developed world shut down capacities, whereas countries like China, India, Indonesia saw capacity surge in that part of the world.
Over the last three to four years, especially China has seen or driven the overall investments in this business, at a time when capital was available very cheaply. There were a lot of new investors that entered the business, building capacities of a size that was unheard of maybe about five years ago. This has led to an overcapacity. Also, the situation where demand growth was low.
How will the synthetic fiber industry resolve the issue of overcapacity?
How will the industry resolve this? Well, first of all, we will see that demand will increase over the next two to three years as GDP growth increases.
Secondly, we will see that there will be new fresh capital that will be committed in this business, given that in the last three years, nobody has made money.
And thirdly, and most importantly, there's almost 15% to 20% of inefficient capacity. And this capacity that was built maybe about 20, 25 years ago, is uncompetitive in front of the big capacities that have come up over the last four or five years. If you take those inefficient capacities out, then maybe by the end of the next two years, you will see operating rates go up to about 80%, 85% from the current 60%. And that's how we believe we will come out of an inefficient capacity regime.
What is the impact of low crude oil prices on the outlook for the fiber industry?
Let me start by saying that the impact of local oil prices is extremely positive on the fibers industry. Let us start by looking at the three main reasons why so.
Firstly, synthetic fibers are made from raw materials, which are made from crude oil. As crude oil prices have dropped, so has the cost of making synthetic fibers, which are anywhere about 30% to 40% lower today than what they were six months ago.
Secondly, in this last six months, we have seen cotton prices drop. But this lower loading of crude oil prices is giving the synthetic fibers enough strength, or they are putting them right up in competition with cotton.
And thirdly, and most importantly, low crude oil prices gives more money into the consumer's pocket. Their spending power increases at lower crude oil prices. And we think that has a very positive impact on the demand for fibers and fiber-related applications.
Over the last three years, we saw that the demand for synthetic fibers was at only about 4%, which was quite lower than the historical average. Given that crude oil prices are down and demand expectations are higher, we think over the next three years, we will see synthetic fiber demand to grow by almost about 6%.
Ashish Pujari is senior director, aromatics & fibers, IHS Chemical
RELATED INDUSTRIES & TOPICS