Customer Logins
Obtain the data you need to make the most informed decisions by accessing our extensive portfolio of information, analytics, and expertise. Sign in to the product or service center of your choice.
Customer Logins
Video: Olefins – The North American renaissance

02 January 2015
Howard Rappaport
Big increases in production of gas and derivatives for chemical feedstock will drive $100 billion of new investment in North America in the next 10-15 years.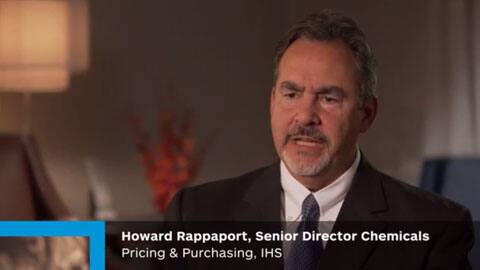 Interview Transcript
How will olefin prices be trending in the near-term?
Ethylene and propylene prices, looking out over the next 12 to 18 months, are going to be relatively flat. There really is not going to be a lot of driver activity pushing them one way or the other, unless we happen to see an energy spike, or a major facility go down for an extended period of time. Barring those unforeseen events, we don't expect olefins prices to trade outside of a very narrow band for the next year/year and a half. So they are going to be relatively high, but if there's a silver lining in this, it's the fact that we are going to be trading in a relatively narrow band and the pricing profile will be relatively flat next year into 2016.
What can we expect in terms of risks for the next year?
There are some significant risks to the price forecast over the next year. One would be any significant spike or change in energy, and that can either be crude oil or natural gas as both can influence olefins, ethylene and propylene, in many different ways. So that's one area. Another area would be if we had an unforeseen outage of a major facility in a region - and that can happen anywhere. But we did have a succession of unforeseen outages last year, which had an impact on supply. We're not expecting to see those things occur in 2015 and 2016, however there's always the chance that something can happen. But barring any unforeseen outages or energy spikes, we should have a relatively calm forecast for prices next year.
How is US natural gas production going to change things long-term?
The massive increases that we are seeing in US natural gas production and the natural gas derivatives that drive the chemical industry: this is a game-changer for the US chemical and plastics market. We are going to see a tremendous amount of new investment in capacity: over 100 billion dollars of new investment in North America over the next 10 to 15 years. This is going to increase the capacity for chemicals, plastics, and even downstream in semi-finished and finished goods. So this is going to be a renaissance of activity for the US manufacturing sector in the chemicals and plastics industry, not only for domestic manufacturers, but also there'll be increasing exports of raw materials and semi-finished and finished goods as a result of all this new capacity based on low-cost natural gas resources.
Howard Rappaport. is Senior Director, Chemicals, IHS Pricing & Purchasing
RELATED INDUSTRIES & TOPICS