Customer Logins
Obtain the data you need to make the most informed decisions by accessing our extensive portfolio of information, analytics, and expertise. Sign in to the product or service center of your choice.
Customer Logins
Lower oil prices change everything

The plunge in oil prices since June 2014 will support a long-awaited acceleration in the global economy, raising real GDP growth by about a half percentage point in 2015. The end result will be a pickup in global growth from 2.7% in 2014 to 3.0% in 2015. The beneficiaries of lower oil prices include China, the eurozone, India, the United States, and many oil-importing countries of Asia, Central Europe, and East Africa.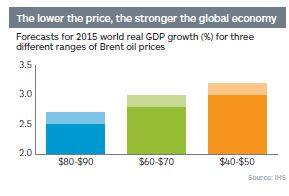 IHS Energy currently expects the price of Dated Brent to average $47 per barrel in 2015, down sharply from $109 per barrel in the first half of 2014. With world oil demand projected at 93.7 million barrels per day in 2015, a $62-per-barrel drop in oil price represents a transfer from oil producers to oil consumers of $2.1 trillion, or 2.8% of world GDP. The net positive impact on the global economy reflects the tendency of oil-importing countries to spend a larger share of their "windfall" than oil-exporting countries.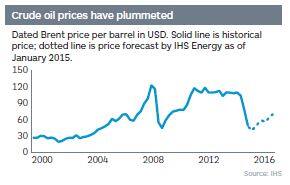 Measured in volume, the top net importers of crude oil in 2013 were the United States, China, Japan, India, South Korea, and Germany (in 2014, China became the leading net importer). The leading net exporters of crude oil were Saudi Arabia, Russia, Kuwait, United Arab Emirates, and Iraq. The United States has a unique role as the world's largest consumer and producer of liquids (crude oil, condensate, and natural gas liquids). The net impact of the plunge in oil prices on US real GDP will be a gain of 0.5-0.7% in 2015, as the widespread gains to consumers outweigh the losses to producers. US economic growth is projected to pick up from 2.4% in 2014 to 3.1% this year.
Winners and losers
A drop in prices of petroleum products increases the purchasing power of consumers and businesses in oil- consuming countries. For example, US households will save an average of about $1,300 a year from a $62-a-barrel decrease in crude oil prices, most of which will be spent on other goods and services. Businesses that use petroleum intensively-including those in transportation services, chemicals, metal products, and agriculture-will see a significant cost reduction, leading to higher profit margins and lower prices charged to their customers.
Similarly, countries with relatively oil-intensive production, including many Asian countries, are beneficiaries. Lower oil prices have the most immediate benefits in countries, such as the United States, where energy taxes and subsidies are low. Where fuel taxes are high, such as in Western Europe, or where fuel subsidies are generous, such as in numerous emerging markets, the direct impact of an oil-price drop on consumer and business real incomes is proportionally smaller.
Lower oil prices translate into revenue losses for oil companies and governments in oil-producing countries, causing financial stress for highly leveraged players. The cost and availability of financing to oil producers will be adversely affected. Investment in the oil industry will be substantially reduced, and marginal projects will be postponed or canceled. An unanticipated price drop of the magnitude seen in recent months is especially disruptive to financial markets.
Since oil demand is price inelastic in the short run, the responsibility for bringing oil markets back into equilibrium will fall mainly on non-OPEC supplies. US tight oil, which is more responsive to lower prices than conventional production, will bear most of the burden. IHS Energy has lowered its projection of US supply growth in 2015 from 1.05 million barrels per day to 600,000 barrels per day, a 43% reduction.
Lower oil revenues will have the most severe ramifications for Iran, Russia, and Venezuela. Governments in these countries-as well as Algeria, Angola, Ecuador, and Nigeria-need oil prices to be above $100 per barrel to balance their budgets. If prices don't rise, these countries will eventually have to cut government spending. Countries with substantial financial reserves and current account surpluses- Kuwait, Saudi Arabia, and United Arab Emirates-are better positioned to maintain fiscal expenditures and cushion the economic impact of lower oil revenues.
The risk of a sovereign default by Venezuela is significant, given its diminishing foreign-exchange reserves, increasing need for foreign financing, structural economic problems, and lack of clear planning to navigate the crisis. In Russia, the "perfect storm" of falling oil prices, economic and financial sanctions, and capital flight caused a free fall in the ruble in December, fueling inflation, endangering banks, and prompting the central bank to raise its policy rate from 10.5% to 17.0%. Russia's real GDP is expected to decrease 4% or more in 2015. Currencies of commodity exporters have generally depreciated, while the US dollar has benefited as a safe haven for investors.
Policies affect outcomes
Although steep declines in the prices of oil and other commodities may exacerbate deflationary pressures in some economies-most notably in the eurozone and Japan-lower inflation will allow many central banks to ease monetary policy. The European Central Bank has announced a quantitative easing program that, in tandem with lower oil prices, will help to lift real GDP growth from 0.8% in 2014 to 1.4% in 2015. In contrast, commodity-exporting countries with currencies under pressure may need to raise interest rates.
Fiscal policy choices will affect outcomes in a number of countries that subsidize energy consumption. Falling oil prices are enabling governments to reduce subsidies to energy consumers, resulting in more efficient tax and spending choices. India, Indonesia, and Malaysia took the opportunity to cut or eliminate fuel subsidies in 2014.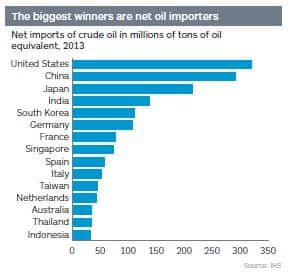 Finally, a positive economic impact from lower oil prices does not necessarily mean a pickup in economic growth in 2015. While China is a major beneficiary of lower oil prices, its economy is grappling with excesses in lending, real estate development, and industrial capacity. Assuming a measured policy response to this predicament, China's real GDP growth is projected to slow from 7.3% in 2014 to 6.5% in 2015. Globally, the incremental gains from a decrease in oil prices diminish the further prices fall.
Sara Johnson is senior research director, Global Economics, IHS Economics
RELATED INDUSTRIES & TOPICS