Customer Logins
Obtain the data you need to make the most informed decisions by accessing our extensive portfolio of information, analytics, and expertise. Sign in to the product or service center of your choice.
Customer Logins
Video: Forecasting political risks to the global supply chain

Imagery intelligence, vessel tracking, and social media monitoring are emerging technologies used to help forecast and assess risks to global supply chains.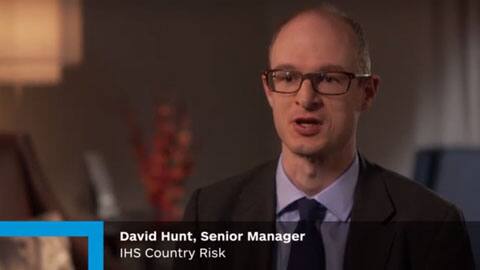 Interview Transcript
How do political risks impact global supply chains?
I think the most important thing to remember is that the most likely outcomes in any political risks aren't going to be necessarily the most impactful for ones in the supply chain. But we often see a case where political risks have multiple impacts across a global supply chain, starting from first order impacts if you look at the Russia-Ukraine crisis: physical disruption and destruction of facilities and cargo. Second order impacts, we're looking at risks to liquidity and financial viability suppliers, sanctions risks. And then the really interesting ones are the third order impacts. So we're looking at risks to metals prices due to conflict between Russia and international partners. Or perhaps even energy security in Europe. The point here, really, is that the impact a localized crisis can have global repercussions.
How important is location intelligence for assessing political risks to supply chains?
Location intelligence is crucial for assessing political risk to global supply chains. The first thing we have to look at is where is the supply chain? We need to know "where are your facilities, where are your suppliers, where are the cargo routes, the ports, the roads that your cargo uses to get to market." The second thing we need to understand is differentiating political risk. Often times a conflict zone can be hugely differentiated in risk. You can have one part of a country where there's a war zone, another part of a country completely safe. Sometimes you can have even within a city, you know one block being at risk of disruption due to major protest and another block being completely open for business. So bring these two things together, location is the key which enables you to actually assess risks to a particular supply chain and specific suppliers.
What are the emerging capabilities that enable the forecasting of political risks to supply chains?
We're seeing emergence of some really exciting capabilities now that put very new information sets at the hands of analysts to enable them to assess risk more effectively. There are a lot of these that we're looking at. Imagery intelligence is now becoming a kind of vital tool to enable us to understand what's happening on the ground in environments, which it's hard to collect information on. Vessel tracking is very, very important as it enables us to understand the movements of cargo around the world. What's really interesting is social media intelligence. Increasingly we're seeing signals emerging from social media that are very, very relevant to understanding risks. But this brings its own challenges and its own kind of unique capabilities, which are needed to cut through the noise of hundreds of millions of Tweets and social media postings every day and identify the ones that matter for risks for a specific location.
What are the key challenges and limitations of forecasting political risks to supply chains?
One of the key issues to bear in mind when trying to forecast political risks is that the most important scenarios are usually in the tail. They're not in the most local outcomes; usually disruption is not going to happen, but what's really important is that these risks don't come from out of the blue. There are always early warning signals, weak indicators that risks are on the rise, and if you have the appropriate monitoring framework in place -- if you're thinking about these risks systematically -- you can start to get early warning of emergent risks to specific parts of a supply chain. So that's one really important issue.
The other thing to bear in mind as well is that the risks that we're dealing with are effectively coming from people, from organizations, from groups. This means that they're adaptive and they respond to the environment as it changes. So what this means is that it's crucially important to have a very detailed, on-the-ground understanding of these individuals -- what makes them tick, their intentions, and their preferences -- and this is why we use a global, on-the-ground source network to really understand these individuals in a lot of detail and how it's going to affect the risk environment.
David Hunt is senior manager, IHS Country Risk
RELATED INDUSTRIES & TOPICS