Customer Logins
Obtain the data you need to make the most informed decisions by accessing our extensive portfolio of information, analytics, and expertise. Sign in to the product or service center of your choice.
Customer Logins
Video: The future of wireless charging and the challenges ahead

28 August 2014
IHS Markit Expert
Assuming the issue of multiple standards governing operation of wireless chargers can be solved, one billion wireless charging units could ship in 2018.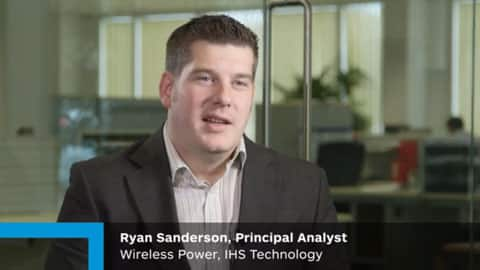 Interview Transcript
How has wireless charging technology and the associated market evolved?
Commercial products for wireless charging came on the market around 2009, and the first products were all accessory based. The consumer had to buy a wireless charger, and some sort of enabling device, whether it's a dongle, a case, or a sleeve to add to that device to make it compatible with the charger. Since then the technology has moved forward to the point where, you know, OEMs are now able to miniaturize the receiver, build it into a phone, a tablet, a smart watch, for example, and enable the devices straight out of the box.
In fact, in 2013 almost all of the enabling receivers for wireless charging that were shipped were integrated into devices. However, that said, there were only 20 million wireless power, wireless charging receivers shipped in 2013, and about 5 million chargers, wireless charges, themselves. So, the take up of the market hasn't been as quick as some expected and as some would have liked. And one of the largest barriers slowing an adoption down has been multiple standards in the market conflicting.
What can we expect to see in terms of technology and product advancements?
Well, most of the existing solutions that have shipped to date have been based a very closely coupled inductive wireless charging solution. This solution can be quite restrictive in terms that the alignment needs to be very exact. Things can slip - the wireless transmitter and the receiver can slip apart and move away from the charging spot.
What we see coming in the future is products that are going to enable a little bit more spatial freedom for the consumer, both in the XY directions – they'll be able to move it around in multiple positions on the charger – but also in the distance between the transmitter and the receiver, so the charger and the device. So, there's technologies coming out that will be more, devices coming out, which are going to be built around technologies such as magnetic resonance, which is going to enable charging through a surface; so perhaps a desk, with the charger underneath. You'll be able to place your device to be charged on top of the desk in a created charging area. You might be able to charge more than one device at once based on that. So, there's a number of techniques, both on the conductive and magnetic resonance technology that are going to enable a bit more special freedom.
And we also now see developments from companies that are looking at providing wireless charging over a bit more distance, whether its solutions using an RF, so radio frequency or ultrasound to enable that. Those are in development, they're not commercially available yet, but again, they can add to this consumer usability, in this case, if those become feasible.
The other, this is the final sort of big thing that's coming, is something that's hopefully going to bridge the gap between the multiple standards that are out there to provide the consumer with an interoperable solution until there is a dominant standard or some sort of collaboration between the standards. And we're starting to see companies producing receivers and devices that have got support for multiple standards out there, so the consumer knows that when they take their wireless charging enabled phone from their home where they might use their own wireless charger, and go on using the coffee shop that might use a different technology or a different standard, its still going to work.
When will we see mass adoption of wireless charging and what are the challenges to mass adoption?
We're predicting that in 2018, around a billion wireless charging receiver units will ship. That will drive a market worth about eight and a half billion dollars. So, we really see mass adoption being available in the next five years, or being possible in the next five years. The challenges, and there are a number of challenges, to achieving that: the first and the biggest challenge to that is really overcoming this interoperability ability issue and the competing standards, which are causing a little bit of confusion in the market place. And you know, consumers need to know that the solution that they are going to spend their hard-earned money on is going to work in a number of locations and whenever they want to use it.
Secondly, wireless charging doesn't really work on its own. So, what I mean by that is: if a consumer buys an enabled charger, an enabled device and a charger, if they are just using it in one location, it's likely that when they, you know, with today's drain on batteries in those devices from rising usage and power hungry devices and things like that, they're going to run out of charge some point during the day. So, they're likely going to have to plug it in again, and that's really not the aim of what the wireless charger industry is doing.
So, to exist it really needs an infrastructure and an ecosystem. And we're seeing a rollout of this in, you know, in public spaces, in coffee shops, in some more of the automotive and infrastructure we use on a daily basis. And once there is an ecosystem which enables the consumer to have access to multiples charging points throughout the day, whether it's home, in the car, in the office, in a public space, that's really where this function becomes a convenience and a real sort of universal solution to charging.
Ryan Sanderson, Principal Analyst, Wireless Power, IHS Technology
Posted 29 August 2014
RELATED INDUSTRIES & TOPICS