Customer Logins
Obtain the data you need to make the most informed decisions by accessing our extensive portfolio of information, analytics, and expertise. Sign in to the product or service center of your choice.
Customer Logins
Video: Industry 4.0-Opportunities and challenges for smart manufacturing

18 September 2014
Tim Dawson
Industry 4.0 uses smart devices, sensors, and data collection to improve efficiency. Inertia and security concerns must be overcome for it to fully take off.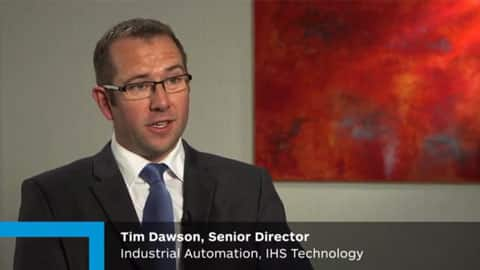 Interview Transcript
An example of a potential Industry 4.0 application
The industrial automation market was worth roughly 185 billion dollars in 2013. One of the significant drivers for growth for that market in the future is a concept known as Industry 4.0. It's a German government led initiative, in other regions of the world it's called Smart Factory or Advance Manufacturing. It features really extreme adaptability, efficiency, and pulls together the cyber and the physical worlds in a manufacturing environment.
So, really a good example could be either a highly efficient car plant or flexible production line. The special piece – I mean that doesn't sound special – but the special piece could be that it's capable of producing a number of different products, or car models, or phones on a single line. These adaptive lines grant manufacturers the flexibility to respond to customer's demands very quickly and adapt what they are producing very quickly.
What needs to be in place for Industry 4.0 to become a reality?
There's three things really that need to be in place for Industry 4.0 to become a reality. I would say the first is…is definitely distributed control and more control throughout the system, so it could be smart devices and smart products throughout the more of the industrial plant and manufacturing line.
The second piece, I think, that's really important that needs to be in place is pervasive sensing, so, sensors and sensing devises throughout the factory. One thing that needs to be in place alongside that to enable that to happen is increased networking and wireless technologies, and overcoming of any security concerns, relating to those things.
And then, I think, the third and final piece that needs to be in place for Industry 4.0 to become a reality, is collection of all of that data in a sensible form, utilizing that big data set effectively, and analyzing it properly. So, using some kind of complex software or analytics tool to analyze the data effectively.
How much is hype, and what are the challenges currently?
There are three big challenges when considering implementing an Industry 4.0 application. So, the first, and probably the biggest, would be the general reluctance of machine builders and end users to actually implement this technology. They're very reluctant to change, and that can cause, you know, a lot of problems.
Secondly, I think the security concerns and relating to all of this extra big data and information that's being collected throughout the factory – you're potentially having to share this with partners and so on to make it truly an Industry 4.0 situation.
And then the final piece is that, I think, whilst all of the technology exists to make it a reality, no or very few suppliers are able to bring it all together in a coherent package. So the main challenge is maybe partnering with other companies to make the complete thing a true reality.
Tim Dawson, Senior Director, Industrial Automation, IHS Technology
Posted 18 September 2014
RELATED INDUSTRIES & TOPICS