Customer Logins
Obtain the data you need to make the most informed decisions by accessing our extensive portfolio of information, analytics, and expertise. Sign in to the product or service center of your choice.
Customer Logins
Video: Global chemical technology trends

Renewable chemicals are important as a greener, non-petro-based source of the carbon molecules that are the building blocks to produce other chemical products.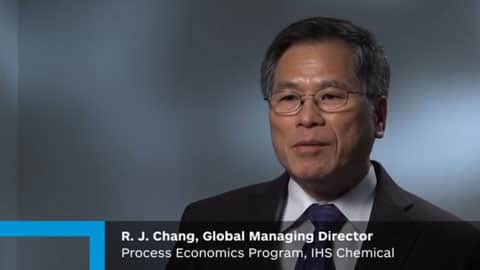 Interview Transcript
Recently, global chemical process development has been driven by the major shift of the feedstocks away from the traditional petroleum. In late 2000, there's a major divergence between oil prices versus natural gas and coal. And this major shift has driven North America to change to shale gas type of feedstock and China to coal. And also globally, there's a big push to start the feedstock from the renewable sources. 
So, by region: In North America and certainly the trend has been shifting from a naphtha cracking to ethane cracking to produce ethylene, which has given North America a very strong competitive edge. However, when you shift to the ethane cracking, relatively, you produce less propane, butadiene, and aromatics. So there's has been a big increase in all-purpose production to produce propane, butadiene, and aromatics.
In China there is, in addition to traditional coal-based methanol, ammonia, and PVC. Now China is also pushing for coal-based olefins as well as MEG. So with that, China is also promoting its coal gasification technologies. In Middle East they continue to increase their capacity based on the advantaged nature of gas and also Iran is expected to come out from sanctions, so probably more capacities for chemical production from Iran as well. And globally, many biotech companies are pushing for genetically engineered processes based on the renewable, to produce chemicals from renewable sources. So, that's the global trend.
China has been the main growth area in the past two decades. So, as China pushes for coal-based chemical capacities – and this may have a huge increase on the number of projects. So eventually, as China increases capacity, is going to eliminate some of its need or its dependence on imports. And this happens as North America is quickly building up its shale gas type of base capacities. So eventually, the competition of China coal versus U.S. shale is going to define the global petrochemical industry in the next five-to-ten years.
On the renewable side, because of the cheap natural gas, you will put some competitive pressure on the renewable-based processes. You also have a tendency to draw away the investment from the renewables. But eventually, the process economics of the competing processes will determine the outcome of the various feedstocks.
R. J. Chang, Global Managing Director, Process Economics Program, IHS Chemical
RELATED INDUSTRIES & TOPICS