Customer Logins
Obtain the data you need to make the most informed decisions by accessing our extensive portfolio of information, analytics, and expertise. Sign in to the product or service center of your choice.
Customer Logins
Puerto Rico weighs options for expanding renewable power, hardening grid

US commonwealth Puerto Rico is striving for a fossil fuel-free power sector by 2050, with an interim goal of sourcing 40% of its electricity from renewables in 2025.
The goal may prove to be insurmountable unless the island is able to make major upgrades to its power grid and rapidly install new capacity, given that renewables provided just 2.5% of its power in 2020, according to the US Energy Information Administration (EIA).
Clean energy advocates say Puerto Rico can achieve this goal if the island is wise when spending the $20-billion-plus that the US Congress has approved for the island's recovery from two hurricanes in 2017. However, standing in the way of this transformation are technological challenges, entrenched interests, political instability, a bankrupt utility company, a financial oversight board, and more, according to experts interviewed by IHS Markit.
Living in a different world
Puerto Rico is a US territory with 3.1 million residents. But when it comes to energy, Puerto Ricans are living in a different world from their mainland peers. Puerto Ricans consume one-third less power, on average, than residents in the continental US, but pay among the highest US electricity rates, according to EIA.
What's more, EIA data show that Puerto Rico in fiscal year 2020 generated more power from fossil fuels than any US state, obtaining 49% of its power from oil, 29% from natural gas, and 19% from coal, as well as the renewables share (mostly hydropower).
Regardless of the power source, Puerto Rico's power grid is not prepared for climate-fueled storms. The island's energy woes reached their zenith in September 2017, when two hurricanes, Irma and Maria, battered the island. Maria, a category 5 storm, knocked out nearly 100% of the nation's power for a week by damaging coal, oil, and gas-fired power plants and wind turbines, downing 80% of the transmission grid, and destroying nearly half of the island's 334 power substations, according to a US Army Corps of Engineers report to Congress in 2018.
"It took roughly 11 months for power to be restored to all customers with structures deemed safe for power restoration," the Government Accountability Office stated in a report in 2019.
Unfortunately, not long after the grid returned to relatively normal functionality, Puerto Rico experienced a 6.4 magnitude earthquake in January 2020, followed by aftershocks and a 5.4-magnitude earthquake in May. "The earthquake and aftershocks left two-thirds of Puerto Rico's residents without power and significantly damaged the island's two largest power plants. The US Geological Survey estimates that aftershocks could continue for years," EIA reported.
The earthquakes revealed "the fragility of the system in general," wrote Sergio Marxuach, an expert in energy policy at the Puerto Rican think tank Center for a New Economy.
Primed for change
With recovery funds available, now is the time for transformation, according to PJ Wilson, president, Solar + Energy Storage Association of Puerto Rico (SESA). He said the "three legs to the stool" that the island needs are coming into focus: political willpower, funding, and a plan.
"We now have that willpower at the federal level and at the Puerto Rico level," Wilson said, referring to support from the Biden administration and Congress as well as Puerto Rico's new governor, Pedro Pierluisi, who assumed office on 4 January 2021.
"We are going to take advantage of every federal dollar — and we're going to do it now," Peirluisi said in his January inaugural address.
Indeed, for the first time, Puerto Rico has access to the funds to accomplish the job, or at least a large share of it. In the wake of the hurricanes, Congress appropriated $16 billion in spending on housing and related issues through the Housing and Urban Development (HUD) agency, of which an initial $2 billion was designated for "enhanced or improved electrical power systems."
Congress also gave the island $9.6 billion through the Federal Emergency Management Agency (FEMA) for recovery and resiliency. If these funds are spent on home energy efficiency, renewables, and grid improvements, the island's energy picture could look radically different. "I think that's the best news yet for Puerto Rico … if the programs are designed well and the funding actually flows," Wilson said.
It's a massive opportunity, said Cathy Kunkel, who co-authored a report on Puerto Rico's energy options for the Institute for Energy Economics and Financial Analysis (IEEFA), which studies energy issues. "The FEMA money is very important; having billions to rebuild your energy infrastructure doesn't happen every day," she said.
Energy and financial politics
However, the island's energy and financial politics are complicating any reform. It starts with the Puerto Rico Electric Power Authority (PREPA), the government-owned utility, which owns 4.9 GW of Puerto Rico's 6.1 GW of power generation capacity, and handles distribution for about 950 MW of independent power capacity as well, through its network of 2,400 miles of transmission lines and more than 30,000 miles of distribution lines.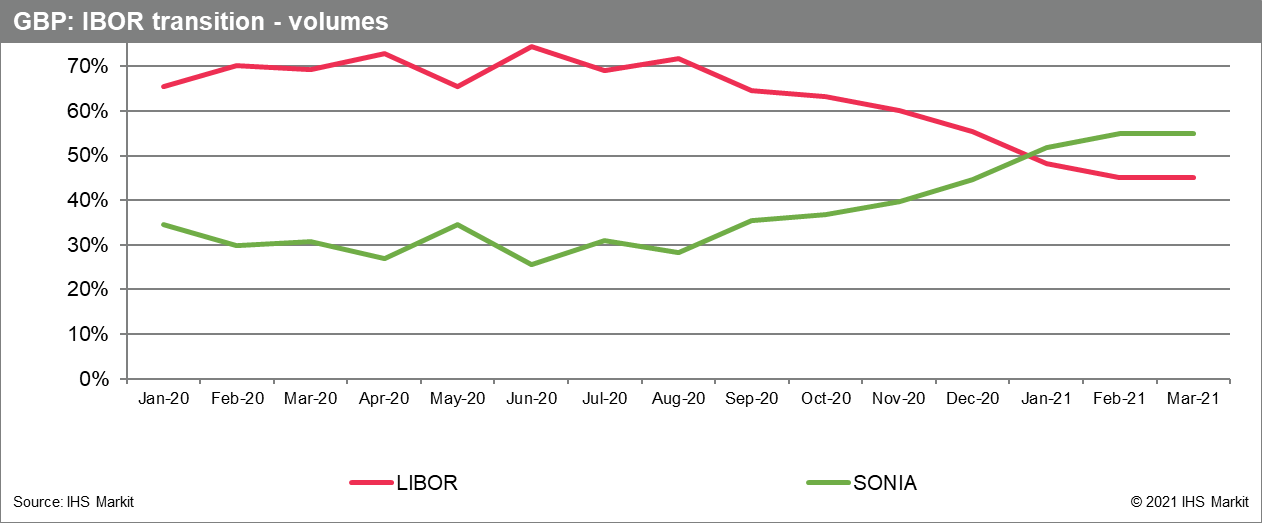 PREPA declared bankruptcy in July 2017 with more than $9 billion in debt. A report by the Financial Oversight and Management Board for Puerto Rico, published in August 2020, highlighted years of political meddling and mismanagement of the power grid by PREPA prior to the 2017 crisis.
In a series of bond offerings in 2008 and 2012, PREPA pulled in billions of dollars to modernize its grid and convert to gas-fired power, but the report found little oversight of how the funds were spent, as well as changing priorities each time a new political party gained power. PREPA "simultaneously kept the rates [to consumers] high, and yet, insufficient to cover operational expenses and capital improvement projects," the report said.
IHS Markit was unable to schedule an interview with PREPA representatives over a period of weeks.
The Financial Oversight and Management Board was created by Congress in 2016 to address an even larger financial problem: Puerto Rico's need to restructure more than $100 billion in debt. And it is just one of several entities to which PREPA must answer, including FEMA, the Puerto Rico Energy Board, and the Puerto Rico Central Office for Recovery, Reconstruction and Resiliency (Cor3).
Cor3 has its own estimate of the cost to rebuild the power system at more than $20 billion (see table). Published in 2018, it's reliant on expanding the bulk power system and protecting it from weather damage.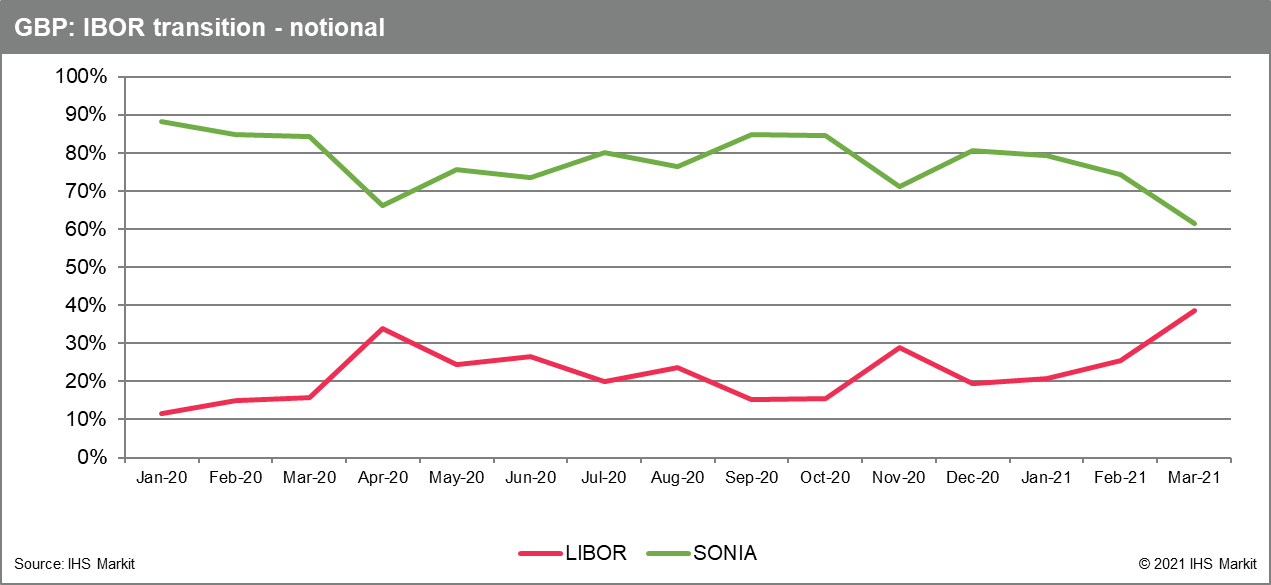 PREPA's 10-year plan
The back-and-forth discussion of PREPA's "10-Year Infrastructure Plan" illustrates the difficulty of developing the energy roadmap that SESA's Wilson described.
PREPA submitted its $10.7-billion plan in December 2020 to multiple agencies. The plan included the addition of 3.75 GW of renewable power, backed up with 1.5 GW of battery storage; building a 400-MW gas-fired power unit at the existing Palo Seco facility; and adding 330 MW of new gas-fired peaker units. Most of the funds would flow to PREPA from FEMA and HUD.
To enhance resilience, the plan envisioned dividing the island into eight mini-grids, each of which would have a dedicated power supply, interconnections with other mini-grids, and battery storage (see map). This approach also is favored by Cor3.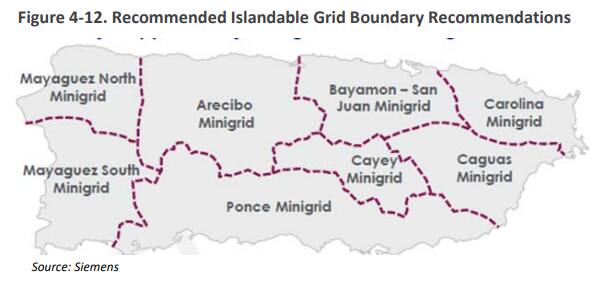 PREPA's mini-grid plan is similar to recommendations from the US Department of Energy in a September 2018 report.
In December 2020, the Energy Bureau of Puerto Rico partly accepted the 10-year plan's focus on renewables, but it rejected the addition of more gas-fired plants. The energy bureau told PREPA that "increased deployment of solar PV and battery resources should be pursued," compared with PREPA's preferred plan and that the proposals for gas peakers should be dropped "because it failed to demonstrate that they are needed." The regulator expressed skepticism about the need for the 400-MW gas unit at Palo Seco, but authorized spending $5 million on economic, siting, permitting, and planning for the project.
Meanwhile, the plan remains under review, as required by US federal law, by FEMA and the Cor3 agency.
As part of the plan, PREPA announced on 28 January 2021 a request for proposals (RFP) for 1 GW of PV capacity and 500 MW of battery storage, which would be the first of six solicitations over the next three years.
The RFP is superficially impressive because, if implemented, it would create one of the largest battery story operations in the world. For a sense of scale, the entire US electricity grid had just 1.03 GW of storage as of the end of 2020, and Tesla's highly publicized solar-plus-battery project in Australia that began operation in July 2020 has storage capacity of 150 MW.
But it's a tall order for a utility that has been almost exclusively focused on fossil fuel power. "To outsiders, it might seem like PREPA is going to do something big," said Wilson. "But it's … traditionally [been] anti-renewables and has never done much in energy efficiency. We are waiting to see the results here."
In fact, there are early signs are that the RFP is less than it appears to be. For example, despite saying that it is soliciting for 1 GW of renewable power, PREPA stated that the grid can support only 650 MW of new renewable capacity unless transmission lines and control systems are upgraded — expenditures not yet approved.
To further complicate matters, grid upgrades soon will be taken out of PREPA's hands. As of 1 June 2021, LUMA Energy, a private company, is scheduled to take over management and ownership of the transmission network. LUMA was selected and given a 15-year contract by the Puerto Rico Public-Private Partnership Authority, another of the many entities with a hand in deciding the commonwealth's energy investments.
LUMA is facing a tall task, IEEFA noted in an analysis in October 2020. "The rebuilding of Puerto Rico's grid is estimated to cost more than $20 billion, largely financed with federal dollars. The two companies that sponsor LUMA -- Quanta Services and ATCO -- are worth about $12 billion. These companies are too small to meet the challenge in Puerto Rico," it said.
As recently as this week, uncertainty swirled over the privatization that is supposed to commence in less than two months. PREPA workers would lose state protections under LUMA's management, and their influence led the legislature to pass a resolution on 7 April to delay the privatization until 1 January 2022 so that the contract can be renegotiated to protect workers. Later on the same day, in his first "State of the Government" address, Pierluisi said that he supports amending the LUMA contract, but opposes any delay in the turnover.
The uncertainties over grid management bring to mind other types of difficulties that have bedeviled renewable power projects in Puerto Rico for a decade, Wilson said. Nearly 10 years ago, PREPA announced an RFP for 1.6 GW of renewable power. It selected 64 projects with a total of nearly 600 MW of capacity, and 16 of them reached the shovel-ready stage. But none saw the light of day. As the projects were delayed, PREPA renegotiated the rate of the original power purchase agreements from 18 cents/kWh down to 10 cents/kWh in 2020, but the financial oversight board rejected the revised agreements.
"So, why should companies bid on the 1,000-MW RFP now?" Wilson asked.
Bids on the renewables RFP are due on 3 May.
A decentralized power option
Within months of the hurricanes, Congress approved about $43 billion for Puerto Rico's recovery, including funds for other support beyond energy and resilience. But decisions by agencies and President Donald Trump slowed the release of most of those funds, with a HUD inspector general investigation finding less than one-third of the agency's allocation had been distributed by October 2019.
Ironically, those delays could now work in favor of a more rapid and creative approach. The Biden administration is moving quickly, as a pair of administrative directives in January and February released an additional $6.2 billion of HUD funds.
As much as the money itself, the island will benefit from flexibility about how to use the investments. "We have indications from FEMA that renewable energy storage is fine for use of FEMA money," Kunkel said. This would be a contrast to PREPA's plan to spend funds primarily on hardening the grid by burying power lines underground and protecting substations from storms and floods.
With the new administration in mind, IEEFA released a study in March 2021 that looks at a new way to solve the problem. Instead of PREPA's and Cor3's plans to rely on the traditional bulk power system, but with better backup, IEEFA has a more radical idea: invest recovery funds in rooftop solar, backed with battery storage in a "decentralized" approach. IEEFA argues decentralized power would reduce the stress on the transmission network and allow for the closure of fossil fuel-fired power sources — simultaneously delivering more reliable and cleaner power, at a lower and more predictable cost.
One lesson learned from 2017, Kunkel said, is that, "Whatever power the transmission lines are carrying doesn't matter if they fail. That's why we have such an interest in distributed rooftop solar with battery storage."
Energy efficiency also has a major role to play. Puerto Rico's power load in 2020 was 16,548 GWh, according to EIA. IEEFA says that power demand could be reduced by 25% to 11,736 GWh by 2035 through energy efficiency measures. While that might seem like an aggressive goal, PREPA had forecast demand of 13,000 GWh in 2026, prior to the hurricanes, as it too saw opportunities for significant efficiency measures.
To supply that power load in 2035, IEEFA considered a baseline scenario of the current centralized, traditional power network, and compared it with three scenarios: adding rooftop solar-plus-storage to meet 25%, 50%, and 75% of the island's power needs. At 75% distributed energy, that's about 1 million homes, as well as installations at parking lots and other public buildings.
"The grid is still there and in normal operation. There is power flowing. But if system goes down, decentralized power is not affected," Kunkel said.
The study found that at 25% distributed energy, PREPA could retire the oldest, dirtiest fossil fuel plants and reduce CO2 emissions by 35%. At 50% distributed energy, it's a 54% reduction.
At the same time, Puerto Rico would wean itself off fuel imports. At 25% distributed energy, the savings in fuel costs are about $100 million per year in fuel, and at 50%, they are $354 million/year, according to IEEFA.
And this could be done for $9.6 billion, or less than the $10.7 billion that PREPA has proposed to spend in its 10-year plan.
For Puerto Ricans, shifting to renewables brings another benefit, advocates say: cost stability. Currently, Puerto Rico's power prices are adjusted every three months, with a rider that reflects the cost of fuel imports. This is a highly sensitive issue for residents who have low incomes, and, as the financial oversight board observed, PREPA has often received pushback to reduce its rates.
The most recent rate request is a perfect example, Wilson explained. In February 2021, PREPA asked for a rate increase of 2.7 cents/kWh to reflect rising global prices for oil and gas. But the Puerto Rico Energy Board rejected the rider. The board issued a statement at the time that Wilson translated for IHS Markit as: "… in the long term, we have to stop being dependent on fossil fuels, and we have to switch to renewables."
PREPA came back two weeks later to say it will raise its rate by just 1.1 cents/kWh, saying it could redirect FEMA funds to offset the rest of the cost increase.
The next steps for Puerto Rico's energy picture have yet to emerge. PREPA's 10-year plan remains under review, and bids to sell energy under its new renewable power RFP are not due until next month. Meanwhile, US funds are flowing to the commonwealth more quickly, and from an administration that is favorable to renewable power for climate reasons, as well as the creation of clean jobs. So far, $300 million of HUD's spending has been approved for energy-related projects, which Wilson said would transfer to about 15,000 rooftop solar-and-storage installations.
Concluded IEEFA: "Decisions over the use of billions of dollars in federal funding will shape Puerto Rico's grid for decades to come. A distributed energy future for the island is technically achievable, affordable and would provide real resiliency to Puerto Rico homes and businesses."