Customer Logins
Obtain the data you need to make the most informed decisions by accessing our extensive portfolio of information, analytics, and expertise. Sign in to the product or service center of your choice.
Customer Logins
Pressing Times Ahead for Paraxylene

The last two years have provided unprecedented growth for the global paraxylene industry, a raw material used in the polyester sector. A combination of global GDP expansion and the Chinese government's decision to ban the imports of plastic waste including recycled PET resin bottles have led to incremental paraxylene consumption of more than 3 million metric tons in 2018, performance not previously achieved in the polyester sector. Combined with limited investments in new paraxylene capacity, this has led to a major improvement in paraxylene profitability until very recently.

Fibers Demand Growth Accelerates
There is a strong correlation between global GDP growth and total fibers demand. Offering lower costs and application versatility than competing natural and man-made alternatives, polyester fibers continue to grow faster than global GDP, taking share from other fibers such as cotton. Between 2002 and 2012, excluding the recession of 2009, global GDP expanded at an average rate of 3.4%. However, since 2012, global GDP expansion has remained below 3%, ranging between 2.4-2.8%, and total fiber demand expansion has been slower. In 2017, the picture started to change as the mature economies performed strongly and emerging economies came out of their recessions, accelerating global GDP growth to 3.1%. Total fibers demand jumped by 6.3% in that year. 2018 exhibited even stronger global GDP growth of 3.2% and fibers demand grew by 4.9%. Between 2013 and 2018, polyester's share of total global fibers demand also increased from 46 to 48%, representing consumption of 52.3 million mt in 2018.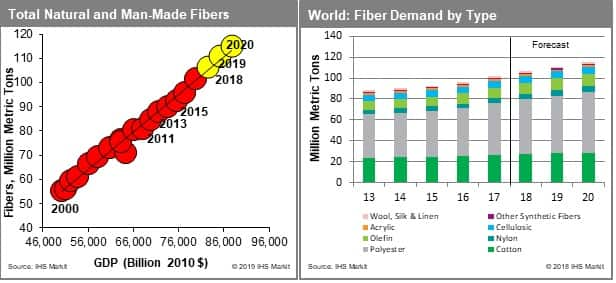 Polyester fibers demand growth was also particularly enhanced in 2017 and 2018 as a result of the Chinese government's decision, under the National Sword Policy, to ban the import of recycled plastics including recycled PET resin bottles. Previously, China had been importing around 250 kt per month of recycled PET resin bottles but this started to fall sharply in 2017 in anticipation of the ban, which became effective on 1st January 2018. Recycled PET resin bottles had been used in the production of polyester staple fibers in China but, as a result of the import ban, more virgin polyester staple fibers needed to be made instead. There has been a shift of some recycled PET resin bottles to South East Asian countries such as Vietnam, Indonesia and Thailand but this has been more limited compared to China's consumption and has not always found its way back into polyester applications. Consequently, demand for terephthalic acid (PTA) has been raised by 4 million in 2018 and paraxylene consumption by 3 million mt. After several years of anaemic growth for polyester of around 3-4% annual growth, the polyester sector is estimated to have grown at more than 6% in 2017 and 2018.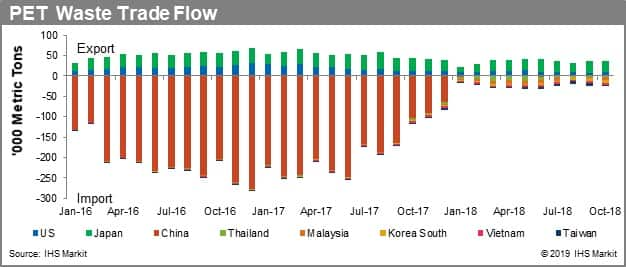 Limited new paraxylene capacity additions in 2018
New paraxylene plants in Saudi Arabia and Vietnam had been expected online during late 2017, but these both experienced start up difficulties and were delayed until 2018. Petro Rabigh's 1.35 million mt facility in Rabigh, Saudi Arabia came online in the summer but did not operate smoothly until October. Additionally, Nghi Son's 700,000 mt paraxylene unit in Vietnam was delayed until late in Q3 of 2018, operating at below optimal rates for most of that quarter. Initial expectations of early start-ups of one or more of the new Chinese mega-refinery petrochemical complexes were disappointed and these aromatics units are still not operational. However, Fujian Fuhaichuang, the new owner of Tenglong (Dragon) Aromatics did bring one 800,000 mt paraxylene line back at the very end of 2018 and the second line was restarted in March of 2019. Additional incremental paraxylene capacity achieved during 2018 was the Q3 restart of TPPI's unit in Indonesia, which had been mothballed since 2014. Incremental output also came from Reliance's 2.2 million mt plants which were commissioned in Jamnagar in 2017. With strong polyester fibers growth, supported by additional production of polyester staple fibers and higher PET resin demand for bottles and packaging, combined with limited new paraxylene capacity of around 2.4 million mt, the global average operating rate of nameplate capacity was lifted to 88% last year.

Positive Margins for all Producers
Although paraxylene production margins have improved since the collapse seen in 2015, when global gasoline demand surged and mixed xylenes and toluene blend values escalated beyond affordable spot prices, only paraxylene producers in Asia with integrated mixed xylenes from reformers have enjoyed positive margins over the last few years. Asian companies buying mixed xylenes from the spot market or using extracted toluene for trans-alkylation units have not been profitable. With a similar trend in the US, this may have contributed to the decision by Chevron Phillips in Port Arthur, Texas to close their 450,000 mt capacity paraxylene plant early in 2019. However, paraxylene market dynamics changed quickly in Q3 of 2018 as strong polyester fibers and PET resin growth which prompted record consumption of PTA and paraxylene, combined with limited incremental capacity, led to a prompt shortage of product. Spot paraxylene prices surged to $1,400 per mt on 3rd September, driving the spot paraxylene naphtha spread from $350 per mt to a peak of $700 per mt and making paraxylene margins positive for all producers. This remained the situation through March of this year providing a positive change in fortunes for paraxylene suppliers, prompting the restart of Indonesia's TPPI paraxylene unit. The rapid increase in paraxylene prices in September did have a negative impact on the polyester industry. Many polyester fibers and PET resin producers could not pass through the increased costs as rapidly as paraxylene prices were spiking and margins turned negative, forcing producers to turn down production rates, impacting PTA and paraxylene consumption in September and October. Despite this demand destruction, paraxylene margins remained firm and polyester margins eventually recovered.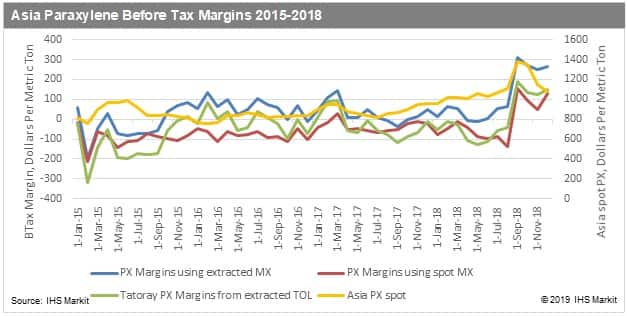 Uncertain growth outlook 2019
Significant uncertainty exists regarding the paraxylene market outlook for 2019. The downstream polyester industry has lost the confidence it enjoyed for most of 2018 due to the tension created by the US China trade dispute, which has spooked financial markets and affected the outlook for global economic growth in 2019. Additionally, should the trade dispute between the US and China not be resolved, 25% tariffs may even be added to polyester clothing from China destined for the US market. Given the scale of China's textile sector relative to competing countries, even a tariff increase would probably not lead to a major drop in polyester exports to the US, but growth would be affected somewhat and the sector would not enjoy the strength seen in both 2017 and 2018. According to IHS Markit, global GDP growth is forecast to weaken to 2.8% in 2019. The uncertainty in the crude oil sector could also affect polyester demand growth next year. Continuously weakening energy values lead to a de-escalation of polyester product pricing and a reduction in inventory valuation each month, providing a disincentive to build polyester stock, which eventually slows demand. A more certain outlook on crude oil pricing would return confidence to the polyester sector and firm up consumption. We should also not forget the effect of recycled PET resin bottle waste. The material previously consumed by China will find its way back into the polyester chain, either as polyester flake used by SE Asia countries or imported into China in place of PET bottle bales. As a result, IHS Markit anticipates polyester sector global growth of 4.8% in 2019, a modest yet noticeable reduction from 2018's level.
Large Chinese paraxylene capacity changes the global operating rate
Another major change for the paraxylene industry in 2019 is the expected amount of new paraxylene capacity coming online. The incremental capacity from Petro Rabigh and Nghi Son's units amounts to 1.2 million mt. We have already discussed the restart of one of Tenglong Aromatics' paraxylene 800,000 mt lines under Fujian Fuhaichuang at the end of 2018 and an additional line of the same capacity came online in Q1 2019y. This should also be the year when two of the large Chinese mega-refinery aromatics complexes are commissioned, at Hengli Petrochemical and Zhejiang Petrochemical. Around 3 million mt of back integration capacity could be available in 2019 from these two sites alone. Significant excess paraxylene capacity will be added relative to incremental market demand growth, leading to a decline in the global paraxylene operating rate to a forecast 83 %, with a further step change down in 2020. As a consequence, paraxylene margins turned down again in 2019, and are forecast to fall to a low point in 2020 as the global industry readjusts to China's reduced import demand and high cost competitors are forced to shut their plants. NE Asia non-integrated units are at risk given the higher energy costs of conversion in this area and increased exports out of the low-cost Middle East region. Although also burdened by higher costs, European producers will benefit from stronger regional demand caused by significantly enhanced local PTA production. Similarly, with the closure of the Chevron Phillips paraxylene unit in the US Gulf and despite one PTA line being converted to isophthalic acid production, the North America market will remain relatively balanced on paraxylene.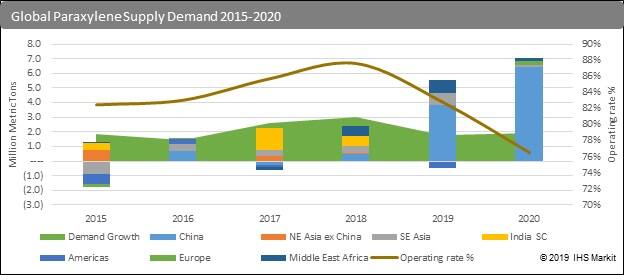 Upside to 2019 Paraxylene market
With many challenges facing the polyester industry in 2019 but much still to be determined and influenced by trade relationships, economic growth and OPEC policy, the outlook for the paraxylene industry could be much better than portrayed. The start-ups of the unusually configured private Chinese refinery paraxylene complexes face many challenges and these plants could be delayed, similar to those experienced by other producers in 2018. We can create a scenario where the new Chinese capacity is delayed and only 50% of the anticipated new paraxylene capacity in China comes online in 2019, with a similar delay of incremental capacity in 2020. Additionally, there could be a swift resolution of the US China trade dispute and a normalisation of relations, leading to the elimination of tariffs and an improvement in confidence, global economic growth and polyester growth. If we assume that polyester demand growth continues at the same level experience in 2018, this would boost incremental paraxylene demand growth by more than 2.5 million mt in 2019. The global paraxylene plant operating rate would remain around 86% in 2019 and 82% in 2020. With such an uncertain market outlook, producers and consumers will need to expect surprises and be sensitive to alternative scenarios over the next couple of years.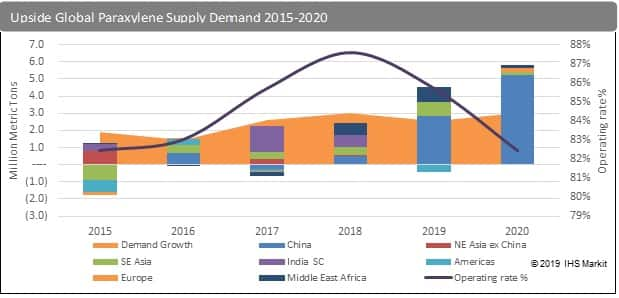 IHS Markit closely monitors and analyzes the global paraxylene market giving you the visibility needed to make confident strategic decisions. The Global Polyester Fibers & Feedstocks Market Advisory Service provides accurate current near-term market data and analysis while our World Analysis improves your planning and forecasting by understanding the long-term outlook in shifting markets with supply, demand, global capacity, price, cost and margin analysis.
RELATED INDUSTRIES & TOPICS
{"items" : [ {"name":"share","enabled":true,"desc":"<strong>Share</strong>","mobdesc":"Share","options":[ {"name":"facebook","url":"https://www.facebook.com/sharer.php?u=http%3a%2f%2fihsmarkit.com%2fresearch-analysis%2fpressing-times-ahead-for-paraxylene.html","enabled":true},{"name":"twitter","url":"https://twitter.com/intent/tweet?url=http%3a%2f%2fihsmarkit.com%2fresearch-analysis%2fpressing-times-ahead-for-paraxylene.html&text=Pressing+Times+Ahead+for+Paraxylene+%7c+IHS+Markit+","enabled":true},{"name":"linkedin","url":"https://www.linkedin.com/sharing/share-offsite/?url=http%3a%2f%2fihsmarkit.com%2fresearch-analysis%2fpressing-times-ahead-for-paraxylene.html","enabled":true},{"name":"email","url":"?subject=Pressing Times Ahead for Paraxylene | IHS Markit &body=http%3a%2f%2fihsmarkit.com%2fresearch-analysis%2fpressing-times-ahead-for-paraxylene.html","enabled":true},{"name":"whatsapp","url":"https://api.whatsapp.com/send?text=Pressing+Times+Ahead+for+Paraxylene+%7c+IHS+Markit+ http%3a%2f%2fihsmarkit.com%2fresearch-analysis%2fpressing-times-ahead-for-paraxylene.html","enabled":true}]}, {"name":"rtt","enabled":true,"mobdesc":"Top"} ]}