Customer Logins
Obtain the data you need to make the most informed decisions by accessing our extensive portfolio of information, analytics, and expertise. Sign in to the product or service center of your choice.
Customer Logins
Political Outlook for Cambodia

05 July 2018
Maria Harrison
Cambodian Prime Minister Hun Sen is likely to increase his power following the general election in July. We examine three scenarios for Cambodia's medium-term future.
Key findings
Political environment is becoming increasingly unpredictable and it will be difficult for the opposition to regroup.
Political confrontation between Cambodia and the West is likely to push Hun Sen closer to China after the election.
A low-probability scenario is that a significant deterioration in economic conditions would herald a return to multi-party democracy.
Cambodia will hold a general election on 29 July 2018 to elect all 125 seats in the sixth National Assembly. Hun Sen and his ruling Cambodian People's Party (CPP), in power since 1985, are almost certain to win a majority. In November 2017, the Supreme Court dissolved the main opposition Cambodia National Rescue Party (CNRP) over an alleged plot to overthrow the CPP. The ruling followed a crackdown on the opposition, independent media, and non-governmental organizations that included detaining of CNRP president Kem Sokha on treason charges, radio station and newspaper closures and the expulsion of foreign NGOs.
Although 20 minor parties are running in the July election, the CNRP's dissolution effectively marked the end of multi-party democracy by removing the only major electoral challenge to the CPP. Despite the opposition's substantial electoral backing in the 2013 national election - when the CNRP garnered 2.9 million votes against the CPP's 3.2 million - and also in the 2017 local elections, it has few options because of Hun Sen's dominance over the judiciary and the military and the CNRP's dedication to non-violence. The CNRP's former self-exiled leader Sam Rainsy has called for tougher US and EU financial sanctions and an electoral boycott unless the party is reinstated. CNRP leaders fear that anti-government protests would be used to justify an even more severe government crackdown that would impose military-style rule similar to the incumbent Thai junta. In a speech in February 2017, Hun Sen suggested the use of military force in the event of an election loss. While electoral legitimacy obtained from relatively free and fair elections has generally been important for successive CPP governments, China's growing financial and political support for Cambodia has given it greater latitude to shift away from the West and to follow an authoritarian line in domestic politics.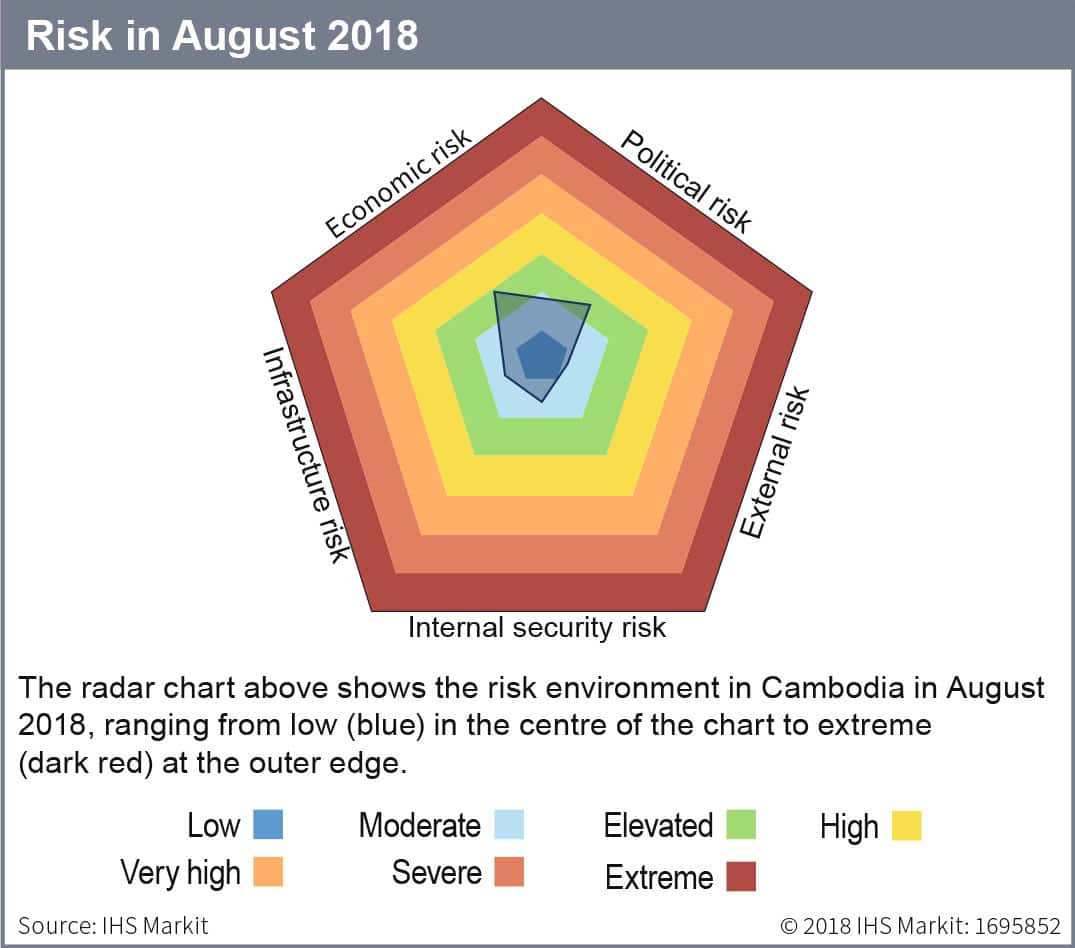 The following scenarios consider three pathways for Cambodia's political and security trajectory, from the likely slide towards increased authoritarianism, and economic and diplomatic dependence on China, through to the low-probability scenario of a government overthrow.
Scenario 1: CPP holds power with minority party in tow
Probability: High
The election would return the CPP to power with a comfortable majority and the right to form a government on its own. The current electoral formula favors larger parties, as 50% of seats and one additional seat are required for government formation.
With the absence of any major opposition party, the opposition vote would be fragmented and distributed to a number of small parties, reducing their bargaining power. Opposition supporters would likely follow Rainsy's call for an election boycott, resulting in low voter turnout, given his strong following - particularly among the younger generation that form a significant voter demographic.
The CPP's strengthened rule would result in continuity for economic policy and established business interests. However, this would erode the CPP's democratic legitimacy and deepen political polarization. Although the CPP would be able to govern by itself, it might choose to co-operate with an unthreatening minority party such as FUNCINPEC to gain a modicum of international and domestic legitimacy, and to draw supporters away from the CNRP. The West would consider the election to be flawed, but would accept the result for fear of pushing Cambodia further towards China politically and economically.
Overall FDI levels would not be negatively affected by the political situation, as the majority of investment comes from other Asian countries. China is Cambodia's largest foreign investor, accounting for about 30% of all investment and 36% of bilateral aid in 2016. Hun Sen would continue his policies to boost his domestic standing with the military, key electoral groups such as young people, and economically important garment workers - garment, textile, and footwear sector accounts for about 80% of total merchandise exports. This would likely take the form of investments in manufacturing and defense, and a continued commitment to raise the minimum wage for garment, textile, and footwear workers with China's necessary financial assistance.
Increased spending on the military would ensure the generals' loyalty and continued political stability. However, in the longer term, additional borrowing from China would risk an upwards spiraling of the national debt that stood in USD6,791 million in 2016. Minimum wage increases without rising productivity would also negatively affect Cambodia's export competitiveness.
Scenario 2: West presses for return of multi-party democracy
Probability: Moderate
In this scenario, Hun Sen would come under intense economic pressure from Western trade partners to return to multi-party democracy. The EU's decision to end its preferential access for Cambodian textile exports under Everything but Arms (EBA) status, alongside US trade restrictions and the cancellation of preferential tariff and tax rates, would have a serious effect on Cambodia's economy. In 2016, the EU and the US received approximately USD4.5 billion and USD2.8 billion-worth of products, respectively, accounting for 60% of total exports, and only 6% of Cambodian exports (USD609 million) went to China.
Targeted financial sanctions would constrain economic growth, that IHS Markit economics forecast data has currently projected to increase from 6.9% in 2017 to 7.0% in 2018 and remain at that level in coming years, with support from strong global growth, sustained FDI inflows, robust construction activity, and strong growth in the service sector.
The CPP government would therefore seek a degree of normalization of relations with the EU and US; halt repression of the opposition, independent media, and Western NGOs; and make political concessions. Some NGOs and media outlets would be allowed back in Cambodia, and CNRP president Kem Sokha would be released. However, given Hun Sen's intention to stay in power for 10 more years as stated in June 2018, the CNRP would be reinstated or its offshoot allowed to participate in the political process only if it were considered significantly weakened and its presence were judged necessary for legitimacy.
The EU and the US would lift most sanctions, enabling Cambodia to benefit from preferential tariff and tax rates, although Hun Sen would still seek to expand foreign and trade relations with China. Re-emerging opposition would provide some balance of power, but would be highly unlikely to result in any large-scale policy reversals. Rather, it would improve government performance by putting pressure on government ministries to improve efficiency.
Scenario 3: Opposition overthrows government
Probability: Low
In this scenario - likely prompted by a substantial economic slowdown in China - Cambodia would experience a significant deterioration in economic conditions, undermining Hun Sen's ability to provide for the key electoral groups and elite and military patronage networks.
Deteriorating economic conditions and stalling wages would first trigger civil unrest in the garment sector, and this would spread to the public sector, including teachers' unions. The garment and public-sector workers would combine forces with the newly reinvigorated and united opposition, and potentially land rights activists, to challenge Hun Sen.
Large-scale street protests would be triggered by an event that angered opposition supporters sufficiently to galvanize them: possible triggers would include security forces' use of live ammunition against peaceful protesters or bystanders or politically motivated killings. In such circumstances, the protests would spread beyond Phnom Penh and would become nationwide. Most of these protests would turn violent, leading to widespread and highly disruptive social unrest. To end the unrest, Hun Sen would attempt to use a variety of tactics, including a direct military clampdown or even political concessions such as forming a unity government.
Hun Sen would be forced to step down only if the military aligned with the opposition, enabling the opposition to persuade China that it was a stronger and more reliable ally. Political instability and labor market disruption in the garment sector would negatively affect foreign direct investment, export, and GDP growth.
Although the new leadership would seek to maintain trade and investment relations with Western partners and China, there would be significant uncertainty relating to the new business environment and contracts. If at least part of the military backed Hun Sen and the opposition managed to sustain a violent campaign, civil war risks would significantly increase.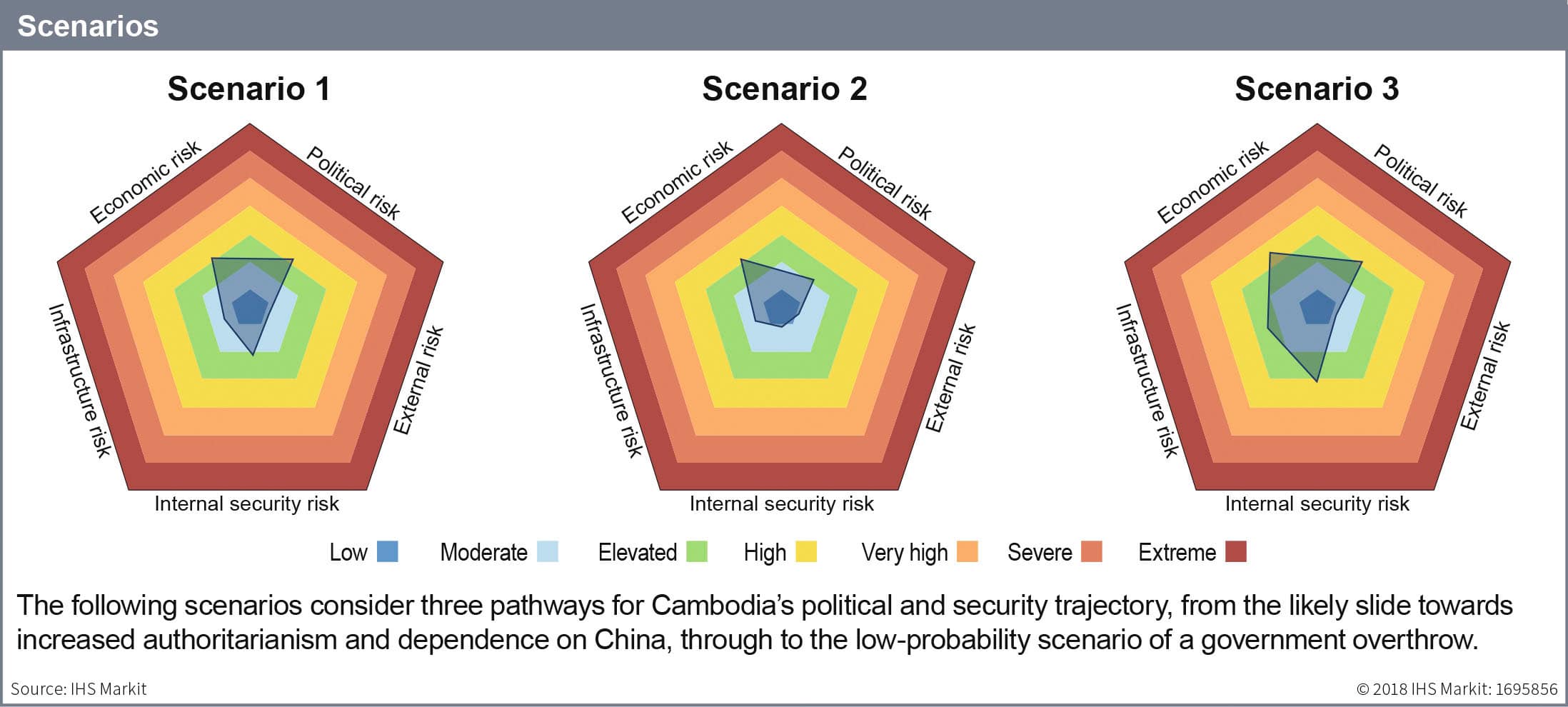 Conclusion
Although Hun Sen is almost certain to win the July election, Cambodia's political environment following the elections is likely to be become increasingly unpredictable. Hun Sen appears unlikely to accept any prospective change of government in 2018 or in 2023, either as a result of elections or civil unrest. In its weakened position, the opposition remains vulnerable to further legal action and is unlikely to be able to galvanize protests that are large enough to challenge the CPP's dominance. The government is also unlikely to allow any anti-government protests to grow to the scale of those that occurred in 2014 after the 2013 elections, which the CNRP narrowly lost and claimed were rigged. To ensure the continuation of the current political leadership, the government will continue to repress the opposition, independent media, and Western NGOs it views as criticizing the ruling party.
This is likely to further Cambodia's political confrontation with the West. Although Western donors are growing impatient, IHS Markit considers there to be only a moderate likelihood that either the EU or the US will pass significant economic sanctions that could sway the CPP back to multi-party democracy, as long as Cambodia's relative political stability and a lack of large-scale violence persist. Cambodia is a relatively low foreign policy priority for the US and the EU, and they fear pushing Cambodia even further towards China.
RELATED INDUSTRIES & TOPICS