Customer Logins
Obtain the data you need to make the most informed decisions by accessing our extensive portfolio of information, analytics, and expertise. Sign in to the product or service center of your choice.
Customer Logins
The Philippines enters a monetary easing cycle
The central bank decided to cut its policy rate at the May meeting on the back of softening inflation and slowing economic activities during the first quarter. This was followed by a three-stage reduction of the reserve requirements between end-May and late-July.
Consumer price inflation has eased back within the central bank's target range of 2.0-4.0% since early this year, after hitting a nine-year high during late last year. Meanwhile, economic growth decelerated to a four-year low in the first quarter of this year.
With inflation expected to remain within the target range, increasing external uncertainties as well as concerns of domestic and global economies suggest that the central bank will probably maintain pro-growth stance on monetary policy.
Beginning of monetary easing cycle?
The Philippine central bank (BSP) reduced its key policy rate at the May meeting, prompted by an ease in inflationary expectations as well as the result of weaker-than-expected GDP growth during the first quarter. The benchmark overnight reverse repurchase rate was reduced by 25 basis points to 4.5%. This marked the first policy rate cut, following aggressive rate hikes in 2018. The BSP raised its policy rates five times last year with a total of 175 basis points as it stepped up the effort to combat runaway inflation.
Following the policy rate cut, the BSP further announced in May a reduction of the reserve requirement ratio by 200 basis points, which will be implemented in three stages beginning at end-May through late July this year. The ratio will reach 16% by late-July.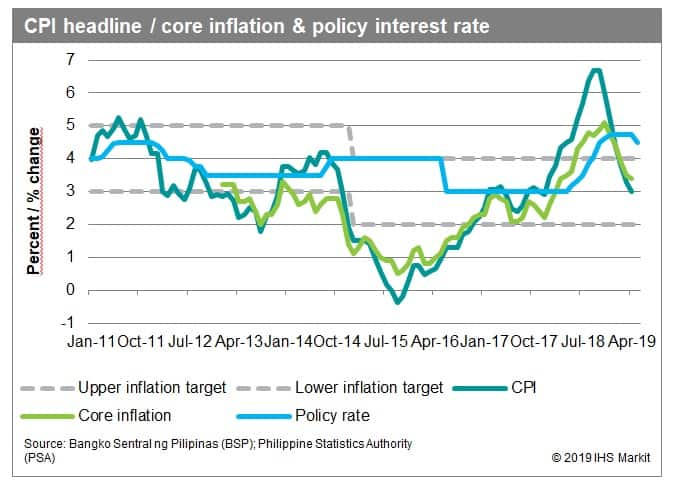 Easing consumer price inflation
After hitting a nine-year high of 6.7% year on year (y/y) in September-October last year, inflation has since eased on the back of restored supply conditions as weather conditions stabilized, while higher rice imports and the start of the harvest season also pushed up rice supply. As a result, rice prices flattened in April, after hitting 10.7% in October. These factors helped slow food price inflation to 3% in April, from 9.7% in September.
In addition, non-food prices softened as well, with prices of electricity, gas and other fuels easing to 2.9% y/y in April, from as high as 14.7% in May last year. Together, softer food and non-food prices have brought down overall inflation to 3% in April, marking the lowest reading since December 2017. Core inflation—excluding volatile food and energy items—also eased in recent months.
Slower economic momentum
The BSP's decisions also came on the back of weaker-than-expected economic growth during the first quarter amid a delayed approval of the 2019 budget. The late budget passage has restrained government spending, placed new infrastructure projects on hold, and dragged down public investment. Real GDP grew 5.6% y/y in the first quarter, marking the slowest growth since 2015, mainly weighed down by an 8.6% y/y drop in public construction investment. Concurrently, growth of government consumption expenditure decelerated to a two-year low, after expanding at a double-digit pace for five straight quarters.
Meanwhile, net exports remained a drag. Exports and imports both slowed during the first quarter but the slowdown in exports outpaced that of imports. While imports were restrained by softer infrastructure spending, exports were dented by weaker global demand, especially on electronics products.

Pro-growth stance to continues
The BSP's recent decisions aim at boosting domestic liquidity conditions and supporting growth momentum. The government has pledged to speed up the implementation of 2019 budget after April's approval. The quickening of implementing new infrastructure projects and the resulting pick-up in public investment will accelerate economic momentum during the rest of the year. The BSP therefore has remained confident on the economy's near-term prospects. That said, downside risks to the economy have increased on the back of escalating US-China trade tensions.
Concurrently, despite higher loan demand, bank lending has slowed in recent months. Tighter domestic monetary conditions have been the constraints to business sentiment. This factor, coupled with increasing external uncertainties, weaker global demand, and stronger volatility in global financial markets, will weigh on domestic sentiment and prompt business and consumer to be more cautious on spending.
With both external and domestic conditions turning more challenging, the BSP will probably maintain pro-growth stance in monetary settings. Meanwhile, food prices have remained stabilized amid improved supply conditions, high base effects, and the enacted rice tariffication law. That said, upside risks to inflation could turn stronger amid the adverse impact from unfolding El Niño conditions. On balance, inflation is expected to remain within the target range of 2.0-4.0% for 2019-20, suggesting room for more monetary easing ahead.
RELATED INDUSTRIES & TOPICS