Customer Logins
Obtain the data you need to make the most informed decisions by accessing our extensive portfolio of information, analytics, and expertise. Sign in to the product or service center of your choice.
Customer Logins
Parts compliance: REACH legislation proves difficult for companies

In 2007 the European Union (EU) enacted the legislation known as REACH (Registration, Evaluation, Authorization and Restriction of Chemicals (EC) No 1907/2006), which was intended to ban harmful substances or chemicals in products sold in the EU.
The legislation is, by many accounts, the most complex piece of law in EU history, and is also the strictest code on regulating chemical substances. REACH requires companies to identify or register chemical substances that are manufactured in or imported into the EU with the European Chemicals Agency (ECHA) for safe handling. The substances are then evaluated by independent groups or authors to determine if they are harmful to human health and reproduction or to the environment.
REACH also addresses what is known as chemical substances of very high concern, or SVHC. The SVHCs are added to the candidate list of harmful chemicals, with suitable SVHC alternatives identified, if possible. About every six months, new SVHCs are added to the list of banned substances.
Initially the REACH legislation was viewed as having little or no impact on electronic components. Indeed, that was the case as new substances were added to the banned list about every six months, with a total of 46 banned substances added through December 2010 with no noticeable effect on the world of electronic components.
That changed in 2011 as the list of banned substances grew to the point that many more electronic parts became impacted by REACH, and many companies found themselves unprepared as formerly compliant products became non-compliant overnight. By 2015, the challenge to redesign compliant products had reached a crescendo, and the legislation could no longer be ignored or kept at bay.
While REACH implementation applies only to the EU, the law has had the effect of serving notice to the United States and other major global actors-especially China-on the importance that the 28-member EU bloc accords to environmentally friendly components and products.
The graph below shows how an increasing number of parts have been impacted over time based on more recent REACH substance bans, as tracked by IHS Electronic Parts Management Solutions.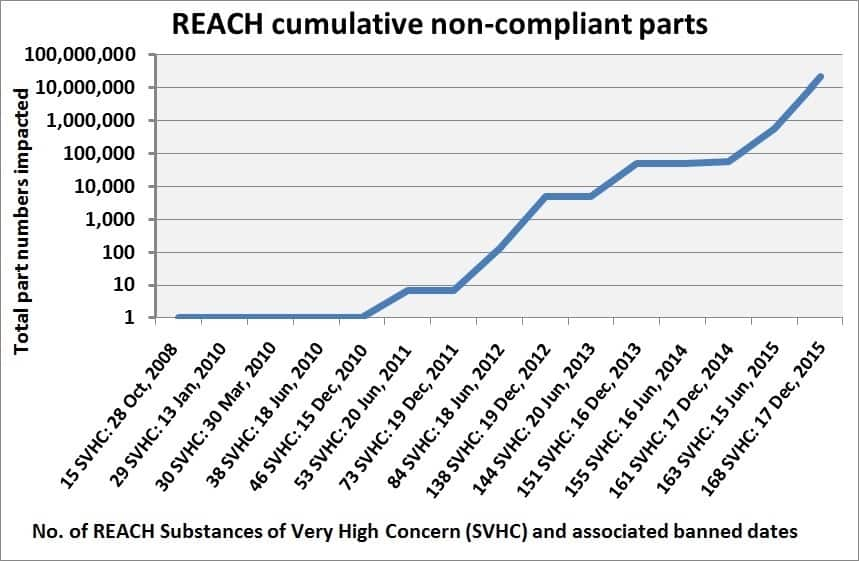 Fortunately, companies have a solution to understanding REACH compliance throughout their product life cycles. The answer is to gain access and intelligence to component manufacturer Full Material Disclosure (FMD) documents and the associated data. Understanding the substance composition of electronic components enables companies to plan for compliance challenges based on the REACH Candidate list, http://echa.europa.eu/candidate-list-table, and lets them make component changes before the critical substances that companies use are banned.
Featuring verified and comprehensive sets of data, the IHS Electronic Parts Management Solutions is key to accessing 80 million part numbers with FMD documents and related information.
For more information:
https://ihsmarkit.com/products/electronic-parts-management-solution.html
For more information about REACH and the process to ban SVHCs visit:
http://ec.europa.eu/environment/chemicals/reach/reach_en.htm
Greg Wood is a Director in the Electronic Parts business at IHS
Special thanks to Prakash Ramaswamy for his contribution to this blog
Posted on 13 June 2016
RELATED INDUSTRIES & TOPICS