Customer Logins
Obtain the data you need to make the most informed decisions by accessing our extensive portfolio of information, analytics, and expertise. Sign in to the product or service center of your choice.
Customer Logins
Panamanian death and injury risks

On 27 November 2018, local and national police in residential area Alto de Los Lagos near Colón city conducted the latest of approximately 15 nationwide anti-gang operations to dismantle drug distribution networks, which have resulted in some 350 arrests.
Gang rivalries in Colón province, where homicides have increased, pose risks of robbery and armed robbery to businesses around the Free Trade Zone (FTZ) in Colón city, as gangs are likely to expand illicit activities for increased sources of revenue.
Anti-gang operations are likely to have a limited effect as there are approximately 28 gangs in Colón city that are likely to reform to control drug trafficking networks.
Although the rate of homicides nationwide is stable, armed robbery cases are rising, especially in Panama City.
The recent anti-gang operations, involving approximately 100 police units and 50 vehicles, and leading to seven arrests, follows other security measures in Colón province, including the opening of a USD9.3-million security centre funded by China, offering police greater surveillance technologies including 291 video-surveillance towers and computerised systems for police deployments, earlier in November 2018 and the creation of the Archangel Joint Task Force (Fuerza de Tarea Conjunta Arcángel) in October 2018. This is in response to an increase of gang-related violence in this port city, which hosts the second-largest free-trade zone in the world according to the US Department of Commerce, with 3,000 foreign and domestic companies.
The rise of gang-related violence has led to an increase of homicides in Colón province. Homicides increased year on year in the province by 33%, to 73 victims, in 2017. By 8 November 2018, 71 homicides had already been reported. For 2017, the murder rate was approximately 30 per 100,000 persons; which is similar to Rio de Janeiro City, Brazil (29.3), and almost triple that of Mexico City (12.31).
Drivers of increased homicides
Representatives from the Ministry of Security have attributed the increase in homicides in Colón to intra-gang rivalry for territorial control of drugs sales and international trafficking, from Colón port to European and US markets (see Panama: 18 May 2017: Increased drug trafficking through Panama's Colón port raises collateral risks from gang shootings). In June 2018, President Juan Carlos Varela said that 70% of homicides in Panama were due to drug trafficking and organised crime. The government has said that groups previously dedicated to petty crime have joined organised crime groups. Approximately 28 gangs operate in Colón, of the 280 nationwide, according to the National Police.
Varela has attributed rising gang-related crime to the closure of Punta Coco High Security Prison, as ordered by the Supreme Court in June 2018. The Court order resulted in the release of some gang members; and in the transferal of gang leaders to prisons in mainland Panama.
Panamanian gangs have transnational connections, for which the police co-operate with Colombian and Costa Rican intelligence to counteract. In March 2018, for example, a joint Panamanian-Colombian operation resulted in the capture of Apzalon Palacios Algumedo, known as Señor Palacios, in Colón, who was the alleged leader of a cocaine trafficking ring tied to the Colombian Clan del Golfo gang.
Hotspots and targets
Gang shootouts are most frequent in Barrio Sur, within the Free Trade Zone (FTZ), and neighbouring Cristóbal and Barrio Norte, where 11, seven and six gangs compete respectively for territorial control. Most homicide victims are gang members; however, there have been incidences of foreigners being targeted in armed robberies and assassinations, particularly businesspeople within the Chinese community. In April 2018, a Chinese businessperson was beaten up and robbed of personal belongings and USD5,000 in his home in Margarita. On 8 November 2018, between Punta Azul and Villa Luisa communities, a businessperson of Chinese descent was killed by armed gunmen in a vehicle as he visited a colleague's house.
Elsewhere in Panama
Across Panama, armed robberies increased by 29.7% from 2016-17, from 5,761 reported cases to 7,473, with the highest increases in Panama and Panama Oeste provinces.
In September 2018, citizens in the capital of Panama, Panama City, demanded greater police presence due to armed robberies, especially in residential areas. In February 2018, there was an armed shootout between gang members at JJ Vallarino private hospital, although no bystanders were injured. Armed robbers have targeted restaurants in Rio Abajo and San Miguelito, taxi co-operatives, and the General Bank in Plaza Carolina - during which a bank security guard was killed.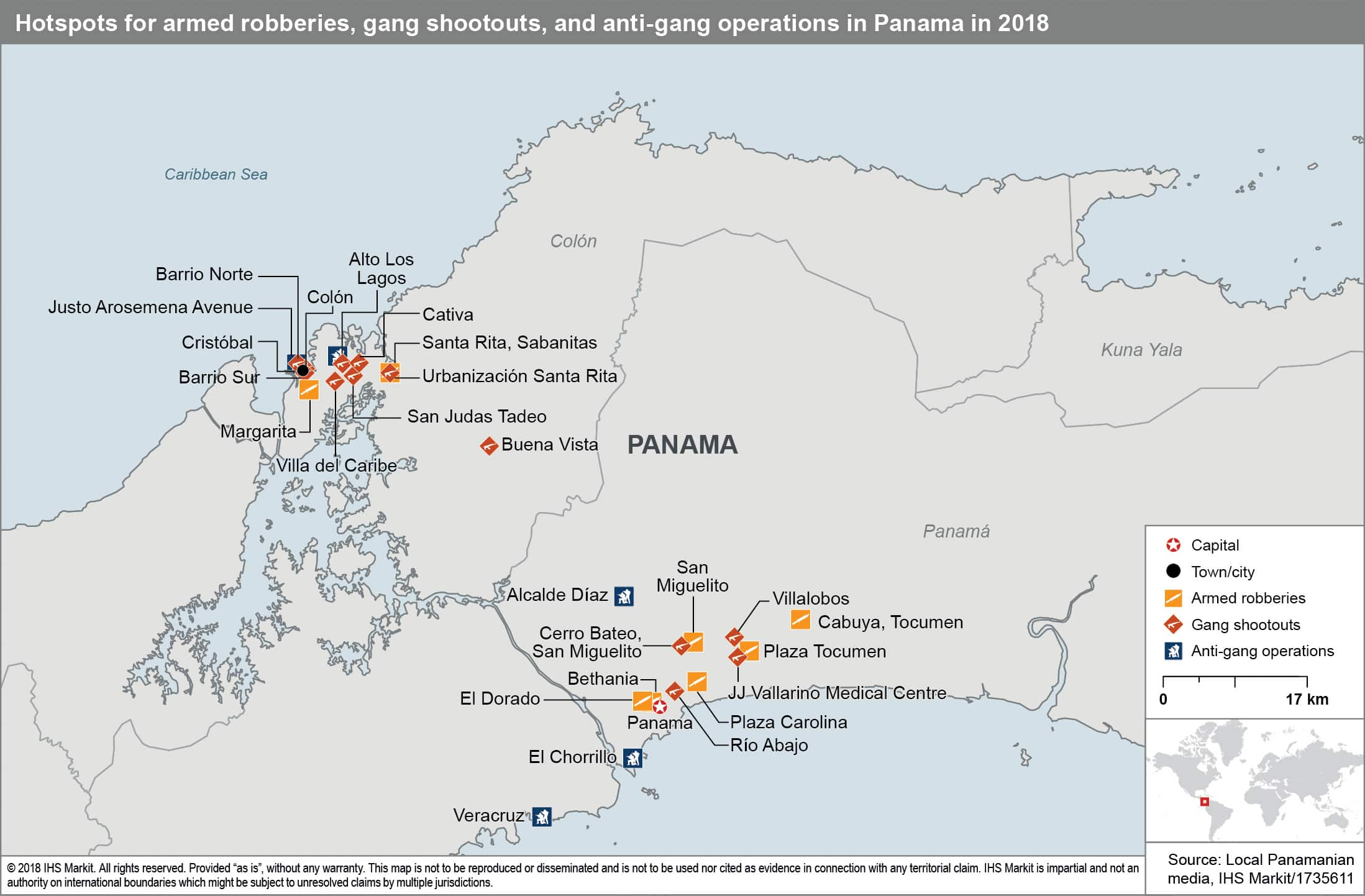 Outlook and implications
Homicides barely increased nationwide from 2016-17, with only a 0.7% increase reported (from 421 to 424), and only 313 reported between January-October 2018. The murder rate for 2017 was 10.4 per 100,000 inhabitants, low for the Central American region, compared with 12.1 for Costa Rica and 25 for Mexico. However, in Colón, the proliferation of gangs and their connections to organised crime increases the likelihood of shootouts and also armed robberies in 2019.
Current anti-gang operations are unlikely to have a substantial impact as Colón's numerous gangs are likely to reform under new leadership. Various initiatives last year, such as the deployment of the Eagle Joint Task Force (Fuerza de Tarea Conjunta Águila) launched in March 2017, have been unsuccessful in reducing cases of armed robberies and homicides. Anti-gang operations are mainly focused on dismantling drug sales networks, and only seven arrests were made during the latest operation in November, which was low given the scale of police force (approximately 100 national police units) involved. There is an increasing risk of collateral death and injury for bystanders during anti-gang operations, especially if these take place in the city centre. In November 2018, the provincial police of Colón promised greater police deployment to areas near the FTZ; making shootouts between gang members and police more likely. For example, in Panama City, following the attempted robbery of the General Bank in November 2018, police exchanged gunfire with gangs in sector 500 of San Miguelito, on the outskirts of the city. Incidences of armed robbery in Colón would likely present similar risks.
An indicator to watch following the general election in May 2019 is whether the next government takes measures to reduce the expansion of gang violence and armed robbery risks this poses to businesses around the FTZ; for example, through operations targeted at seizing weapons or drugs being trafficked internationally at Colón port.
This post was written by Natalia Davies, a county risk analyst at IHS Markit
RELATED INDUSTRIES & TOPICS