Customer Logins
Obtain the data you need to make the most informed decisions by accessing our extensive portfolio of information, analytics, and expertise. Sign in to the product or service center of your choice.
Customer Logins
OSV Update: West African recovery falters

The West African market for offshore supply vessels (OSVs) is a large region encompassing 10 countries with active offshore exploration and development; Nigeria and Angola make up more than half of the entire regions offshore oil and gas activity. The region currently has 33 mobile drilling rigs under contract (drillships, semisubmersibles and jackups) supported by over 200 offshore supply vessels. The region also has 65 floating production systems in operation which also require regular support, and another six floating production facilities are scheduled to complete construction and be installed from now out to August 2022. Perenco's La Noumbi FPSO is expected to begin mobilization and installation within the next few months offshore Congo on the Yombo field. Offshore oil and gas development is one of the main drivers of long-term vessel demand; in West Africa the spilt is roughly 50/50 shallow and deepwater drilling.
In the same boat
Like most of the world West Africa has been suffering through a deep recession in offshore exploration and development since the fourth quarter of 2014. OSV demand in West Africa had been slowly climbing upward since hitting the bottom of the slide in January 2017, but over the last three months demand has again fallen back. The reason is simple, the surge of drilling campaigns that started in early 2019 have been finishing up and the rigs and supply vessels have been rolling off contract and looking for the next job, increasing local availability. The underlying reason is that since 2014 oil companies have become much more selective in where they will deploy their fresh exploration and production dollars. Offshore drilling campaigns have become much shorter and less likely to have immediate follow on work as was a more common occurrence before the offshore recession.
Before 2014, the market for drilling rigs was much tighter and oil companies had to contract mobile drilling rig on longer terms in order to secure the rig they wanted. This meant that there was a relatively steady demand for support vessels with much less downtime. But the global offshore service industry overbuilt in the years from 2010 to 2014, and most did not anticipate the historic downturn in offshore demand. Today OSVs and rigs are cold stacked across the world, and there is a surfeit of available equipment and tonnage. Dayrates have improved from the lows of 2017 and 2018, but not sufficiently to pay down the debt associated with the newest vessels.
Oversupply puts a ceiling on some market categories
The massive oversupply of tonnage is holding down dayrates and keeping them closer to operating costs. At their worst in 2017, vessel companies were offering vessels for charter at or below their operating costs. More recently, occasional shortages in immediately available vessels has helped drive spot rates up in some markets, which can also result in a modest rise in long term dayrates. Many thought rates and utilization would be steadily improving into 2019, but even though offshore activity has improved from the levels seen at the bottom of the slump it has been insufficient to take up the slack created by the vessel building surge seen during the boom years. Most of the recovery models have been based on old assumptions that offshore demand would rebound at certain prices points, like USD 65/barrel oil; however, the success of tight shale has siphoned off new spending which would have gone into offshore exploration and production. Only the most cost-efficient oil and gas projects are getting to their final investment decision (FID); many large offshore projects are on the cusp of being sanctioned.
OSV Supply/Demand: A negative feedback loop
The OSV industry is in a difficult position, as companies struggle to get back to profitable margins. The economics of the OSV industry are such that increases in dayrates bring more vessels out of layup. So that immediate tightness in OSV demand, increases rates and consequently draws vessels out of cold stack. It's true that immediate availability in some regions has improved dayrates, but there is a ceiling on the rates which relates to the cold stacked fleet. For the right price, any OSV can been reactivated.
Since January 2018, 14 vessels have been reactivated from cold-stack throughout West Africa, seven in 2018 and another seven have been reactivated so far this year. Most immediately began term charters upon leaving the shipyard. The reactivation list below gives a good indication of where OSV companies have been willing to spend money, in order to get a term charter in West Africa.
West African OSV reactivations since January 2018
Figure 1: West African OSV reactivations since January 2018. Source: IHS Markit MarineBase
West African cold stack reports
The laid-up fleet in West Africa is not just a bunch of rusting hulls from the 1980 and 90s, one third of the stacked boats are between five and ten years old and will represent a significant capital expenditure by their owners. There is older tonnage in this stacked fleet as well though, with 102 of the cold stacked vessels over 20 years old. One Hundred of the 170 vessels cold stacked across West Africa can be found in Nigeria. Three other ports, have a mass of laid up OSVs: 18 Cote d'Ivoire, 15 Ghana and 13 in Cameroon.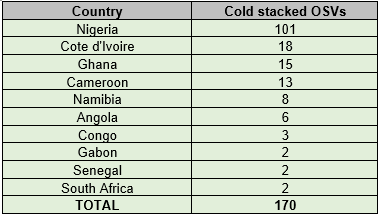 Figure 2: Cold stacked OSVs. Source: IHS Markit MarineBase
Upcoming development projects
Perenco's installation of an FPSO offshore Congo will commence by the end of this year. At the start and end of 2020 two Floating Storage Regasification Unit (FSRU) are scheduled to be delivered and installed in Ghana and Cote d'Ivoire. In January 2020, Quantum Power's Tema FSRU is due to finish construction at CSSC Jiangnan Shipyard in Shanghai, China. Installation of the Tema FSRU is expected to proceed in the first or second quarter of 2020. The Saipem Ivory Coast FSRU is expected to complete construction at the end of 2020, with installation offshore Cote d'Ivoire in early 2021. The next three floating production facilities aren't due until 2022; Etine FLNG is slated for Cameroon, while GoFLNG Gimi and Tortue FPSO will be headed to Mauritania. Four more FPSO deals are tendering, but final investment decisions are still pending.
West African Market Outlook
By the end of 2019, more drilling projects are ending than are starting. The rest of the year is likely to see more vessels and rigs roll off contract. Nigeria had continued to see strong OSV demand thru the first half of the year, while other large markets like Angola were already trending down. Further declines in activity are likely across West Africa as three drillship and three more jackups are likely be come off charter by year's end. On the upside, Sirius is scheduled to begin a long-term drilling program with Shelf Drilling jackup Adriatic in Nigeria on the Orono-Orono-2 field. Sirius has exercised options for an additional appraisal well, with work lasting until April 2020. In Gabon Petronas Carigali will commence a four-month drilling campaign with drillship West Polaris in September 2019. Drillship West Gemini is scheduled to begin a nine-well program with an undisclosed operator in Angola in mid-October 2019; the program includes three two-well options.
The next year schedule also looks light for the region, with only semisubmersible Deepsea Stavanger starting a new drilling project in South Africa. Total has contracted the semi in South Africa starting March 2020 for one to two wells on the Luiperd-1 prospect. All of which points to a challenging scenario for OSV demand in the coming year for the region. West African OSV dayrates are expected to remain highly competitive, even US vessel owners have been bidding on the region's long term tenders.
Get daily access to market intelligence, vessel and contract data covering the global offshore supply vessel industry with Petrodata MarineBase.
Richard Sanchez is a Senior Marine Analyst at IHS Markit.
Posted 26 August 2019
---
Follow IHS Markit Energy
RELATED INDUSTRIES & TOPICS