Customer Logins
Obtain the data you need to make the most informed decisions by accessing our extensive portfolio of information, analytics, and expertise. Sign in to the product or service center of your choice.
Customer Logins
OPEC seaborne shipments edged up to 19.1 million b/d in July, while Russia has a tight grip on cuts

Seaborne crude oil exports by OPEC members rose in July as Gulf nations such as Saudi Arabia, the UAE and Kuwait were no longer held back by the unilateral pledge to reduce output they made for June, while Russia, the biggest non-OPEC participant in the Vienna Alliance, kept a tight leash on shipments as it kept an eye on the production cut pledge.
Exports increased in July, based on data by IHS Markit Commodities at Sea (CAS) which suggests OPEC members exported 19.1 million b/d. Countries such as Iraq and Nigeria were more observant in their production and export levels last month after failing in May and ended up facing a major rebuke from Saudi Arabia.
Crude shipments from OPEC countries dropped to 18.6 million b/d in May and even lower in June at 17 million b/d, when the three Gulf states pledged additional cuts of about 1.2 million b/d, compared to peak exports of 22.5 million b/d in April when their collective oil taps were opened. On average, shipments from the group declined by 4.7 million b/d in the two months.
The average Q2 2020 flows stand at 19.35 million b/d, 5% down versus 20.36 million b/d shipped on average during the first quarter of the year. Activity in July suggests that most additions in shipments came from the Middle East, primarily from Saudi Arabia. Apart from the huge increase observed in Saudi Arabian exports in July, Kuwait shipped around 500,000 b/d more than it did in June.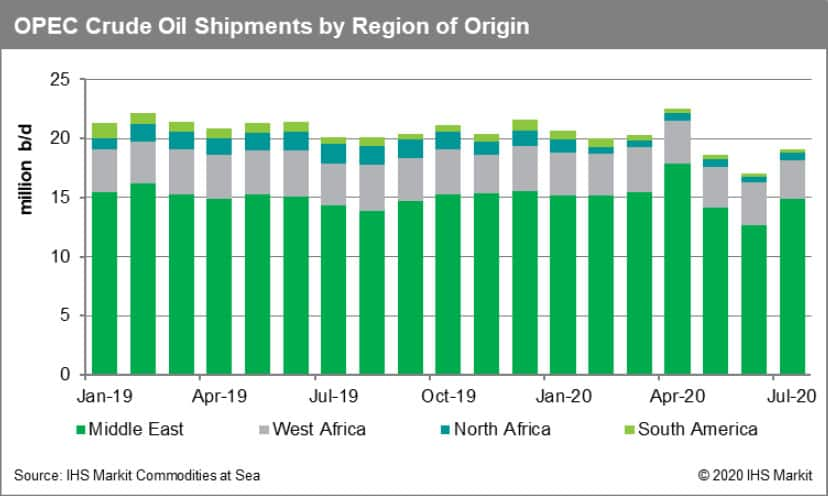 Latest CAS data suggests that some countries have already started to implement this change in their exports. Apart from Iraq and Nigeria, whose shipments in July dropped even lower from levels in June, other countries started exporting more. Saudi Arabia, Kuwait and the UAE are exporting significantly more than a month ago. Saudi Arabian exports are approaching volumes shipped on average during the first quarter of 2020, but still much lower than the record levels set in April. Shipments in July stand closer to six million b/d, almost 15% more than June.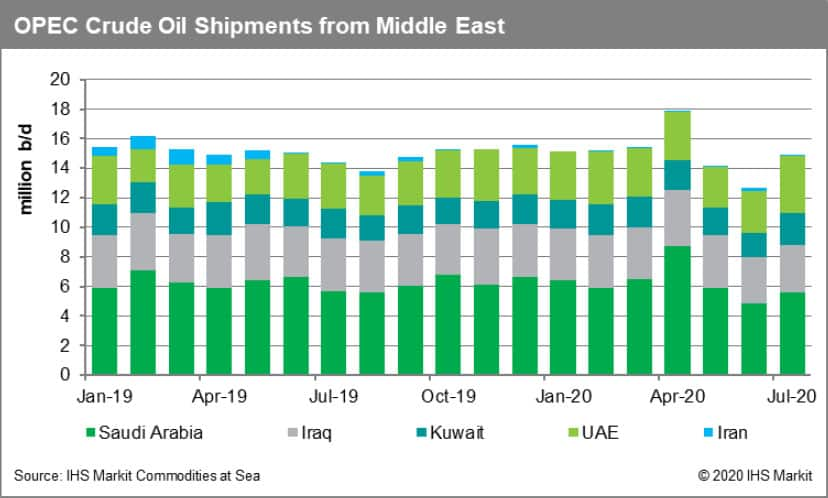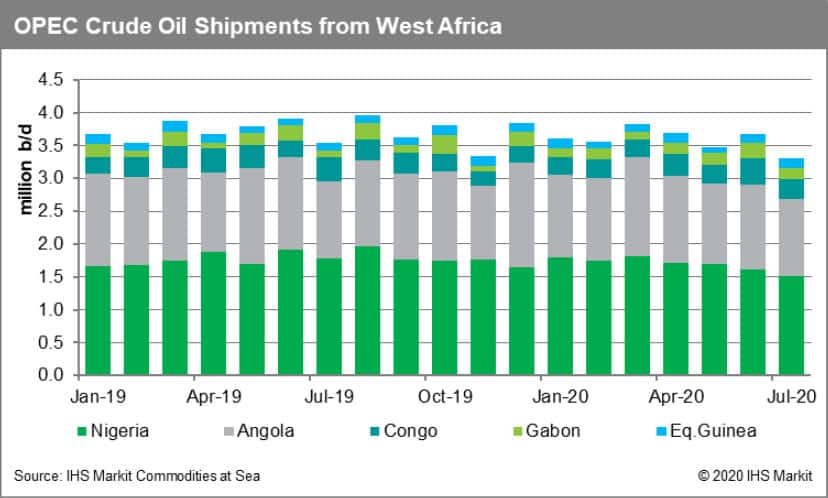 Focusing on Russia, shipments in July dropped to 3.4 million b/d, significantly lower compared to levels in March or April which on average stood at 4.75 million b/d, and a tad below the 3.8 million b/d exported in June. Most of the cuts have come from the Black Sea and Baltic Sea, meaning its biggest Urals blend felt the brunt of the reduction, which also raised the price of this grade. Russia and Saudi Arabia both agreed on a baseline output level of 8.5 million b/d under the first phase of the accord which finished at the end of July.
OPEC+ is now expected to raise its production in August as it adjusts its production cuts to the higher levels agreed. OPEC+ members, led by Saudi Arabia and Russia, agreed to extend historic output cuts through July, with oil prices slowly recovering as coronavirus lockdowns ease. Meanwhile, Mexico which announced that it "could not adjust production further" will not be complying anymore. After the April agreement, the Vienna Alliance pledged to cut output by 9.7 million b/d from early May till the end of June, with cuts to be gradually eased after that to 7.7 million b/d until the end of 2020.
Global demand is still affected by the COVID-19 pandemic, although more countries are gradually moving out of lockdown while others have instituted new measures amid fresh outbreaks, which is creating a murky picture as far as the demand outlook is concerned.
Iran exports remain extremely low, having dropped below 50,000 b/d in July. Meanwhile, Iraq reduced its shipments, dropping to 3.16 million b/d in June and remaining at these levels in July. OPEC+ compliance improved significantly in June, which has boosted confidence in their effort to curb excess supply. Saudi Arabia praised Iraq and Nigeria for their compliance. Shipments from Nigeria were significantly down in July, which is heavily related to production of late June.
Any optimism established in June that Libya could start producing and exporting more has been already replaced by concern as there has been no improvement to report with shipments still remaining low, standing at 130,000 b/d in July. Venezuelan shipments are marginally up, but still below 300,000 b/d.
After announcing that the Vienna Alliance would reduce their production cuts from next month, prices have remained fairly steady with ICE Brent holding well above the $40/bbl mark even as a small contango developed. The impact thus far on the fragile demand/supply balance is limited, but Saudi Arabia still believes there is more work to be done. Crown prince Abdulaziz bin Salman commented that production cuts could last through to the beginning of 2022.
US shipments are still remaining low, with a decline lasting since February, when seaborne exports reached its peak for the year at 3.1 million b/d. The country shipped 2.8 million b/d in July, marginally up from 2.6 million b/d in June. Exports from the other major non-OPEC+ producer, Brazil, has held at a high level of 1.4 million b/d, which is unchanged from June and down slightly from 1.5 million b/d in May.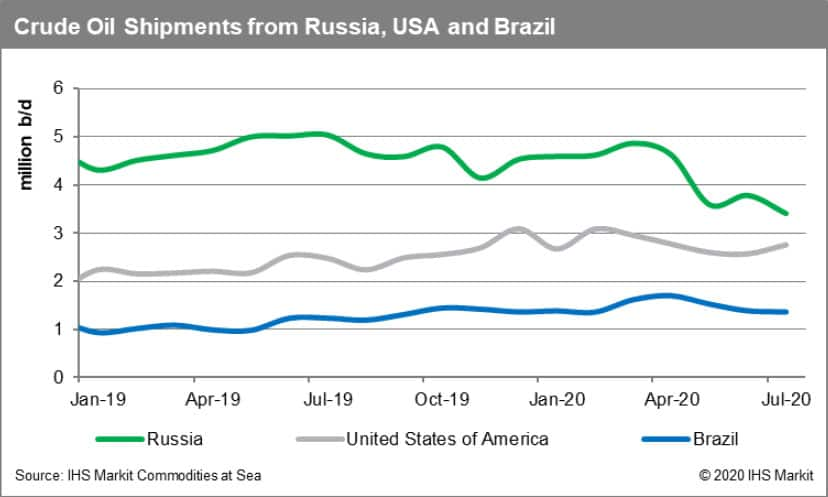 In terms of the changes we'll see in August, there are still questions to be answered as the exact timeframe for each country hasn't been shared. However, loading programs and nominations by term buyers suggest that compliance among OPEC members and Russia will be well above the 90% mark with strong pressure applied to producers that struggle to keep up with their pledge including Iraq, Nigeria and Angola.
High compliance is necessary if the demand/supply balance is to be strong enough to maintain prices at the current above $40/bbl level. The resurgence of COVID-19 cases in nations that have up to now kept a tight lid on the pandemic including Japan, Korea and Vietnam as well others where it is spreading almost uncontrollably including the US, Brazil, India and Mexico has raised fresh fears of a new round of fuel demand destruction.
Oil continues to land in record volumes in China, the world's largest crude importer, after savvy buyers bought bumper volumes in the spring which are now arriving in the mainland leading to month after month of all-time high imports. A lot of the cargoes are heading into storage while refiners are cranking up throughput but fuel demand even in China is slowing down due to pockets of COVID-19 and devasting floods in the south.
Consequently, Chinese refines are eyeing the export market to soak up surplus gasoline and diesel, but there is a limit to these overseas outlets and hence, the worry among participants that we may be reaching a tipping point. The rest of Asia is slowing down their crude imports with Japan, South Korea, Taiwan and other nations in Southeast Asia all recording lower purchases in the past couple of months unlike China.
However, China is also expected to slow purchases later this year once the port congestion it is facing, from those record spring purchases, is alleviated. Trading sources expect import figures to show a drop probably from September, but signs are already in the market of reduced spot purchases.
These moves suggest how the market may shape up in August as the additional volumes from the OPEC+ group meshes up with the anticipated drop in demand due to the resurgence in COVID-19 cases. If the market has sufficient slack to absorb the additional barrels then prices will hold up, but if the developing contango on the futures market is anything to go by, we should brace for a new round of price falls.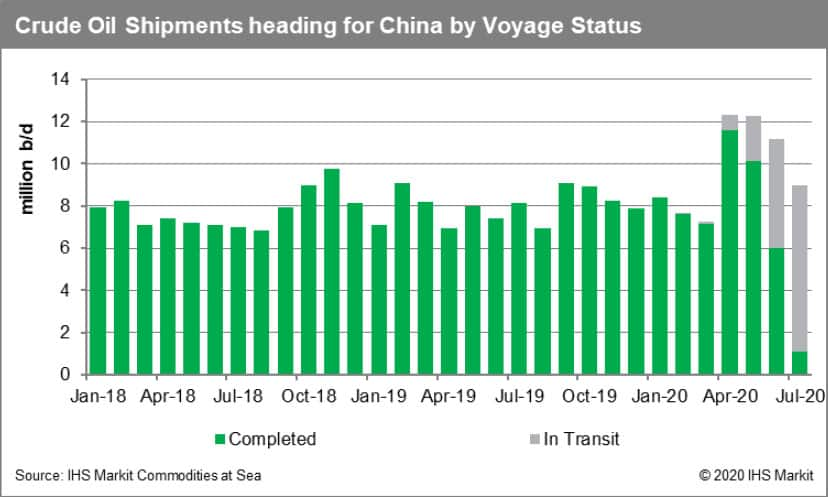 For more information on the product used in this post visit IHS Markit Commodities at Sea
RELATED INDUSTRIES & TOPICS