Customer Logins
Obtain the data you need to make the most informed decisions by accessing our extensive portfolio of information, analytics, and expertise. Sign in to the product or service center of your choice.
Customer Logins
Only three O&G companies create value over the last three years in large independent peer group

A major factor in determining the value of an oil and gas company is the price assumed for both crude oil and natural gas. With oil prices being down more than 50% and gas prices down about 25% from a year ago, there wasn't one company within the IHS Herold Large North American E&P peer group who managed to create value in 2014. As shown in the chart below, the median drop in Average Net Worth (ANW) per share for 2014 was a whopping 30%, down from a median 12% growth rate the previous year. ANW per share reflect our net asset value of an oil and gas company on a per share basis. The valuation of Appalachian operator Cabot Oil & Gas and heavy oil operator Canadian Natural Resources fell the least, at less than 20%, while ConocoPhillips had the biggest drop, at 41%. Additionally, the valuation of operators whose reserves were more heavily weighted towards oil declined more than those who focus on natural gas given the larger drop in oil prices.
With valuations significantly declining in 2014, only three operators have managed to create value over the last three years. Their ability to create value speaks to the quality of their assets as these three companies operate within the sweet spots of some of the most prolific unconventional US shale plays. As a result, these operators rank in the top five in both reserve and production growth and have some of the lowest costs among their peers. However, the operators who have seen their valuation drop the most over the last three years have struggled to implement a change in strategy. These companies all recently tried to organically increase their exposure to unconventional US tight oil plays. However, with limited operational success, they have been unable to grow their reserves and have seen their expenses escalate because of the higher cost associated with developing oil, relative to gas.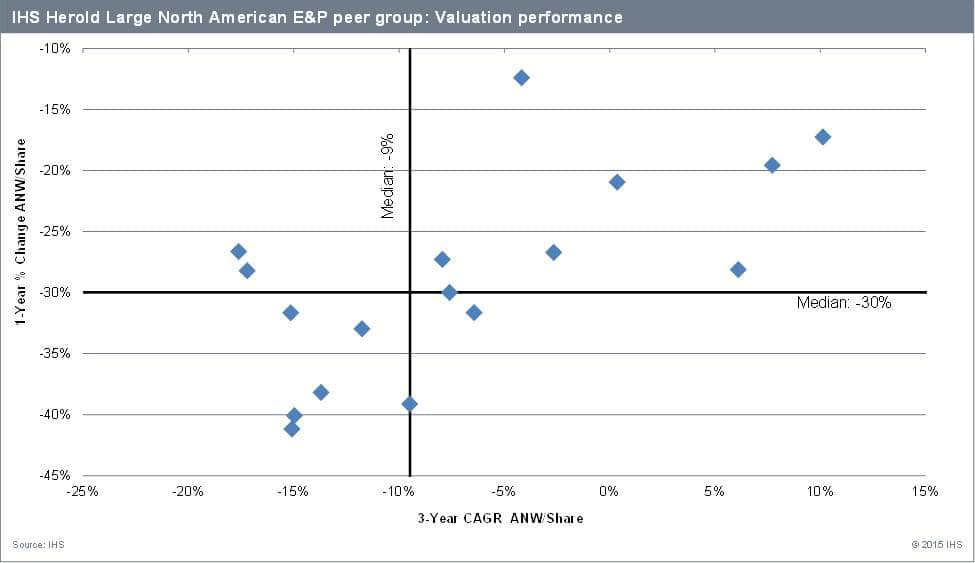 Creating value in 2015 looks challenging
Creating value for shareholders in 2015 will likely be a struggle for many operators within the IHS Herold Large North America E&P peer group. Not only are oil and gas prices significantly lower than a year ago, but the futures curves have also flattened out significantly over the last few months as 2016 and 2017 prices for oil and gas to be realized by US onshore producers are estimated to average around $50.00/bbl, $2.95/mcf, $53.75/bbl, and $3.10/mcf, respectively.
Similarly, IHS price forecasts for oil and gas for 2016 and 2017 are currently $49.18/bbl, $2.82/MMbtu, $62.20/bbl and $2.99/MMbtu, respectively. Because of historically strong balance sheets, these companies traditionally haven't hedged their production. As a result, with the possibility of weaker margins lingering, these operators will likely be forced to reduce their spending again in 2016. This will hinder the companies' abilities to grow production and reserves, making it challenging to create value in the near term.
Impairment charges for the Large North American E&P peer group through the first half of 2015 totaled nearly $40 billion, which is nearly double the previous full-year high of $22.4 billion in 2009. Given these sizeable charges, there is a strong possibility for negative reserve write-downs for the operators that have record these charges. Negative reserve write-downs will also create a big hurdle for these operators to create value in 2015.
We are forecasting capital spending for the group to be down 44% from a year ago to approximately $85 billion. However, the group still struggles to be financially disciplined as its CAPEX to cash flow ratio is estimated to be 135% which is higher than 125% median for the past several years. Additionally, not every company within the group is expected to be cash flow positive this year. Because of lower drilling and operating cost, some operators within the IHS Herold Large North America E&P peer group are saying they are able to generate similar returns at $50-$60 oil as they once did at $100 oil. Generating similar returns would justify outspending cash flow. However, we feel this scenario is only viable for operators targeting the sweet spots of the top unconventional US plays. For most operators the drop in costs hasn't been enough to offset the drop in prices, keeping profit margins under pressure and maintaining a poor value growth outlook for companies that are outspending cash flow.
October 13, 2015 by Bryan McNamara Principal Analyst IHS Energy.
Learn more about IHS Herold Energy Company and Transaction Research.
---
Follow IHS Markit Energy
RELATED INDUSTRIES & TOPICS