Customer Logins
Obtain the data you need to make the most informed decisions by accessing our extensive portfolio of information, analytics, and expertise. Sign in to the product or service center of your choice.
Customer Logins
Oil and Gas Model stability as pressure on oil prices rises

Research Signals - October 2018
Oil prices may be in for a wild ride as geopolitical and economic shocks threaten to spill over into markets. IHS Markit has raised its outlook on Brent and WTI prices in 4Q 2018 while noting that the next 18 months will be plagued by escalating tensions with Saudi Arabia, Iran sanctions, US trade protectionism with China and new administrations in Brazil and Mexico. We highlight steady stock selection success of the Research Signals' Oil and Gas Model for global firms over recent oil price cycles.
Over the past five years, the model's buy portfolio outperformed the sell portfolio by 1.23% on average monthly
The Oil and Gas Model has been particularly effective at identifying high quality names and has the desirable characteristic of being agnostic to oil price movement, with a correlation of just 0.07
W&T Offshore and Evolution Petroleum are currently ranked in the top quintile of Free Cash Flow Return on Invested Capital and Relative Net Income-To-Wells
Over the past five years, oil prices have come off a peak exceeding $100/barrel before hitting a trough in early 2016. Since that time, prices have recovered on a steadier price path. Heading into early 2019, IHS Markit expects prices to gather strength and has further raised estimates relative to the July outlook.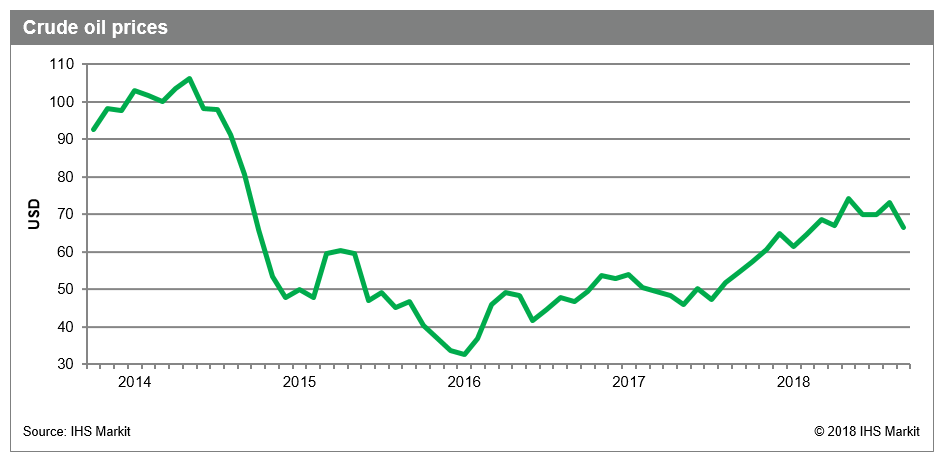 Turning to overall investor sentiment toward energy firms, we evaluate trends in the ETF market according to IHS Markit ETF Analytics. Looking to the Energy Select Sector SPDR Fund (XLE), the largest energy sector ETF representing nearly 50% of assets under management, we find that the monthly NAV closely tracked oil prices with a 0.90 correlation over the past five years.
Not surprisingly, investors poured a record amount of money into XLE in 2014, with December of that year marking the third highest monthly inflow of $2.1B. However, subsequent inflows have tended to tail off, with 2018 on track for the first negative annual inflow since 2013.

Identifying high quality energy firms
The Oil and Gas Model is constructed using industry-specific factors relying on key metrics such as production numbers and reserve amounts along with industry-recognized fundamental measures spanning four broad investment themes:
Management Quality
Growth
Value
Momentum & Sentiment
In computing monthly model performance, stocks are divided into quintiles with the highest 20% ranks comprising quintile 1 (Q1) and the lowest 20% ranks assigned to quintile 5 (Q5). Performance at the Q1 and Q5 extremes is computed based on average returns in excess of the market. The long-short spread is also calculated based on an investment strategy going long the highest ranked names (Q1) and shorting the lowest (Q5), capturing the Q1-Q5 spread which is a common gauge of overall model efficacy. Stocks included in the analysis are those in our Global Oil and Gas universe which currently sits at 357 names.
From November 2013 through October 2018 (as of 19 October), the model has recorded an average monthly decile spread of 1.23%, or 14.71% annualized, with positive performance in 75% of months. The cumulative spread over the period reached 73.6%. Furthermore, the correlation with oil prices was mostly neutral at just 0.07, indicating that the model is not merely a proxy for oil price movement.

Both the buy (Q1) and sell (Q5) rated portfolios contributed relatively equally to the strong performance. Q1 posted an average monthly return of 0.57% in excess of the market (6.88% annualized), with positive results in 72% of months. Q5 stocks lagged the market by 0.65% on average monthly (-7.83% annualized), correctly underperforming in all but one-third of months.


Two Quality measures were among the strongest performing factors over the period. The stronger performing of the two, Relative Net Income-To-Wells (Q1-Q5 spread: 1.67%), captures the income generating ability of a firm relative to its peer group's well counts, thus removing the inherent large company bias within the base value. On the other hand, Free Cash Flow Return on Invested Capital (Q1-Q5 spread: 1.38%) identifies the economic return a company generates. This measure is preferred over other earnings- and revenue-based metrics given that, in general, oil and gas companies have unique tax situations, heavy depreciation and relatively large impairment charges and write-downs. Two US stocks which are currently (19 October) ranked in the top quintile of both indicators include W&T Offshore (WTI) and Evolution Petroleum (EPM).
IHS Markit provides industry-leading data, software and technology platforms and managed services to tackle some of the most difficult challenges in financial markets. We help our customers better understand complicated markets, reduce risk, operate more efficiently and comply with financial regulation.
RELATED INDUSTRIES & TOPICS