Customer Logins
Obtain the data you need to make the most informed decisions by accessing our extensive portfolio of information, analytics, and expertise. Sign in to the product or service center of your choice.
Customer Logins
Off-premises cloud computing services gain traction; are multi-clouds next?

With digitization transforming and disrupting businesses everywhere, there is tremendous pressure to change and adapt, especially for enterprise information technology (IT) departments.
A key part of change is the need for greater agility and faster adoption of new technology. Both of these agents drive the off-premises cloud market, while also altering the architecture of on-premises data centers or private clouds to include orchestration for the automatic deployment of workloads.
To achieve success, a key takeaway for businesses is to rethink IT, shifting reliance from traditional data-center models to new mechanisms like the cloud.
Growth all around
In assessing just how fast transformation is occurring within the space, one only has to look at the rate of growth projected for the next few years ahead.
The market for off-premises cloud services is forecast for solid revenue growth of approximately 30% year-over-year in the near term, with strong expansion to continue through 2021. The market's increase is due to larger portions of enterprise IT budgets being allocated to off-premises cloud services.
Within the off-premises cloud computing market also exists a variety of services, such as infrastructure as a service (IaaS), platform as a service (PaaS), cloud as a service (CaaS), and software as a service (SaaS). All of these are needed, because each provides unique compute capabilities that, in turn, drive the use of multiple cloud service providers within one enterprise.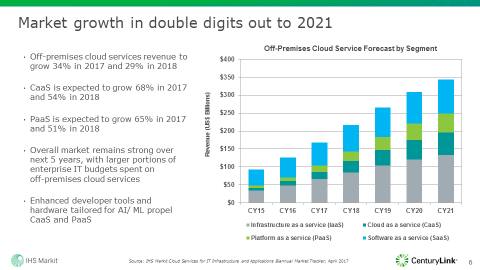 As the use of off-premises cloud services moves from the early adopters to mainstream buyers, many traditional software vendors have also begun to complement their original software licensing model with SaaS options. A great deal of innovation can be expected in the CaaS and PaaS sectors as well, IHS Markit believes.
Among North American enterprises, respondents in an IHS Markit survey conducted in mid-2016 said that on average 14% of their IT budget in 2016 was spent on off-premises cloud services, up from 11% in 2015. This year, that figure is anticipated to rise to 17%.
The increase in the percentage of IT budgets spent on off-premises cloud services shows that more companies are employing a hybrid approach to cloud and data-center management, in which both on-premises and off-premises cloud services are used to manage IT infrastructure. This hybrid approach calls for better orchestration and application management-ideally having one view and one management tool, in order to ensure that resources are used in the most efficient way possible.
Not all clouds are created equal
In the survey, respondents also indicated using multiple cloud service providers (CSP)-six in 2016, with the number rising to 8 by 2018, IHS Markit forecasts show.
There are many reasons why enterprises will use multiple CSPs. For instance, an enterprise may choose to keep its data on customer relationship management, or CRM, in SalesForce.com, while potentially using Force.com for some analytics on the CRM data. Another enterprise may opt to use Office365, as well as Google Kubernetes and Container Engine for its containerized applications.
Overall, enterprises are not only diversifying the location of their cloud services from on-premises to off-premises, they are also growing the number of CSPs used to manage their IT needs. This means that with enterprises needing to manage workloads across multiple CSP data centers, they must be able to control for costs and optimal user experience, at the same time providing a development environment that promotes agility and collaboration across the organization.
For developers needing a new and collaborative environment, a bigger rollout of containerized servers can be expected. Here enterprise respondents indicated a significant increase in usage-from 4% in 2016 to 8% in 2018. This shows the increasing deployment of micro-service architecture for rapid application building-an important component toward achieving a so-called DevOps culture of collaboration and communication among software developers and IT professionals, as well as a central goal for IT teams when deploying across multiple clouds.
From off-premises cloud computing to multi-clouds
For those who have been following the market for some time, a clear shift can be discerned during these last few years.
While the emphasis in 2014-15 was on agile computing, enterprises starting in 2016 and for the first part of this year have gravitated toward using more than one cloud service provider. In the process, enterprises have effectively been creating their own so-called "meta-cloud"-in which companies can independently connect to various cloud service providers while also taking on the burden of managing the different connections involved.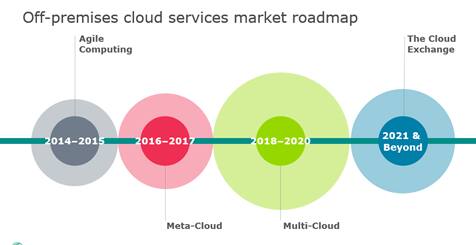 IHS Markit believes that what we're seeing now, and what we'll continue to build in 2018-20, is the multi-cloud. This is the next generation of the meta-cloud, where not only are multiple cloud service providers being used, but a management and orchestration layer also becomes a key part. This entails not just having multiple CSPs managing IT infrastructure but also the ability to overlay management, which allows the enterprise to move workloads among the different cloud service providers' data centers. More importantly, such a model allows enterprises to more efficiently manage the costs incurred from their various data centers.
Moving forward to 2021 and beyond, we foresee a new layer cloud service provider, serving other cloud service providers and having very large compute farms. In this model, cloud service providers are able to purchase additional compute on a daily or hourly basis, much like how oil can be purchased on the spot market. Already, examples can be seen of cloud computing resources becoming a commodity, paving the way for how quickly application deployment can become infrastructure-agnostic.
In a market spurred and driven by both innovation and agility, many changes are sure to occur in the coming years. We'll keep you posted.
For more information:
Liz Cruz is Associate Director for Data Centers, Cloud & IT Infrastructure, within the IHS Technology Group at IHS Markit
Posted 2 June 2017
RELATED INDUSTRIES & TOPICS