Customer Logins
Obtain the data you need to make the most informed decisions by accessing our extensive portfolio of information, analytics, and expertise. Sign in to the product or service center of your choice.
Customer Logins
North America wind industry faces rising costs

By 2021, IHS Markit estimates O&M expenses for wind assets will cost the industry about $7.5 billion annually, when operating expenditure (OPEX) for the North American wind industry is expected to eclipse capital expenditure (CAPEX). With so much at stake, the wind industry is likely to increasingly focus on providing services and minimizing costs at existing projects, compared to planning and constructing new ones.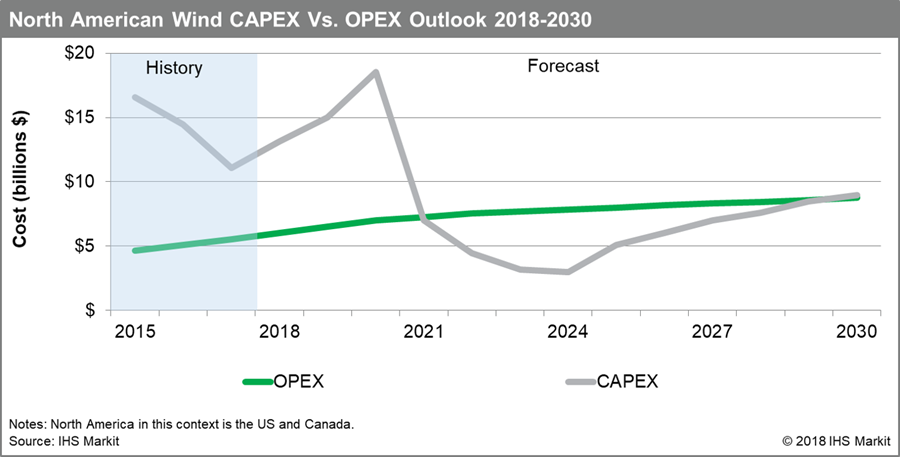 Figure 1: North American Wind CAPEX Vs. OPEX Outlook 2018-2030
In late July, IHS Markit published 2018 IHS Markit Wind O&M Benchmarking in North America: Aging Turbines, Rising Costs - a study of operations and maintenance (O&M) costs for North American wind power plants. The report is part of the IHS Markit Wind Power Plant Benchmarking Service, which is designed to help the industry determine the optimal O&M strategy using concrete, standardized data of costs and performance.
What are the big takeaways from the Wind O&M Benchmarking report?
One of the key findings is that larger, newer wind projects have O&M costs averaging 25 percent less per MWh than ones using smaller turbines installed before 2010. Overall, the study showed there is a steady increase in annual costs per MW installed after about three years, although there is a great range of costs from project to project, with age, location, and O&M strategy all being important factors. Large projects are not immune to this trend, though the effect appears more modest for them.
What does the IHS Markit Wind Power Plant Benchmarking dataset contain?
The study comprises data from more than 325 wind projects, representing 34,000 MW of capacity and nearly 20,000 turbines installed in North America (about one-third of the market). The data represent more than 150,000 turbine-years of operational history from more than 15 turbine original equipment manufacturers.
What other costs trends have been shown by wind power plant benchmarking?
Analysis indicates first-year O&M costs are on the decline, falling from an average of $46,000 per MW during 2008-2013, to $38,000 per MW from 2014 to 2017.
As wind projects age, O&M costs increase on average to as much as $58,000 per MW annually, with direct costs (the costs of actually maintaining the turbines) rising sharply by the end of the project's first decade of operation. Rising total O&M costs are due to increasing direct costs, which are partially but not fully offset by declining indirect costs (e.g., general site administration and other business services, taxes and royalties).
What factors are driving these cost trends?
The IHS Markit study found that around one-quarter of all turbines' gearboxes and generators each need replacement during just the first decade of operations. These component failures result in many turbine failures with the proportion of annual downtime due to failures rising from just 20 percent in year three of operations all the way to 65 percent by year 10.
What are other insights from wind power plant benchmarking?
Safety incidents occur most frequently at very large projects in the first five years of operation. No clear correlation is evident between safety incident rate and project size or OEM, but the rate for projects greater than 300 MW is nearly double that of the fleet average.
Why is this study significant?
The O&M market for North American wind installations is growing rapidly. Growth is driven both by more turbines and-as those turbines age-more spending per turbine. Federal tax credits that support new wind installations will phase out in the early 2020s, leading to a forecasted decline in new wind projects being built.
Before this benchmarking study was established, there was no good way for wind-asset owners to compare the performance of their projects against the market as a whole. Now that owners have access to a comprehensive assessment of the entire O&M market, they can select the O&M strategy that best balances cost, convenience, and risk profile for their portfolios.
Learn more about our coverage of the renewables market.
Mike McNulty is a Research Associate on the North American Renewable Power team at IHS Markit.
Posted 6 September 2018
---
Follow IHS Markit Energy
RELATED INDUSTRIES & TOPICS