Customer Logins
Obtain the data you need to make the most informed decisions by accessing our extensive portfolio of information, analytics, and expertise. Sign in to the product or service center of your choice.
Customer Logins
No Rise in Deep Sea Marine Lubricants Consumption Despite Continuing Capacity Growth

26 June 2018
IHS Markit Expert
With the global economy growing at the fastest rate since 2010, demand for dry bulk shipping is steadily increasing. In 2017, the volume of coal carried by sea grew at the fastest rate among major commodities, reaching a new peak of 1.15 billion metric tons. Seaborne coal trade movements are concentrated heavily in the Asia Pacific region, with just two countries, Australia and Indonesia, accounting for 65% of global seaborne coal exports, and three countries, India, Japan, and China, accounting for 51% of corresponding import volumes. Coal, iron and manganese ores, and grains - three of the five main dry bulk categories - now alone account for one third of all global seaborne trade volume, having risen by 4.1% per year on average over the past five years, outpacing overall average volume growth of a corresponding 2.5% per year on average.

And yet, despite a similarly robust demand outlook, the situation for bulk carrier operators is far from rosy. One factor - vessel size - succinctly illustrates the problems the bulk carrier segment faces. Bulk carriers are already some of the largest man-made objects ever built. But they continue to get larger, with the average ship size in this category now 23% higher than a decade ago. The trend continues for vessels currently on order, whose average size is more than 100 kdwt. The continuing addition of new and larger vessels exacerbates the existing overcapacity that arose in the wake of the 2008 global financial crisis, which was associated with a collapse in global trade volumes. Ever since, the surplus of dry bulk freight capacity relative to corresponding trade volumes has exerted downward pressure on freight rates. At the same time, for bulk carrier operators - many of whom have now operated at a loss for a number of years - shifting to ever larger, more efficient new vessels holds out the promise of significantly lower unit operating costs. This downward spiral appears to have reached its nadir in 2016 as bulk freight rates, new ship orders, and newbuild deliveries fell to their lowest levels on record, with some signs of improvement in 2017.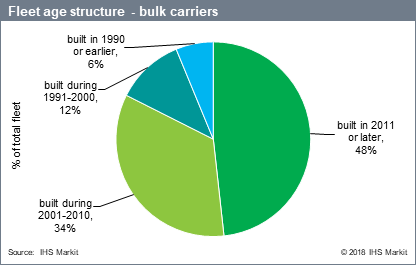 What are the implications of this dynamic in the bulk carrier segment for the deep sea marine lubricants market? While the bulk carrier fleet is continuing to expand, and activity is picking up, the shift toward larger, newer vessels has pushed lubricants demand from this fleet segment lower - both in absolute terms and in terms of consumption per unit of carrying capacity. In addition to technological improvements and structural factors, operational factors have contributed to increased fuel and lubricants efficiency, as operators have sought to reduce costs in the face of low freight rates. Overall, bulk carriers outperform the rest of the world merchant shipping fleet in terms of lubricants intensity per unit of capacity, accounting for 44% of overall shipping capacity but an estimated 23% of global deep sea marine lubricant consumption.
IHS Markit's newly released International Marine Lubricants (IML) report is intended to provide insights into the global marine lubricants market: key sources of demand, the implications of a changing regulatory and operating environment, technology and product trends, strategic market opportunities and challenges, and the competitive landscape. In addition to the bulk carrier fleet briefly outlined above, the report examines trends in the container ship, tanker, cargo, and passenger ship fleets that together comprise the world merchant shipping fleet. It builds on a wealth of proprietary data, not only from IHS Markit Global Lubricants, but also from IHS Markit Maritime & Trade and its database of information on more than 51,000 individual vessels, global port movements, and global seaborne trade flows by commodity; IHS Markit Refining & Marketing and its Annual Strategic Workbook data on global bunker fuels; and macroeconomic data and analysis from IHS Markit Economic & Country Risk. With the global shipping industry heading for a turbulent period of uncertainty driven by upcoming new environmental regulations, the seventh edition of IHS Markit's International Marine Lubricants report aims to provide clarity on the dynamics of the deep sea marine lubricants sector.
For more information, click here. To speak with an expert, email omdcsales@ihsmarkit.com.
---
Follow IHS Markit Energy
RELATED INDUSTRIES & TOPICS