Customer Logins
Obtain the data you need to make the most informed decisions by accessing our extensive portfolio of information, analytics, and expertise. Sign in to the product or service center of your choice.
Customer Logins
No easing of lockdown for UK dividends

Bank of England names companies availing of Covid Corporate Financing Facility (CCFF)
The 18 UK companies on the list paid dividends totaling £2.5bn in 2019
Sectors with the greatest number of companies enrolled are Travel & Leisure and Industrial Goods
We expect regular dividends from UK companies to fall -42% from £100bn in 2019 to £58bn in 2020
Just 15 companies account for two-thirds of the total forgone dividends in the UK this year
GBP 3bn in expected payments withheld by banks and additional GBP2.5bn from insurers
284 UK companies have decreased their payouts this year, including 155 dividend suspensions
Banks, Travel & Leisure and Industrial Goods & Services companies saw the biggest declines
Lower oil prices led to a -67% reduction in Shell's dividend, we expect BP will reduce its payout -50%
The list of top UK payers to change dramatically, with British American Tobacco rising to No. 1
Companies participating in the Bank of England's Covid Corporate Financing Facility (CCFF)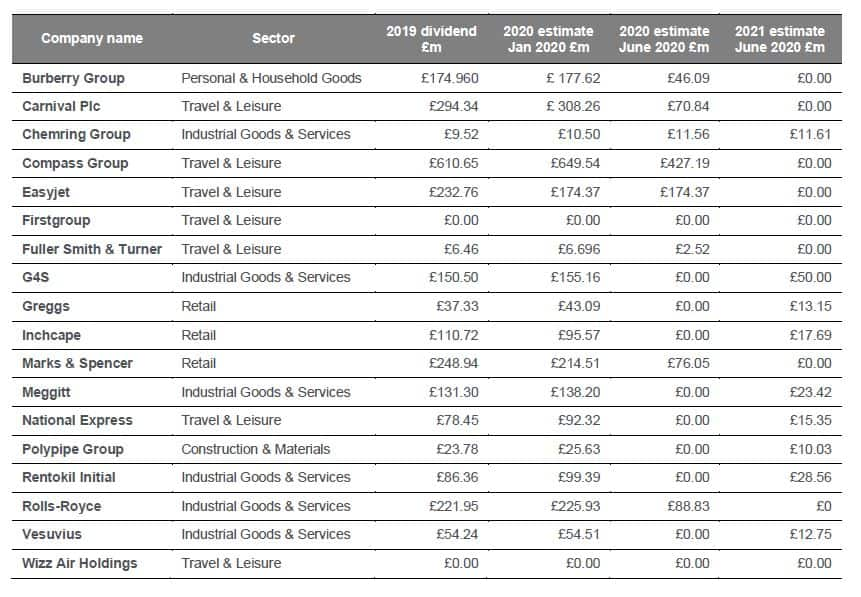 COVID-19 expected to eradicate 44% of UK dividends in 2020

Top 10 UK divided payer ranking to change dramatically
As a result of the disruption the list of top payers in the UK will change significantly with British American Tobacco expected to take top spot in 2021 with £5bn returned to shareholders. Close behind are HSBC, Shell and GlaxoSmithKline at £4bn each. BP is expected to fall from 2nd place in 2020 to 5th in 2021. Vodafone should return to the top 10 again, having previously failed to make the cut due to rebasing at a lower level.

Anticipated dividend cuts
Below are the remaining large cap UK payers which we expect to reduce their dividend during the remainder of 2020. Mining companies make up half of the total as they typically have flexible dividend policies.

COVID-19 UK dividend impact by sector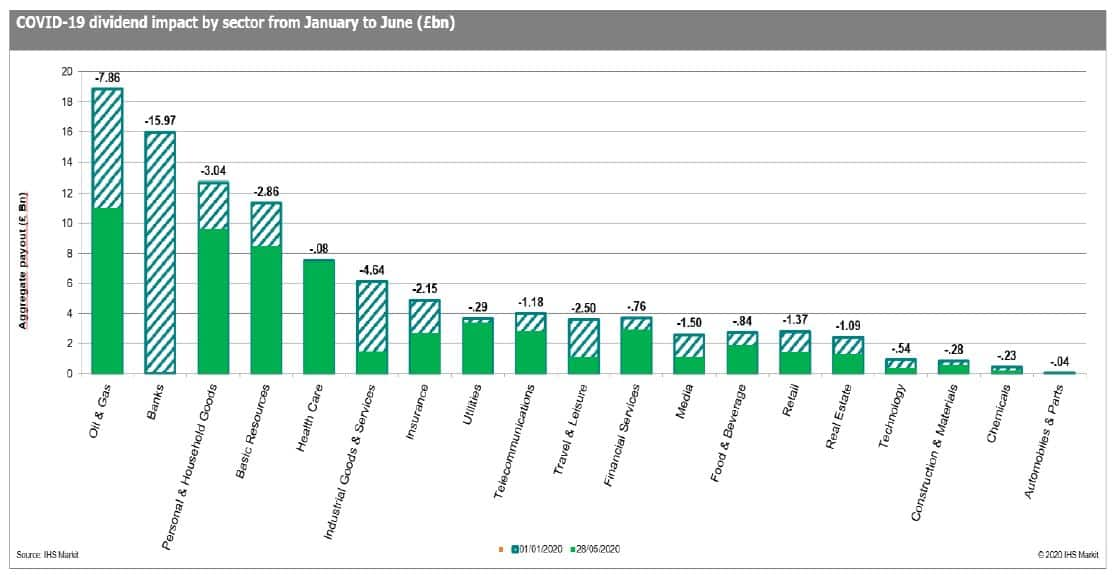 Financials
Banks
We do not see UK banks paying any further dividends this year, in line with the Bank of England's request. We expect payments to resume in 2021 and estimate a total sector pay out at 50% the 2019 level. HSBC is forecast to be the biggest payer, accounting for 62% of the total sector distribution, followed by Lloyds at 16%.
Insurance
Following a recommendation by the Prudential Regulatory Authority (PRA) Aviva, RSA Insurance, Direct Line and Hiscox all suspend their FY19 final dividends. We do not expect these companies will make any distributions for the rest of 2020. Legal & General is likely to proceed with a maintained dividend of 4.93p this September. Prudential plc, regulated in Hong Kong, is also expected to make a distribution of USD 0.118 in September.
Financial Services
Standard Life Aberdeen, 3i Group and M&G are the sectors top payers accounting for 15%, 12% and 11% of the sector total. We're forecasting a 16% drop in the full year dividend from Standard Life Aberdeen and that M&G plc will not pay any additional dividends in 2020. We are expecting Arrow Global, ASA International, International Personal Finance, Investec, Onesavings Bank and Provident Financial to suspend dividends.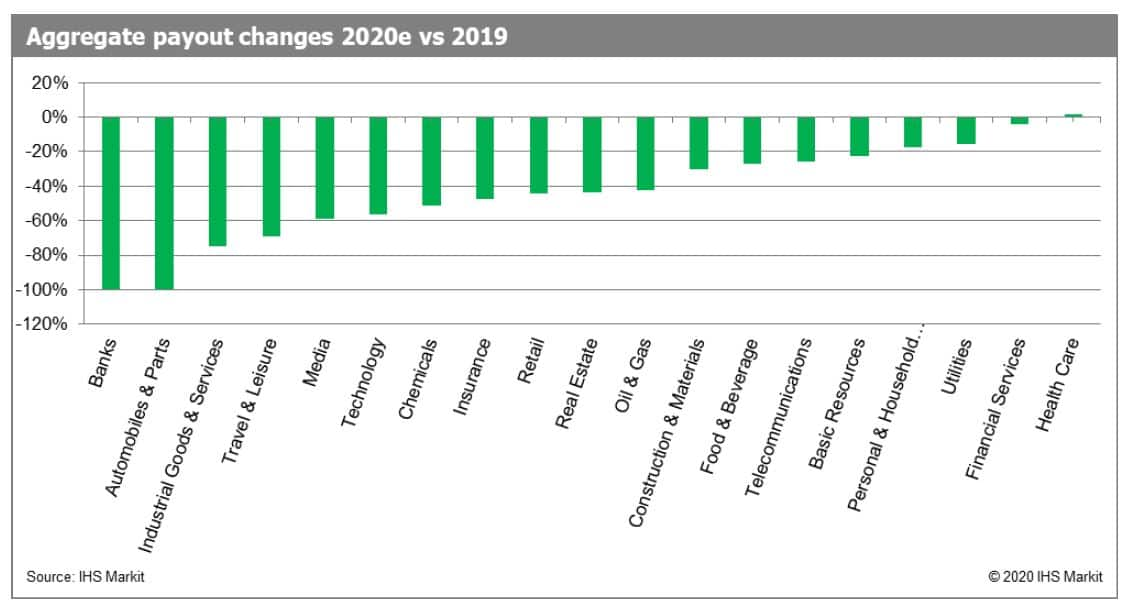 Consumer Goods
Travel & Leisure
As a result of lockdown measures and travel bans, companies in the Travel & Leisure sector have been amongst those hit hardest so International Consolidated Airlines, Intercontinental Hotels Group, Compass Group, Carnival were some of the first UK listed names to suspend distributions and all have accessed CCFF. Easyjet is receiving aid as are Wizzair, Fuller Smith & Turner and Compass Group.
Retail
Dividends from retail stocks are expected to fall to half of the 2019 level in 2020. The sector is one of the main recipients of government assistance with Next, WH Smith, Marks & Spencer, Greggs, Kingfisher, Card Factory and Inchcape all engaged in the process. None of these companies are expected to pay dividends. Tesco contributed 26% of the total sector pay out in 2019 and is expected to maintain its 2020 dividend at the same level. In contrast Sainsbury's is not expected make any distribution in 2020 as a result of the pandemic.
Food & Beverage
Government assistance measures are intended to provide a lifeline to many of the firms in this sector. Last year Diageo was the biggest dividend payer but we're forecasting a -20% decrease in its upcoming distribution. Associated British Foods has announced that its eligible for CCFF aid and, having suspended dividends in April no further payments are predicted in the near term the same applies to Greencore.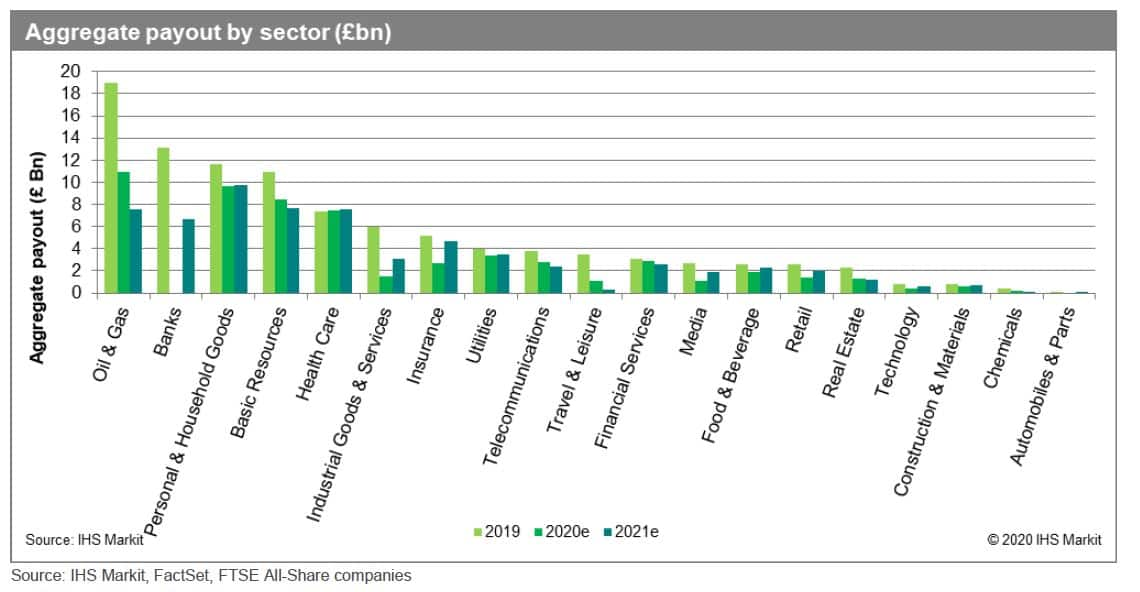 Media
We estimate significantly lower dividend payments across the sector and an overall drop of around 60%. WPP, ITV, Informa and Pearson have all suspend their dividends. Rightmove has been approved to access CCFF funding and is also not expected to return cash to shareholders this year. On a more positive note we expect a maintained dividend from RELX, the sectors leading payer in 2019.
Personal & Household Goods
British American Tobacco is expected to become the top paying company in UK at GBP 4.8bn in 2020 and GBP 5bn in 2021. Burberry has received aid of GBP 298.4m so far and is not expected to pay a dividend while. Imperial Brands has guided to a one-third reduction. Barratt Developments, Countryside Properties and Bellway have all been CCFF approved. We forecast maintained dividends from Unilever and Reckitt Benckiser.
Technology
The total distribution from the sector is estimated to fall by around 60%. This is in large part a result of suspensions by Micro Focus International and Aveva. However, Sage Group is expected to increase its dividend this year.
Telecommunications
No telecom companies have tapped into CCFF funding as yet. Vodafone rebased its dividend recently and we expect it to maintain it at the current level for the next year. BT Group suspended distributions at the time of the latest results and confirmed that it will not pay dividend in the upcoming financial year.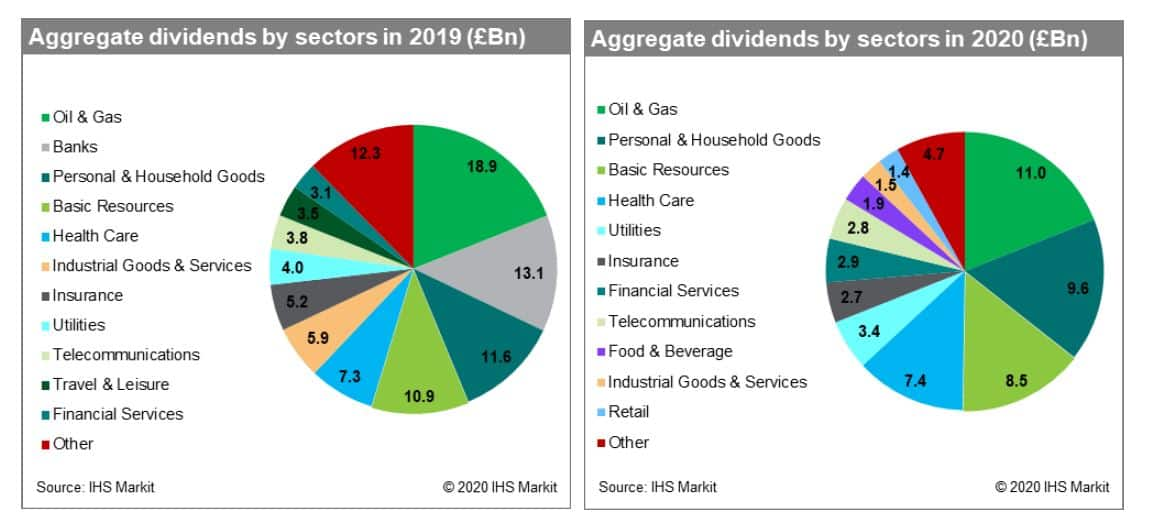 Industrials
Oil & Gas
Royal Dutch Shell surprised many market participants with a -67% dividend cut in April. While the oil price has recovered somewhat in the interim, we see a probability that BP plc will lower its pay out by around 50%. The aggregate cut in dividends from the UK Oil & Gas sector this year is projected to be around 42% at GBP 11bn.
Basic Resources
We are expecting a decline in payments from Basic Resources stocks as they have been hit on both the supply and demand side during the crisis. Antofagasta is likely to cut their dividend by 70 per cent, in line with lower projected earnings. The company opted to revise its 2019 final payment to USD 7.1 cents from USD 0.234. Rio Tinto is also expected to lower its dividend and we forecast an interim of USD 1.07 down circa 30 per cent.
Construction & Materials
86% of the companies in the Construction & Materials sector are projected to not pay any dividends in 2020. Marshalls plc and Morgan Sindall Group have been confirmed by the Bank of England as eligible for CCFF. CRH is expected to pay GBP 576.3m in 2020, up from GBP 504.5m in 2019.
Health Care
Health Care is a safe haven for income investors with a projected increase of 1.4% in 2020. Hikma Pharmaceuticals has seen strong price appreciation and should deliver an increase of around 5% in the dividend.
Utilities
Energy suppliers are among those calling for a state bailout via 'Project Birch', Centrica's board has already suspended their FY19 final dividend and we don't expect a resumption soon. United Utilities intends to review their dividend policy for as a clearer picture of the economic environment emerges. SSE has guided that the upcoming final pay out will be lower than last year.
Industrial Goods & Services
We expect a raft of cuts and suspensions across the sector. Shareholders in Aggreko will be kept waiting for a dividend and management said they remain open to exploring CCFF as an option. Overall across the sector we expect a 75% decline in payments due to suspensions from companies such as Bodycote plc.
Outlook for 2021
After a sharp decline in 2020, we think that UK company dividends should recover somewhat in 2021, reaching around GBP 65bn. However, we do not expect them to return to 2019 levels anytime soon. The anticipated improvement is in large part linked to a resumption in payments from Banks, albeit at lower levels than previously. An extension of restrictions from regulators would make a big dent in UK equity income again in 2021. This would also be the case should a deteriorating oil price outlook prompt deeper cuts from the majors.
Top predicted sector dividend increases in 2021 (£m)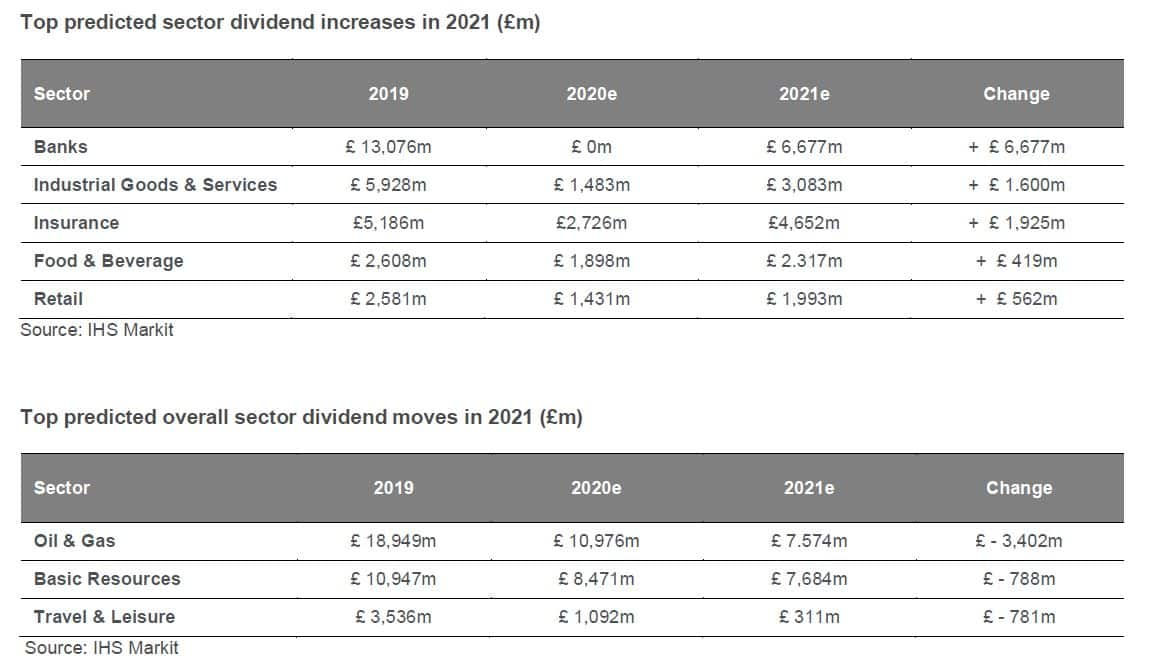 Appendix A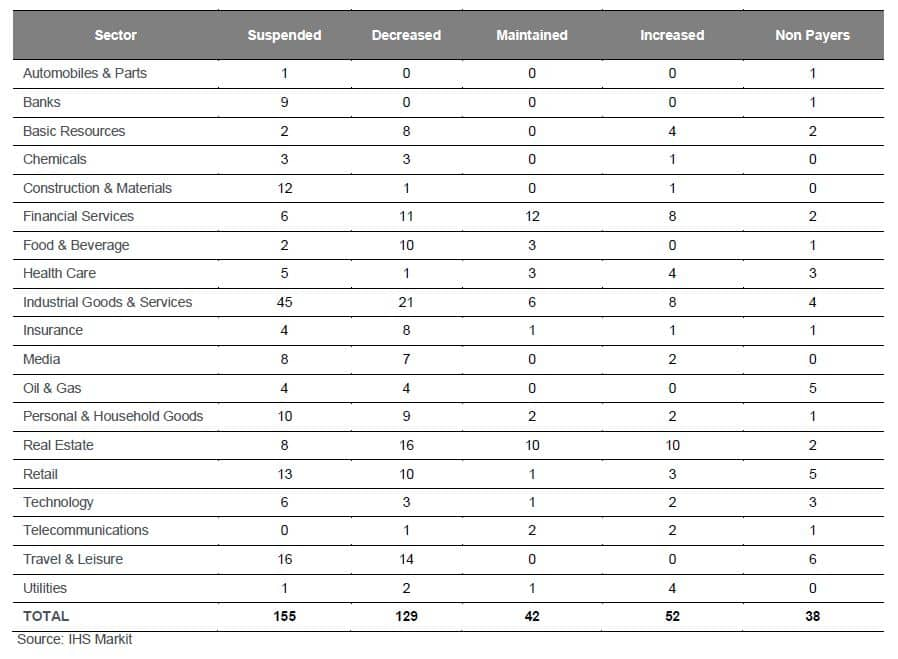 Contacts:
Clara Besson Dividend Research Analyst
Dividend Forecasting
Tel: +44 20 3855 3881 Email: clara.besson@ihsmarkit.com

Kevin Soyer Director
Dividend Forecasting
Tel: +44 20 7064 6491
Email: kevin.soyer@ihsmarkit.com

IHS Markit provides industry-leading data, software and technology platforms and managed services to tackle some of the most difficult challenges in financial markets. We help our customers better understand complicated markets, reduce risk, operate more efficiently and comply with financial regulation.
---
Follow Financial Services
RELATED INDUSTRIES & TOPICS