Customer Logins
Obtain the data you need to make the most informed decisions by accessing our extensive portfolio of information, analytics, and expertise. Sign in to the product or service center of your choice.
Customer Logins
New York State approves first expedited power transmission project, supports renewables

New York State is the fourth-largest consumer of residential power and third-largest consumer of commercial power in the US, and the legislature and Governor Andrew Cuomo (D) have outlined an ambitious plan to bring this sector's carbon emissions.
In 2019, Cuomo signed into law the Climate Leadership and Community Protection Act (CLCPA), and in 2020 he signed the Accelerated Renewable Energy Growth and Community Benefit Act (Accelerated Renewables Act). These laws, in combination with the state's strong opposition to new gas pipeline infrastructure, has opened the door for rapid expansion of its renewables sector.
CLCPA requires the New York Public Service Commission (NY PSC) to establish a program by June 30, 2021 to get the State to 70% renewable electricity consumption 2030 and 100% "clean energy" (including nuclear) electricity by 2040. This will be transformative for renewable power generation, as the state said that only 26.8% of its power demand in 2018 was met by renewables—and most of that was hydropower from other states and Canada.
The Accelerated Renewables Act supports those mandates by redirecting siting reviews for renewables projects 25 MW and larger to the Office of Renewable Energy Siting (ORES), which was created by the legislation. ORES has sole oversight of the process, overriding local jurisdiction that has in the past interfered with approvals. Also, it sets tighter deadlines for every part of the process, from pre-application to initial review of completeness to a one-year decision deadline from the time an application is deemed completed.
On 21 October, the state-owned power generator New York Power Authority (NYPA) received the first NY PSC approval for a high-priority project under the Accelerated Renewables Act. This project, known as the Northern New York Project, will facilitate delivery of 950 to 1,050 MW of renewable energy sources, said NY PSC Chair John B. Rhodes in announcing the project approval.
The project has three main components aimed at improving the reliability of the transmission network by rebuilding and upgrading three sections of existing high-capacity lines:
Phase 2 of the 86-mile Smart Path Moses-Adirondack

Approximately 45 miles of transmission eastward from Massena to the Town of Clinton

Approximately 55 miles from Croghan to Marcy
NYPA currently operates more than 7,000 MW of renewable energy, and the utility said in its application to the PSC that the enhanced transmission capacity would support greater use of renewables. The production cost savings would be approximately $99 million per year, or about $1.05 billion over a 20-year period. Also, it will generate more than $447 million in annual congestion savings.
Greater use of renewable power will reduce CO2 emissions by 1.16 million tons and NOx by160 tons annually.
More is coming
More is coming from a state that ranks only behind Texas, California and Florida in residential power use and behind Texas and California in commercial power use, according to data from the US Energy Information Administration (see table).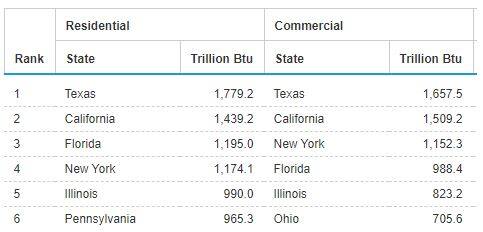 New York State agencies issued a white paper this year about how to reach the emissions reductions goals of CLCPA in June 2020, and the NY PSC has formally agreed to review the proposals. The agencies forecast the state's electric load in 2030 to be 151,678 GWh of wholesale energy demand; and 70% of that would be renewable power, or 106,174 GWhs. The forecast relies on energy efficiency measures reducing demand by 40,865 GWh over what it would be if current use patterns continue.
To reach its target, the state will need to procure about 4,500 GWh of renewable power annually from 2021 through 2026 beyond power that already is procured. The date of 2026 would be to ensure the power would be available in 2030.
In addition to the displacement of gas-fired power with solar PV and wind at utility scale operations, the agencies proposed installation of at least 6 GW of distributed PV solar by 2025, 3 GW of energy storage by 2030, and at least 9 GW of offshore wind by 2035.
The NY PSC has focused on the "70 by 30" part of its mandate, and it has not yet opened a plan for public review of how it will get to 100% renewable power by 2050. But the 2030 plan is ambitious enough to focus operators' and regulators' attention for years to come.
RELATED INDUSTRIES & TOPICS