Customer Logins
Obtain the data you need to make the most informed decisions by accessing our extensive portfolio of information, analytics, and expertise. Sign in to the product or service center of your choice.
Customer Logins
New US power projects are financially risky: report

Gas-fired power generation much of the US is significantly overbuilt today, and the drive to reduce carbon emissions will make any future investments in new gas generation risky, according to a new report by the Institute for Energy Economics and Financial Analysis (IEEFA).
Nowhere is this more prominent than in the Pennsylvania-New Jersey-Maryland (PJM) Independent System Pperator (ISO), IEEFA said in a report released in October 2020, "Risks Outweigh Rewards for Investors Considering PJM Natural Gas Projects."
PJM is the largest ISO in the United States and is responsible for coordinating the flow of electric power to more than 65 million electric customers across 13 US states and the District of Columbia. It coordinates electric capacity totaling nearly 200 GW that generate more than 820 TWh annually.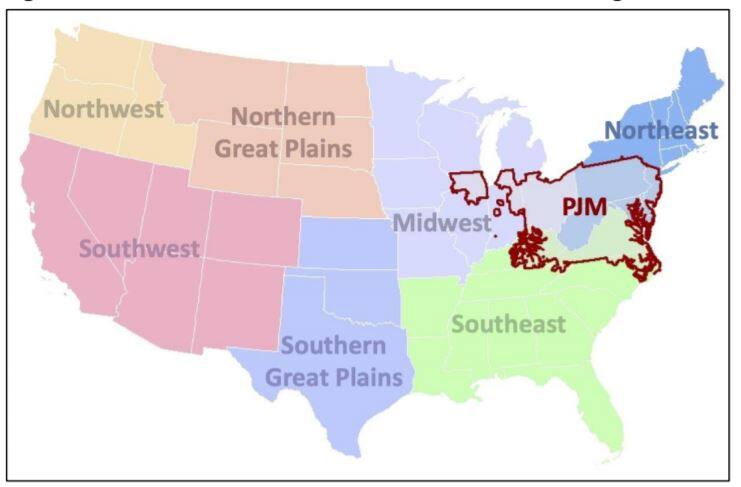 "Despite just 1 percent growth in peak demand since 2002, PJM's total generating capacity has grown disproportionately by 173 percent during that time," IEEFA said. "PJM's summer reserve margin in 2018 was almost 33 percent, more than twice the ISO's target, undercutting the need for any new capacity."
Falling costs for renewable power and battery storage, joined with efficiency measures that have left demand in the region flat for nearly two decades, have rendered new projects unnecessary, it said.
Energy transition
PJM ISO is more dependent on traditional sources for power than the rest of the US: 90% of PJM's 2019 capacity and 95% of its power generation came from coal, gas and nuclear power.
But this will change as renewables become more cost-competitive and as states implement additional climate legislation that will phase out fossil fuel use. Evidence already can be found, such as the approval of more solar capacity in the latest auction by PJM for 2021-2022 (68 GW) than in the previous four auctions combined. In the same auction, no new gas-fired units offered power at a cost that met the auction's clearing price. "Renewable resources' marginal costs (and capacity auction bids) are lower than those of gas plants, and more low-cost renewables entering the market has lowered PJM's energy market prices," IEEFA said.
More is coming, as wind and solar today represent only about 6% of installed capacity, but PJM acknowledges that the ISO can effectively handle a much higher percentage of intermittent power supply. In a study of integration of renewables done in 2014, PJM concluded, "[We] would not have any significant reliability issues operating with up to 30 percent of its energy (as distinct from capacity) provided by wind and solar generation…"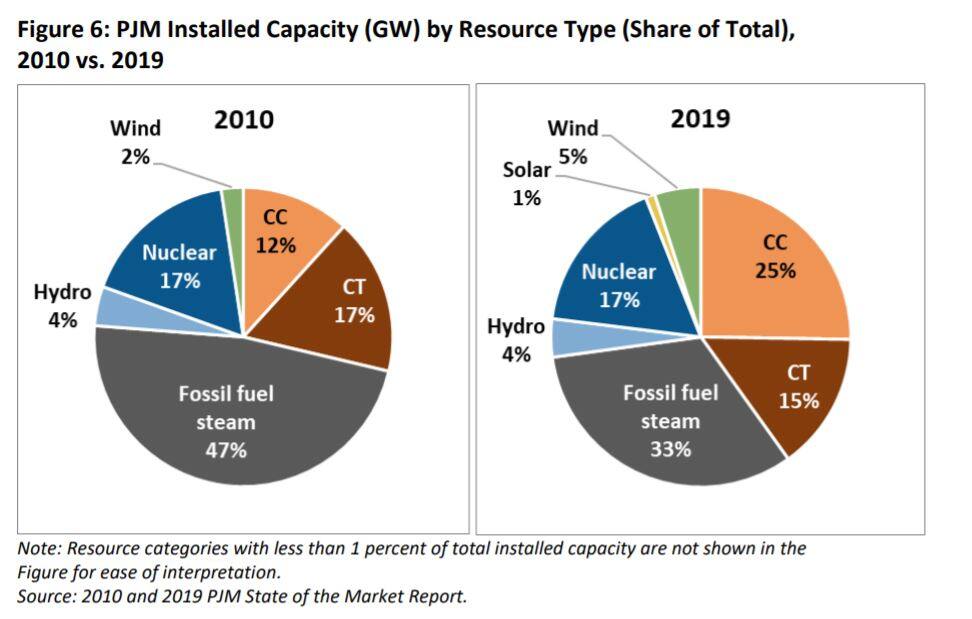 Furthermore, PJM serves customers in states that have net-zero emissions targets by 2050, and many of the states are members of the Regional Greenhouse Gas Initiative that seeks a regional reduction in GHG emissions from a 2005 baseline in the electric sector of 45% by 2020 and 75% by 2030. These goals will make installation of new fossil fuel power plants, even the most advanced gas-fired facilities, a potentially stranded asset.
IEEFA identified 11 proposed new gas-fired combined cycle plants to serve PJM customers, combined capacity of more than 8,000 MW, that have been delayed for financial reasons, permitting delays, local opposition, or general uncertainty about the regulatory environment. "Individually, each of these risks could perhaps be factored into a project's financing. Taken together, they pose virtually insurmountable hurdles for new gas-fired projects in the region. This is clearly a case of buyer (or financer) beware—the headwinds facing new PJM gas plants are growing stronger and stronger," it concluded.
RELATED INDUSTRIES & TOPICS