Customer Logins
Obtain the data you need to make the most informed decisions by accessing our extensive portfolio of information, analytics, and expertise. Sign in to the product or service center of your choice.
Customer Logins
New RoHS3 restrictions on banned chemicals can trip up the unprepared

As the European Union (EU) moves to tighten restrictions even more on hazardous chemicals in electrical and electronic equipment, four recently added substances could significantly impact companies unprepared to cope with changes, even before the proposed start date of implementation in 2019.
The EU's Restriction on Hazardous Substances (RoHS) became more challenging last year following amendment changes to Annex II of the RoHS 2011 (2011/65/EU) legislation. This newest change, often referred to as RoHS3, adds the four substances to an existing list of six previously banned by the initial version of RoHS (2002/95/EC).
RoHS was first adopted by the 28-member EU in 2003, and the initial list of six had included substances like lead, mercury and cadmium. The legislation targets harmful substances found primarily in electronic components, and its directive is to keep harmful chemicals out of landfills and water tables. RoHS is not the same as REACH, another EU program, whose mandate is to ban harmful substances in all products manufactured and sold within the regional bloc.
The newly banned substances (Table 1) in RoHS are to be restricted above threshold levels, measured in parts per million (ppm), in the sub-part or homogeneous level of components sold into the EU.

In line with the Amendment II changes, the four substances will be banned in the EU by July 22 in either 2019 or 2021, depending on the category of the product (Table 2)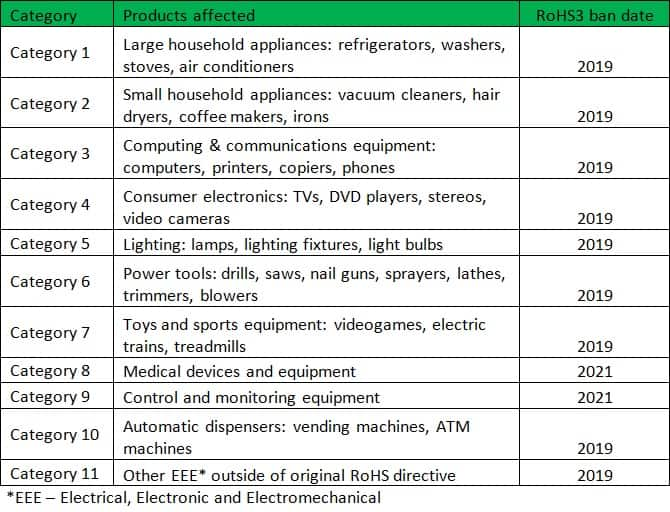 Of the four new substances-used primarily as plasticizers in polyvinyl chloride (PVC) to improve flexibility and durability-most of the challenges to companies will relate to PCV sleeves or cabling. Two of the four new phthalates to be banned, bis(2-ethylhexyl) phthalate (DEHP) and dibutyl phthalate (DBP), are found in electronic components.
In particular, DEHP is found above threshold levels primarily in oscillator devices but also in crystal oscillators, clocks, microprocessors, magnetic field sensors, other sensors and transducers, fixed capacitors and various more devices. In semiconductor components where DEHP occurs, it shows up in PVC sleeves, marking inks and metal core substrates.
DBP, on the other hand, is found in many more parts and part categories, including regulators, microcontrollers, variable resistors and many others-more than 50 categories of devices in all. DBP is found primarily in the attachment of semiconductor dies to their respective integrated circuit package.
To understand how these newly banned substances could impact the semiconductor makers of the affected devices, a few important aspects are worth considering.
For instance, some adjustments to mitigate RoHS3 compliance can be easily implemented-e.g., changing the ink-marking material on devices. Yet larger challenges remain because these phthalates are often buried in polymers, epoxies and PVC CAS numbers, making them harder to remove.
For clients and customers that use the devices in question, there can be significant product fallout for the unprepared. Core devices such as microcontrollers and microprocessors banned by RoHS3 could have impacts even prior to 2019, especially as semiconductor manufacturers may choose to discontinue affected RoHS3 parts and instead introduce replacement parts in order to comply with RoHS3 legislation.
Such difficulties, however, can be surmounted. And companies that are aware of potential compliance issues can get ahead of these future restrictions by ensuring that the parts they use do not contain the banned substances above threshold limits.
The best way to understand potential RoHS3 compliance issues for specific part numbers is to obtain full material disclosure (FMD) documents from component manufacturers. FMD documents provide substance concentration weight and PPM information at the component homogeneous level.
As it turns out, there are proactive solutions available to companies to mitigate these RoHS3 challenges. The IHS Markit Electronic Parts Management Solutions offer access to over 83 million part numbers with FMD documents, as well as to more than 52 million part numbers confirmed as RoHS3 compliant. Moreover, IHS Markit offers custom Content Services to help companies obtain FMD documents or RoHS3-compliance declarations on their company's part numbers.
Additional insights into the semiconductor industry as a whole are available via the IHS Markit Technology website.
Greg Wood is a Director in the Electronic Parts business at IHS Markit
Posted 16 August 2016
RELATED INDUSTRIES & TOPICS