Customer Logins
Obtain the data you need to make the most informed decisions by accessing our extensive portfolio of information, analytics, and expertise. Sign in to the product or service center of your choice.
Customer Logins
18:9 aspect ratio to lead new trend in premium smartphones

The recent introduction of Samsung's latest flagship models, the Galaxy S8 and S8+, features an almost bezel-less display. The move by the South Korean electronics giant has raised the interest of other brands in developing full-screen displays.
Full-screen 18.9: the ongoing trend
Compared to the traditional 16:9 aspect ratio, the 18:9 measure provides for a larger display area on a mobile device of the same size. The new aspect ratio works especially well with a slim bezel design to provide a unique and attractive look for displays. More brands, in fact, are expressing interest in such full-screen displays and developing plans accordingly.
Apple, for instance, is said to be launching its first AMOLED iPhone in the third quarter this year, with the company adopting the 18:9 aspect ratio for the first time. Unlike Samsung's dual-edge design, we believe Apple will be using a flat design with no bezel, or what some call as full-screen display.
The top Chinese brands have developed similar no-bezel product plans. Huawei, after suffering delays, is strongly expected to launch in the fourth quarter its first full-screen display, via the company's new Mate model, featuring an 18:9 aspect ratio display supplied from JDI. Oppo and Vivo are likewise planning to release smartphones with full-screen displays in the second half of this year.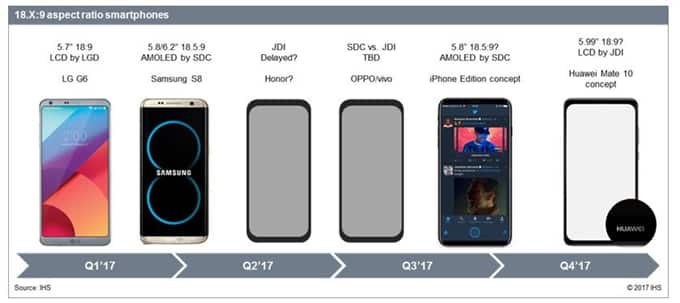 Impact on display supply chain
The 18:9 aspect ratio trend will gradually have an impact on the entire display supply chain, but a direct effect will be an increase in demand for the display panel area used in premium smartphone models. But because AMOLED and LTPS LCD capacities are also ramping up quickly, the anticipated surge in area demand can be satisfied.
Another important effect will be the use of a process known as chip on flexible printed circuit, or COF.
Most makers of smartphone displays, including TFT LCDs and rigid AMOLED displays, have adopted a COG (chip on glass) process to produce 16:9 aspect ratio products. For devices featuring the 18:9 aspect ratio, a slim bezel design for the display driver IC bonding side is preferred. As a result, COF is more competitive than the counterpart chip on glass (COG), the process used for products with a 16:9 aspect ratio and the technology adopted by most makers of smartphone displays, including TFT-LCD as well as rigid AMOLED panels. And while IC support and a high-quality FPC source remain a bottleneck for COF, an improvement is expected in the second half of this year.
For flexible AMOLED, Samsung Display remains the dominant player. In the case of its Galaxy Note 7, the manufacturer uses a chip on plastic substrate (COP) solution.
Bezel or without? Rigid or flexible?
For both TFT LCD and rigid AMOLED products utilizing an 18:9 aspect ratio, a slim bezel design is generally required. However, when the display encompasses the entire cover lens, the design will have an additional impact on the display supply chain, with makers needing to use a free-form design and cutting solution. This is unlike current products, which use ink printing to create four rounded corners, in contrast to real full-screen displays requiring a direct-cutting process.
And compared to TFT LCD and rigid AMOLED displays, flexible AMOLED products may take even more steps. For one, flexible AMOLED adopts a laser-cutting solution that appears to be more competitive than the grinding solution used with TFT LCDs and rigid AMOLED displays. And because the front camera and sensors are not easily integrated into the flexible display, another free-form cutting process is required. TFT LCDs will require an additional free-form BLU process. Further impact will come from the use of fingerprint solutions. For instance, the Galaxy S8 adopts a rear-side fingerprint solution, but in the long run under-glass solutions will be preferred.
Overall, the use of 18:9 opens up the existing supply chain relationships between premium smartphone models and their display makers.
For example, Samsung Display was once the sole supplier of displays to the premium smartphone models of Chinese brand Oppo. However, Oppo later introduced JDI's LTPS LCD displays made by Samsung rival JDI, for the Oppo R9- and R9s-series phones.
JDI is now promoting its 5.99-inch, 18.9 aspect ratio displays for the Oppo models that are arriving in the second half of 2017. If this project goes forward, it will help JDI to win more LTPS LCD orders from Oppo. Such a switch by Oppo, in turn, could significantly hurt Samsung's chances in achieving its target shipment on rigid AMOLED displays.
But the reverse could also happen, favoring Samsung. Because Samsung Display is also developing rigid AMOLED 18:9 displays for Oppo-the final specifications are still under negotiation-if Samsung wins the full-screen display project, then it will be very difficult for JDI to promote further shipments to Oppo in the second half of the year.
In the case of Chinese display makers like BOE, there are plans also to offer full-screen displays utilizing amorphous silicon (A-si). Chinese display LCD products in the second half of this year. This may lead to a more complicated marketplace-not only in size and resolution features but also in the dynamics of the supply chain ecosystem for many Chinese smartphone brands.
This is because Chinese display manufacturers at this point have only limited resources in producing 18.9 displays for the Chinese smartphone brands that they supply. This means that the Chinese display makers may then end up winning more orders for traditional16:9 displays-a space they are more comfortable to begin with, and also given that the likes of Samsung, LGE and Apple now favor 18:9, leaving the 16:9 market as easy pickings to the Chinese.
David Hsieh is Research & Analysis Director within the IHS Technology Group at IHS Markit
Posted 9 May 2017

RELATED INDUSTRIES & TOPICS