Customer Logins
Obtain the data you need to make the most informed decisions by accessing our extensive portfolio of information, analytics, and expertise. Sign in to the product or service center of your choice.
Customer Logins
Network slicing: the key to digital transformation in the 5G era

As mobile network operators begin rolling out 5G, network slicing will play a key role in the digital transformation movement and can be configured to maximize the benefits of multiple 5G use cases and applications.
The benefits of network slicing can be applied to today's networks including fixed networks and 4G mobile networks. In simple terms, network slicing allows an operator to partition the resources of a single physical network to create dedicated logical networks that can provide configurable services for specific use cases, industries, or customers.
Network slicing uses the attributes of network functions virtualization (NFV), software-defined networking (SDN), and other automation technologies to turn a single physical network into multiple virtual networks.
Network slicing and digital transformation
Digital transformation, the integration of digital technology across all areas of business and society, is becoming the overall goal of network operators across the world. Before the potential of digital transformation can be realized, however, operators must embrace network slicing as it allows for network automation and a simplification of network infrastructure.
Network slicing will prove critical for achieving digital transformation. Indeed, there are multiple benefits for network slicing as operators move toward digital transformation:
Providing configurable services for specific customers and use cases
Adding efficiency, flexibility, and agility to address specific customer needs
Improving revenue and minimizing operational expenses
Increasing time-to-market (TTM) and time-to-revenue (TTR) for network services
Reducing risk and adding tighter security protocols
Allowing for network simplification and automation
Further benefits and other elements of network slicing are discussed in detail in the webinar Network slicing: Building essential end-to-end capabilities in 4G/5G, which was jointly hosted by IHS Markit and Ericsson, the Swedish networking and telecommunications giant.

Network slicing and 5G use cases
Network slicing can address multiple 5G use cases and IoT applications, including transportation, smart factories, and more. While using a single network for multiple services with different resource requirements can become both costly and complicated, network slicing allows an operator to dedicate a partition of resources for a specific purpose or use case. For instance, in the transportation example shown below, two network slices are being utilized to deliver distinct services for a different set of users.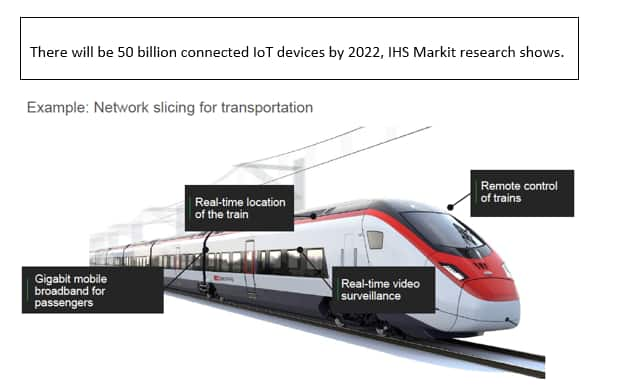 The first network slice is dedicated to providing standard mobile services for users outside the train.
The second slice was created specifically for the transportation company to provide high-speed internet on the train, offer real-time surveillance between the train and its control center, implement remote control functionality, and give the control center the ability to monitor the train's location in real time.

Key takeaways
The applications and benefits of network slicing are large in scope and will prove vital in the 5G era. Here are some key takeaways for network slicing:
Automation is required for operators to achieve digital transformation.
Slicing the network can help operators achieve greater economies of scale and efficiency for multiple applications, including transportation, factories, connected cars, and many other IoT applications.
Operators should not wait for 5G network slicing; it's time to act now.
The final point is the most important. With 5G rollouts happening across the globe, operators should take advantage of the benefits of network slicing now. While network slicing takes time to achieve and can be utilized in the 4G landscape, slicing will become even more important as a wide variety of 5G applications are deployed.
To learn more about network slicing in the 4G/5G landscape, understand various network slicing architectures, and discover the effect slicing can have on digital transformation, please view our webinar, which is also packaged with two Ericsson white papers on network slicing and the slide deck used during the presentation.
Michael Howard is an IHS Markit Technology Fellow and is also a research and analysis director at IHS Markit
Posted 20 May 2019
RELATED INDUSTRIES & TOPICS